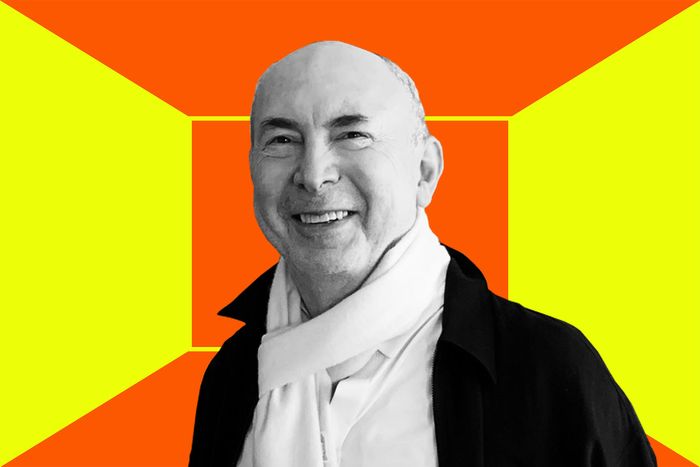 Murray Moss
Photo-Illustration: Curbed; Photo: Courtesy of the Subject
New York's "21 Questions" column is back with an eye on creative New Yorkers. Murray Moss is a design entrepreneur who began his career in theater and fashion before opening the legendary Soho store Moss with his partner, Franklin Getchell, in 1994. Moss introduced the American public to the work of Studio Job, Maarten Baas, Hella Jongerius, and the Campana Brothers, to name but a few. When Moss and Getchell closed the store in 2012, they opened Moss Bureau, a consultancy firm they run from their home in Connecticut.
Name: Murray Moss
Age: 72
Neighborhood: Hamden, Connecticut. We're in Whitneyville, the library neighborhood of Yale.
Occupation: Well, that's a slippery, slippery slope because I find my occupation changes when you characterize yourself under the umbrella of adviser. When I am talking to the guy who founded and runs Starbucks, it's like I'm in a totally different occupation than when I am talking to the director of the Frick. It's like my occupation changes because the brief changes.
What's hanging above your couch? 
I have a Corbusier drawing of the building he did at Harvard. I also have a Michele de Lucchi model that is being supported by an iron shelf, a model that is in partially burned wood, so it looks sort of Louise Nevelson-y, of an apartment building that he designed about ten years ago to be built in Milan that I bought directly from his desk. I used to be friends with him; he was fantastic.
What's the first job you had in New York? 
I was hired by Wakefield Poole, who was a leading pornography director, to be a chorus person in George M!, starring Mickey Rooney, which got me my equity card. Honesty! I'm just going with honesty.
What color are you always drawn to? 
Blue. I believe blue is for most people their favorite color because of an evolutionary phenomenon — as we developed as humans, when we saw blue in the sky, we identified it with a safe haven, so it is not so coincidental that most people say blue
What art or artifact are you most surprised you own?
Everything. I grew up with a different visual, let's say, environment, and none of this stuff was in that. Like when my parents made their first trip to Murano and they went to Venini, they didn't buy the Scarpa, they bought the three clowns on a barstool, okay? Now I'm not dishing the three clowns on a barstool at all; I'm just saying that I didn't go, Why didn't I go in the three clowns direction? I also don't feel that I have a particular taste or a particular leaning toward a particular movement or something. My problem is I like everything. I think that's because I look at everything as a legal argument. I could be the defense or the prosecution. I look at something and I say, What do I like about it? Then I think, What do I not like about it? And then it goes to the jury in my head, and I say "I like this" or "I don't," but there's no fixed thing.
Which New Yorker would you want to hang out with?
I love Isabel Balazs. She was born the year we opened Moss, and she left for university the year we closed, and what I like about Isabel is — you know her mother is Katie Ford, and she always used to say to Isabel, "Don't ever go in that store," meaning us, "because that man is crazy." I really admire her, and I love that she is a younger person; she is willing to share her life with us.
What's the last thing you made with your hands?
I made a mess (laughs). I have a little bit of a tremor situation sometimes, but it doesn't cause a little mess, it causes a big mess. For example I enjoy drinking out of these glasses that I like, they come from different places — we don't have a set of anything — and because I break them now, I didn't want to throw them away, so I started a little reliquary where I have all the broken pieces because I think they are very beautiful.
Is there one thing you own multiple versions of?
I have framed together four Weegee distorted photographs of the Empire State Building, and I bought that years ago from Matthew Marks. I love them because they are the impossible proposals which he did as fantasies, which in fact Zaha Hadid was able to more or less realize and Frank Gehry before her.
What New York City museum do you always go back to?
I always went to MoMA, partly because for many years it was really close by. What I used to do was go and try to spend all day. Then I thought that is stupid; I don't want to give myself a one-day task; I want the luxury of going in and looking at one thing maybe for a minute, or an hour. So I changed the way that I look at things and I was able to do that, frankly, because MoMA was across the street.
What do you always have next to your computer?
I always have a tape measure because if I find something that I want to buy, I am always wanting to see if it's big enough to resell it.
Where is the best view of the city?
From my ex-dentist's chair. I had to have seven teeth pulled when I arrived in Connecticut, and I stuck with this guy, as horrible a dentist as he was, because his dental chair was in a room facing the top of the Chrysler Building. I am telling you, you don't even need anesthesia because it was magnificent!
What building or object do you want to redesign every time you see it?
I love columns as much as the next guy, but really, they provoke laughter when tacked onto a 1950s porch. There is a 1960s white-brick, colorless, by-the-book assisted-living residence hall that we pass nearly every day, and it flaunts such columns. It drives me nuts for some reason. It is obviously intended to give "class'"to a horrible, thoughtlessly designed, cynical builder's cheapo nasty-efficiency dwelling but instead looks like Tara has opened a bank branch in Hamden and wanted to keep the "brand" evident.
What's one thing you would change about your field?
I would change the fixed criteria. This is a good coffee maker, this is a good chair, this is a good glass. We are taught what the criteria should be — like a good glass doesn't break easily, a bad glass is fragile. I don't believe that because the thing about a glass is it's just a fucking glass; it makes us vulnerable, and you have to handle it in a very graceful way or you break it and it can never be replaced.
If you could live anywhere in New York City, where would it be?
I would live in the Harvard Club. It's hard to say why, but we tried to. We actually applied to live there. I can't really give you a good reason; is that okay?
What would you hoard if it stopped being produced?
Anxiety — because there are such forces looking to absolve us of anxiety. It does take its toll, but anxiety is where motion comes from; anxiety is German Expressionism; anxiety is a writer who doesn't know the answer. I've come to terms with that because I have been an anxious person always. One has to ask the question, What are you anxious about? And the answer to that is usually something which deserves, or oftentimes hopefully can deserve, your attention.
What do you do to get out of a creative rut? 
I would go have a spaghetti dinner. I love spaghetti — spaghetti and olive oil.
Where was your first NYC apartment, and how much was the rent? 
I began at Columbia University, so first I lived in the dorm, and then I moved to 110th Street and West End Avenue. I moved in with four other guys. It was a stupid move because I moved from the dorm to a dorm! But I was thrilled. I burned it down to the ground, by the way. My mother had given me a fondue maker to take to college. But I didn't know how to do it, and instead of putting in a candle, I put in kerosene, and there was a big flame and my bed burned and then the building burned. Nobody died, but it was very, very bad. I would venture to say my rent was, because I shared it, around $110 a month.
Where in the city do you go to be alone?
I like pocket parks, to be honest. There used to be a couple near where we last lived in the city.
Worst piece of career advice you've ever gotten? 
I went to this summer camp, and Estelle was the dancing teacher, and we did musicals, and she said to me, "You should study and be a dancer."
What have you given away to someone that you wish you could get back?
Everything. On the other hand, I don't want any of it back because I am so happy that people have these things. Let's put it this way: We've owned a lot of very great things — we were very privileged to do that — but on the other hand, I only owned those things one at a time, and then I divested them to get another thing. So I have a great collection in my mind, things that I would never want to give away or sell, but they all pass through.
What's your favorite NYC restaurant and regular order? 
My favorite restaurant is I Trulli, our lifelong friend Nicola's restaurant [temporarily closed due to COVID]. When I first opened the store and Franklin went to London for three years, I would eat all my meals out at I Trulli, and Dora, Nicola's mother, would come and sit down with me. We never spoke a word; she would just knit, and they would bring me anything they felt was okay. It was like, "How about some sliced tomatoes?" It was no menu, and I adored it; that was a very great privilege.
What descriptive phrase best describes you?
Ambitious (laughs) because I want to do everything. That was a problem actually because it's better if you're not so ambitious because then you are satisfied, but when you're ambitious and you have some preventative things happening, it's awkward. And being happy is a state I was born in, I don't know if I learned it or inherited it. There's almost nothing that can happen to me that is going to stop me from feeling like a happy person, so I am so lucky with that.