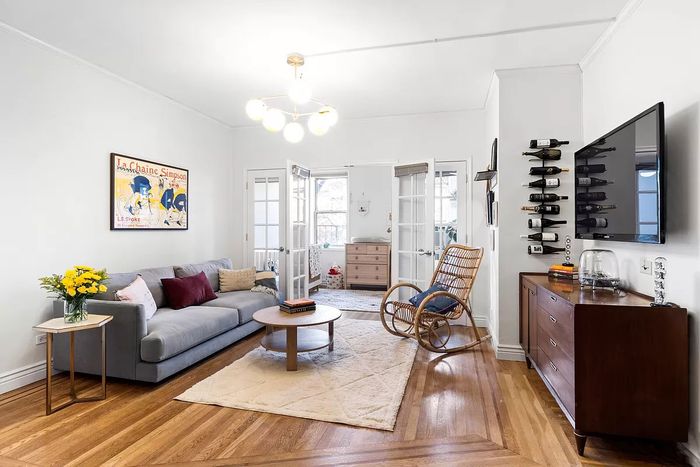 Photo: Martyn Gallina Jones
For under a million dollars, one can find all sorts of housing configurations: park-and-subway adjacent studios, one-bedrooms hidden in carriage houses or former shoe factories, and even the occasional true two-bedroom. With apartment prices rising again and inventory continuing to tighten up, we're combing the market for particularly spacious, nicely-renovated, or otherwise worth-a-look apartments at various six-digit price points. This week: a spacious Forest Hills studio, a Chelsea one-bedroom, and more.
A Prewar One-Bedroom in Beekman for $499K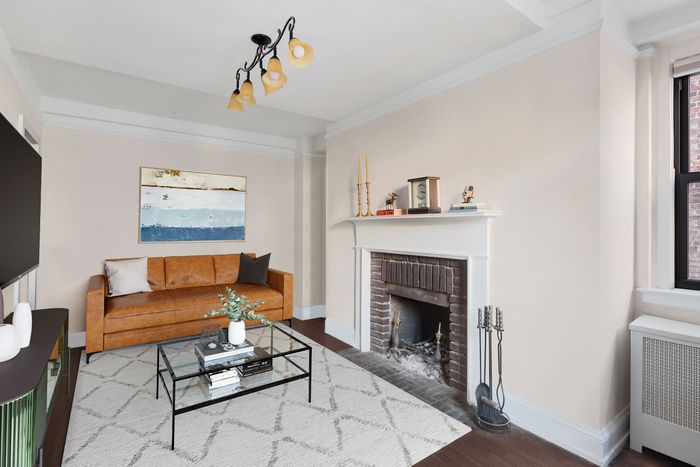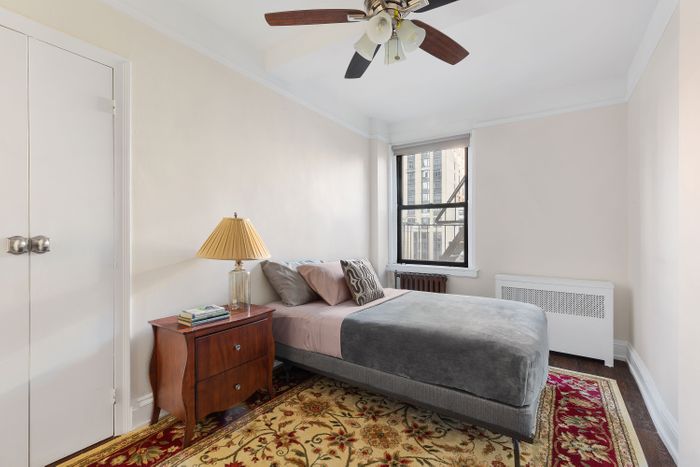 10 Mitchell Place Apt. 9F — This one-bedroom apartment sits on the ninth floor of a lesser-known co-op on the block-long Mitchell Place at the southern end of Beekman Place. As a New York Times piece from 2014 puts it, the 99-unit building "emanates an antiquated Left Bank sensibility" (Henri Matisse frequently visited the building's roof deck, a scene captured in a 1930 photo that still hangs in the building's mahogany-paneled lobby). The apartments have wood-burning fireplaces, and residents get daily mail delivery to their door. Only about a half-dozen units in the building come up for sale every year, and this corner spot is the lowest-priced one-bedroom to list in the past year. F-line units are arranged either as compact one-bedrooms or as large studios. In 9F, there's a 19-foot-long open living room and eat-in kitchen (which comes updated with Shaker cabinets and a dishwasher), a 15-foot long bedroom, and five closets.
A Large Alcove Studio in Forest Hills for $249K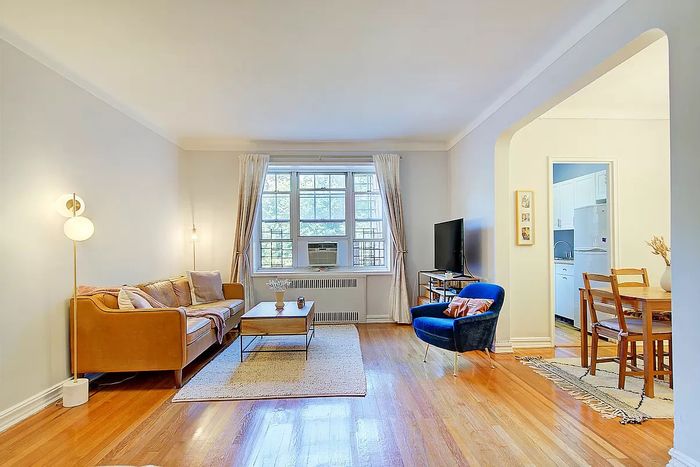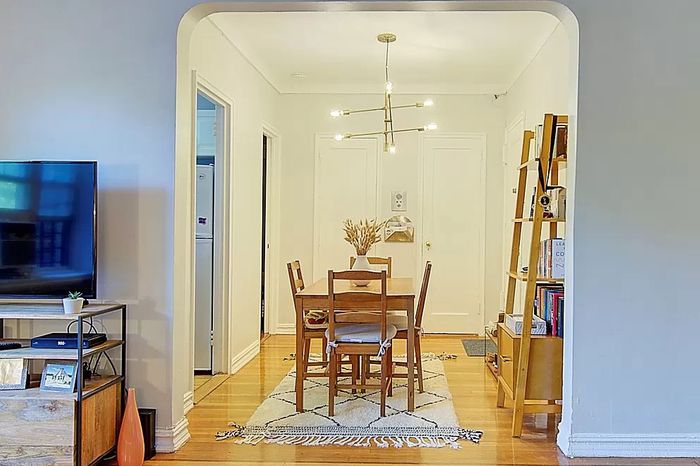 77-15 113rd Street Apt. 2H — This second-floor alcove studio combines generous space (it's approximately 600 square feet with a separate galley kitchen, separate dining and dressing areas, and three large closets), commuting convenience (it's a three-minute walk from the Kew Gardens–Union Turnpike station E/F trains), and particularly charming surroundings (brick-paved paths lined with ample bench seating, extensive gardens with mature trees and neatly trimmed hedges, and several large fountains). Everything inside is especially well maintained: the hardwood floors, the crown and base moldings, the big arched doorway, and the ample windows (including one in the kitchen and one in the bathroom).
A True One-Bedroom in Chelsea for $599K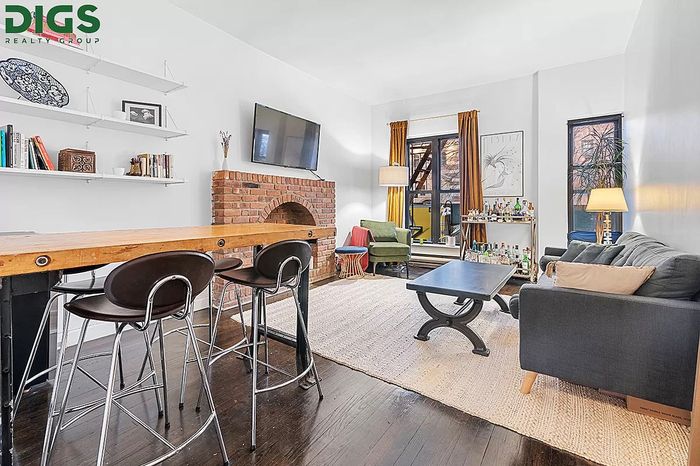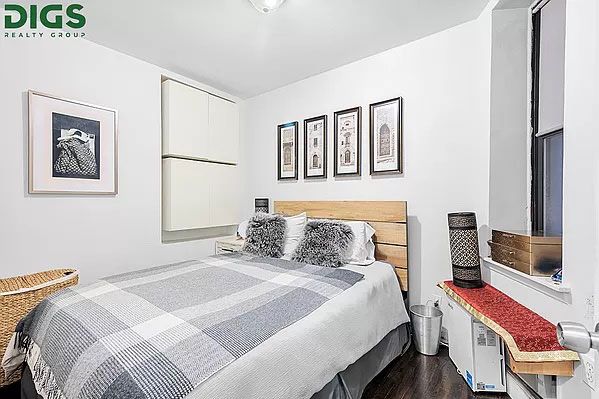 433 West 24th Street Apt.1D — This second-floor one-bedroom on a quiet block of West 24th Street (near but still separated by Tenth Avenue from the High Line) is the cheapest one-bedroom in Chelsea right now (the monthly maintenance of $764 is fairly low as well). While the walls are quite plain, the unit does have a cute arched-brick decorative fireplace, nine-foot-four-inch ceilings, and dark stained-hardwood floors. The living room is relatively long, so it can accommodate a small dining area next to a pass-through window in the kitchen. Speaking of: The small separate kitchen could use some sprucing up, but it does have a newer stainless-steel induction stove as well as a dishwasher and a large window.
A Convertible Two-Bedroom in Windsor Terrace for $610K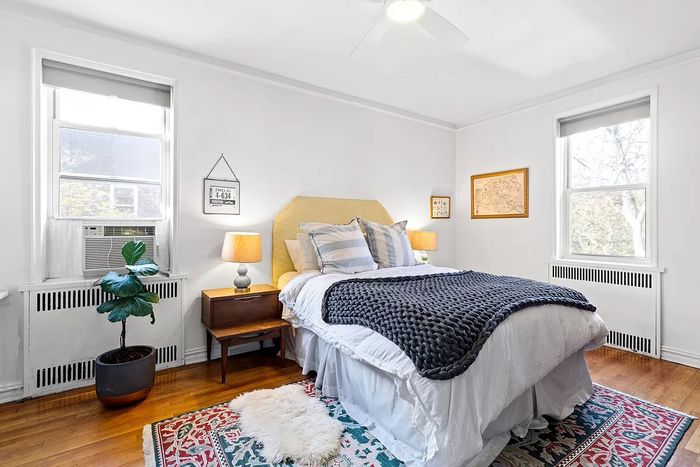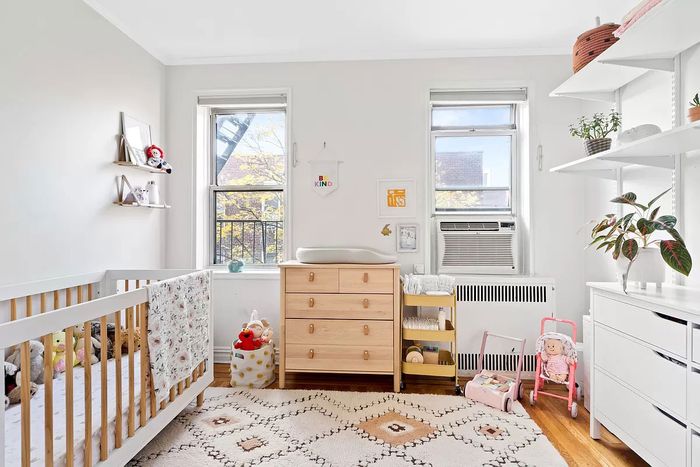 140 East 2nd Street Apt. 6H — There are only about two dozen apartments of any size for sale in Windsor Terrace, and this top-floor corner unit, one of the lowest-priced overall, stands out for its polished updates (especially the sleek cabinets in the kitchen and bathroom and the globe lighting throughout) and its flexible layout. There's a king-size primary bedroom (with two large closets and two windows) and a potential second bedroom (currently used as a nursery/office) carved out of the living room with a wall of French doors. Despite the divvying up, the resulting living room is still spacious enough for plenty of furniture like a rocking chair and media console. There are loads of crown moldings and built-ins including a pair of recessed bookshelves flanking the kitchen doorway and a workspace (with a desk and shelves) in the main bedroom.