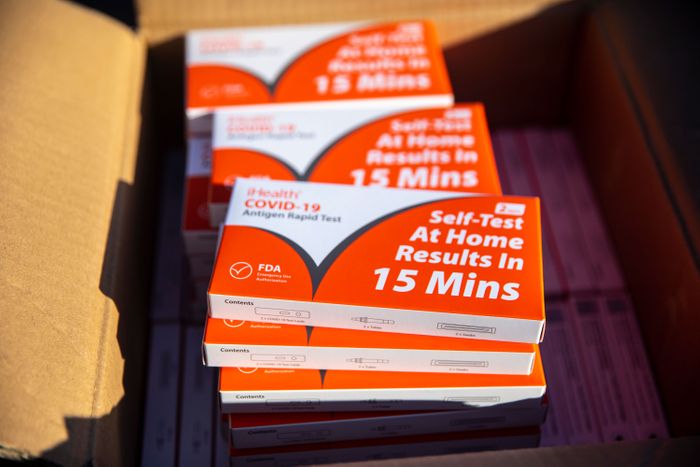 City dwellers who live in multifamily housing or multigenerational households are hitting roadblocks when ordering free test kits.
Photo: Jay L. Clendenin/Los Angeles Times via Getty Images
This week, the Biden administration announced two major pandemic programs intended to help the country combat still-surging Omicron cases: free rapid tests, mailed directly to your household by the end of the month, and free N95 masks, available at pharmacies and health clinics starting next week. These efforts, though more than a year overdue, are a welcome government response to a more transmissible COVID-19 variant. But already, many people — and perhaps the people who need these items the most — are having trouble procuring them if they don't neatly represent the audience this program was designed for: a family of four living in a single-family home with reliable internet access and a standalone mailbox.
When the site to order tests went up, people who live in multifamily buildings — where about one-third of Americans live — quickly began reporting that they were unable to place orders. "At-home COVID-19 tests have already been ordered for this address," reads the error message, suggesting that someone else in the building has already requested the tests. Also not accepted: P.O. boxes and buildings associated with commercial activity. There are some workarounds, and granted, these are all perhaps USPS-specific issues that could have been better addressed before the launch of the site (which is, by the way, only in English, Español, and Chinese 简体中文). The Biden administration says that Zip Codes with high rates of COVID-19 cases and deaths will be prioritized when shipping the tests, but if there aren't orders being placed from those Zip Codes in the first place, there's no guarantee that these hardest-hit neighborhoods, which do have higher rates of renters, will be properly prioritized during distribution.
The test kits also only include four tests per address, with no exceptions, ignoring so many living situations that might include more people. (For example, the cast of Full House would require least three test kits, as a viral tweet noted.) About one in five U.S. households are multigenerational, which are likely to have more than four members, and also are statistically more vulnerable to COVID-19. Some states even prioritized members of multigenerational households during the vaccine rollout, denoting these populations as the highest risk. People who live in other types of shared housing, like homeless shelters and assisted-living centers, which have seen some of the biggest outbreaks of the pandemic, are also not eligible to order a set of tests just for themselves. And people experiencing housing instability, or anyone without reliable internet access or insufficient data plans, might find it particularly difficult to place orders — though there is a phone number in the FAQ to call, which is also the vaccination hotline, the hold time was about five minutes this morning — meaning the most marginalized communities are the least likely to be reached by such efforts.
We already know from the unevenness of the COVID-vaccine rollout that even if an intervention is free and widely available, it doesn't necessarily translate to access. In cities, it may make more sense to test people not at home, but where they're already going. Perhaps like the vaccine rollout, there need to be tiers that guarantee tests and masks will go first to workers with high-contact jobs, immunocompromised people, those living in congregate settings like shelters, students and teachers attending in-person school, and families with unvaccinated kids under 5 (with free child-size masks that actually fit those small faces). The mask rollout, which requires people to locate a participating pharmacy and physically get there, might be easier for people who live in dense communities, but should probably also include a delivery component and prioritize hardest-hit neighborhoods before expanding widely. The distribution should also be accompanied by communication on how these masks can be safely reused to save people money and time. Maybe the CDC plans on doing all that. But if the government just ends up giving more tests and masks to the households that already have them stockpiled at home, it's not going to help the people who need to be protected most.