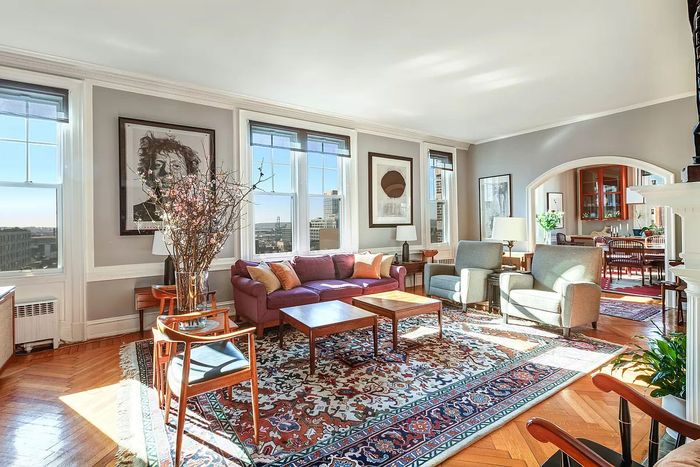 Photo: Courtesy of Brown Harris Stevens
Last week, an exceedingly rare Brooklyn Heights listing emerged: a 3,200-square-foot prewar apartment on the eighth floor of 200 Hicks Street. The building — built in 1911 — has only 17 units, and they hardly ever go on sale.
200 Hicks was designed by William Boring, who started his career at McKim, Mead & White and went on to design several apartments on Park Avenue (in the low 60s) plus the immigration station on Ellis Island. (In recent years, the building has drawn some low-key celebrities, such as The Office's Amy Ryan and her SNL writer husband, Eric Slovin.)
Unit 8S is really the Platonic ideal of a prewar apartment: The ceilings are ten and a half feet high, the rooms are big, there are windows on all four sides, and the layout just makes sense. You enter through a spacious foyer, where, on the right, you'll find the public spaces (a living room and a dining room totaling over 45 feet wide) and a separate eat-in kitchen (with Manhattan views). And then on your left is a long hallway connecting the corner library with the three main bedrooms, each easily king size. The apartment also has ten large closets and a pantry that Goldberg says totally "bowled over" a woman at one of the first showings this week.
All of the prewar features — the wood-burning fireplace, the mahogany doors, "every inch" of the moldings — are in excellent shape since the apartment was renovated just before the pandemic by architect Hope Dana. Besides a new paint job, the place also received true central air (not a mini-split), a proper laundry room, and bathroom updates. Separately, the building renovated all 17 of the apartment's windows only a year ago ("There's no deferred maintenance here," says Goldberg).
"The feeling of elegance in this apartment comes from its details," says Goldberg. Such small but significant details include restored original brass hardware, extensive chair railing, and the door widths, which are an unusual 36 inches (the standard is 32 inches). One of the owner's friends, who uses a wheelchair, once noted that this apartment was the rare living space in which he could travel room to room independently.