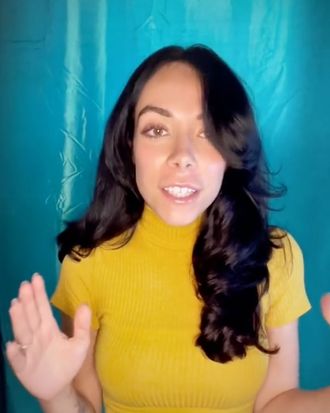 Madison Sutton, a star of real estate TikTok, is joining Brown Harris Stevens
Photo: Courtesy of @thenycagent
Traditionally, Brown Harris Stevens has been the real-estate firm you turn to to sell a sprawling duplex at 834 Fifth Avenue, or something along the lines of the Harkness Mansion. It's been around since 1873, and over the last 140 years or so built a reputation for being stodgy and hoity-toity (Hermes scarves, suits, and loafers). Over the last few years, the firm has been trying hard for a hipper image: promoting Bess Freedman, a former Legal Aid lawyer, to CEO, changing its logo, no longer emphasizing the fact that it's been around longer than most buildings on the Upper East Side. The company's latest move is recruiting a real-estate TikTok star, Madison Sutton, also known as @thenycagent, who will also develop TikTok workshops and trainings for Brown Harris Stevens agents, helping them "open a new and underutilized pipeline for business," according to the company.
When Brown Harris Stevens reached out, "I was initially a little bit surprised myself, but when I went to meetings everyone was so excited to learn about it," said Sutton, 25, who started using TikTok early on in the pandemic when rental business was slow. After posting videos of apartment tours, neighborhood in-jokes, and advice on what to wear walking around New York in various types of weather, Sutton was soon getting so many inquiries she needed to bring on more agents to help her handle them (she'll be taking a team of five to Brown Harris Stevens). She has, at press time, 98,700 TikTok followers. "We consider ourselves eternal students of technology and are always eager to adapt," Freedman told me by email. "With more and more emerging technology and social-media platforms like TikTok capturing the public's attention, Brown Harris Stevens and our agents are continually pivoting and evolving. And now, we are hiring a TikTok sensation."
Matthew Leone, the company's chief marketing officer, pointed out that this will hardly be Brown Harris Stevens's first foray into social media. There's a BHS Now Blog and an Instagram account. The company has also been "monitoring TikTok," according to Leone. "We regularly train agents in seminars and one-on-one consults with our social team to keep our agents at the forefront of social media," he said. But a casual look suggests that there's still some cultural distance between real-estate TikTok's sassy quick-cut apartment walkthroughs and (for example) the sprawling Greenwich estate that's fronting the BHS Now blog today.
Sutton said they're discussing a video series or live Zooms where she goes over things like how to summarize market data in a platform-specific way. But some of the instructions will be real baby-step stuff. Aspect ratio, for example: "Traditionally, listing photos are horizontal. A lot of agents use wide lenses," she said. TikTok, being made for the cell-phone screen, requires verticals.
So far, the city's higher-end brokers — if they use social media at all — tend to favor Instagram, a platform that naturally lends itself to a certain kind of haughty remove. And many use it in the dullest way possible, posting only listing photos with the occasional market insight. Engagement usually takes the form of comments like "stunning." On TikTok, you have to be funny or sparkly or obnoxious, or nobody pays attention, and Sutton's challenge may be coaxing traditionalists not to use TikTok in the same boring manner. "It's intimidating, there is a level of vulnerability to putting yourself in front of millions of people," Sutton admitted. "If you're already successful, there can be hesitation to adopt a platform like this. People may also assume they have to be in front of the camera all the time. You're entertaining as well as providing knowledge. I have a more personal format on my platform, but that's not the case for everyone."