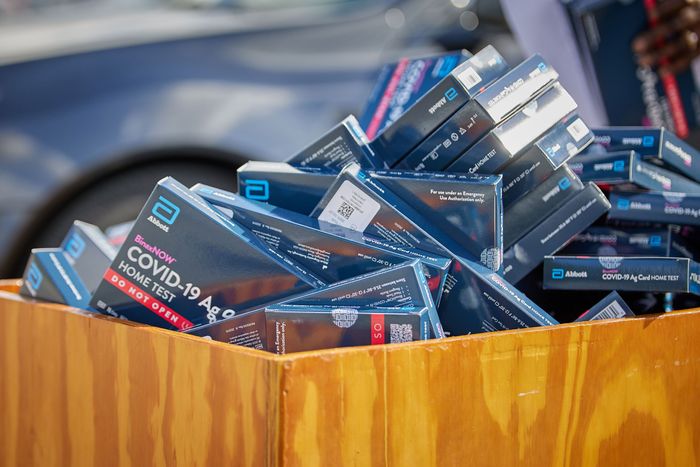 Photo: Yaroslav Sabitov/Shutterstock
Last December, Tim managed to do the impossible: He found two packs of QuickVue rapid COVID-19 tests at a mom-and-pop pharmacy in Bushwick — for $60 each. He bought them both, and after testing himself (negative), he turned into a flipper, obsessively scanning his neighborhood pharmacies for tests, buying four or five every time they restocked, and selling them at a $10 markup on Craigslist and eBay.
At the time, the underground COVID-test market was booming: Weed guys were offering tests; kids were reselling the ones handed out by schools; staff members at chain pharmacies were reselling theirs, too. Upon learning that the Department of Education would supply staff and students with tests after an exposure, a secretary at a public high school in New York City said her doctor told her she "could just sell the extras," which she promptly did. Online, sellers range from Little Leaguers to wholesalers who sell full cases, usually for over $1,000. But between declining cases and the promise of four free tests for every American (who doesn't live in multifamily housing, that is), the resale market has tanked.
There are "definitely more sellers than buyers," according to J, who sells tests on Craigslist. As a result, the market is not only in disarray but has become more competitive too. An anonymous by-the-case wholesaler said he buys tests "by truckloads," but when I spoke with him earlier this week, he told me business was slower than usual, and he still had 600 left to sell. On Thursday, another seller said my interview request was the first response he'd gotten to an ad he posted over a week ago.
There are still some buyers out there. Tyrin, a 24-year-old server, said his boss won't pay to get him tested every week, and because he's uninsured, he can't get reimbursed for all of the rapid tests he's buying. At that rate, he said he'd "definitely be more willing to buy from a friend."
Recently, Tim has had issues with ads being taken down, despite the fact that they don't actively violate any Craigslist terms of service — at least, not more so than other test sellers on the site. He told me he suspects other sellers have flagged his posts, targeting him because of his relatively low markups. To date, he's only sold six tests, for a profit of $70.
He's not getting out of the game just yet. Instead, Tim is now offering delivery.