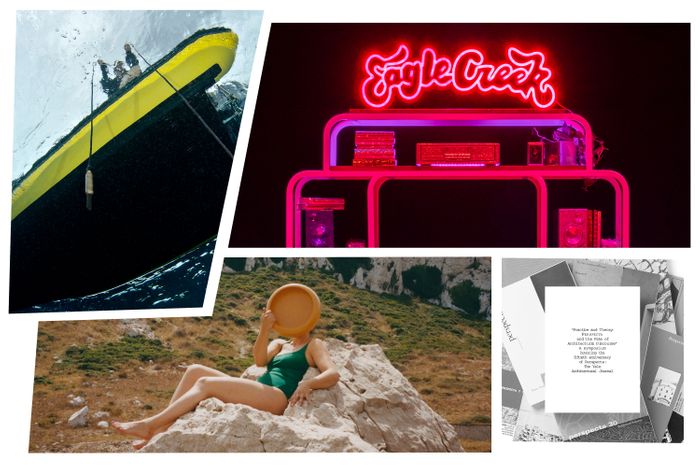 Photo: TBA21–Academy, José Alejandro Alvarez, Adam Reich, Courtesy of Pentagram, Courtesy of Raawi
Every couple of weeks, I'll round up and share the objects, designers, news, and events worth knowing about.
Oakland-based artist Sadie Barnette has finally brought the New Eagle Creek Saloon to New York. Her installation reimagines the multiracial gay bar her father ran in San Francisco in the early '90s, decked out in her own aesthetic with shimmery surfaces, a retro neon-pink sign, books, photos, and ephemera. Barnette describes the glittery horseshoe-shaped bar as something "between a monument and an altar" to her father's business, and it will actually come to life as a nightlife space of sorts, hosting DJ sets on four weekends. The installation accompanies the Kitchen's "Nightlife Residency," which highlights the precarity, ephemerality, and necessity of QTPOC spaces like the New Eagle Creek Saloon. It is organized by madison moore, an artist-scholar, DJ, and professor of queer studies currently in-residence at The Kitchen. While Barnette's installation doesn't look anything like her dad's place, it honors what mattered about it — that it was a place for celebration and resistance best understood not through pictures and oral histories, but as an experience. As the musician Shaun J. Wright said in conversation with moore: "The best way to honor the history of these lost spaces is to channel the energy of the music and keep the spirit alive." Through March 6.
Here in New York, we're constantly trying to block out the water around us, to keep it at bay. But Jana Winderen, a Norwegian artist, wants to remind us that humans are never separate from the ocean; we're forever interrelated. This past week, Winderen has been in New York City to make new recordings for her ongoing project The Art of Listening: Under Water, a multichannel sound installation that immerses you in the auditory elements of aquatic environments. Winderen has traveled around the world to capture these sounds, visiting the waters by the North Pole, Miami, and Thailand, among other places. "I like taking local field recordings so people feel connected to what's just outside their window," Winderen says. Codfish grunt. Tiger fish make a "wah-wah-wah" sound. Barnacles crackle. Winderen says, "We're neighbors with these underwater creatures. When we get an awareness of the sound environment underwater, we can build respect for creatures living there." While in town, she chartered a fishing boat, took it a few miles outside of the Jersey Shore, and, with her hydrophone, taped humpback whales and a school of menhaden fish swimming by. And in the coming days, she'll take recordings on the Hudson and East Rivers for a new presentation of The Art of Listening Under Water at Columbia's Lenfest Center for the Arts starting next week. From February 2 through 13.
Stackable Ceramic Vessels From Raawii and Omar Sosa
These vessels, designed by Apartamento co-founder Omar Sosa, are simply so much fun. The bowls, bud vases, and carafes are meant to be nested, stacked, mixed, and matched, making the series a little like a puzzle. Available from MoMA Design Store.
The pandemic, the debate about teaching critical race theory, and the steady rise in school shootings have continually reminded us about the crisis in classrooms. Sculptor Hugh Hayden has translated the disparate experience that is the American school system into a frenetic (and frightening!) installation in Madison Square Park. He's stationed 100 traditional wood desks in a grid and grafted snarls of twigs and branches onto each seat. There are dozens of ways to interpret this public installation, but when I saw it, it instantly alluded to the seeds our school system plants in young people. Instead of nurturing lushness and vibrancy, it brings forth something more tangled and hardened. Through April 24.
Architecture Posters at the Century Association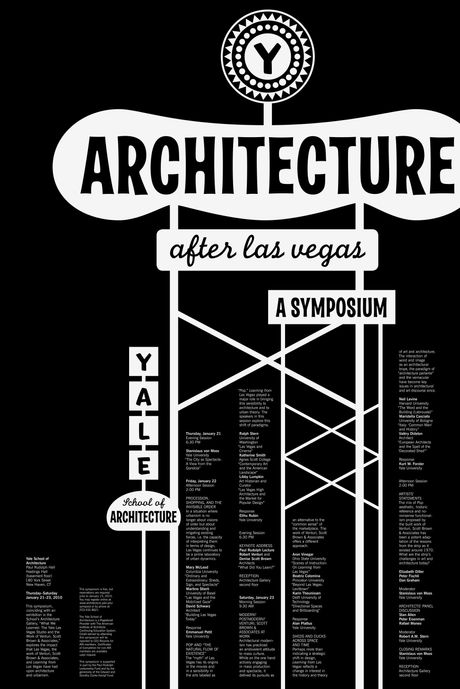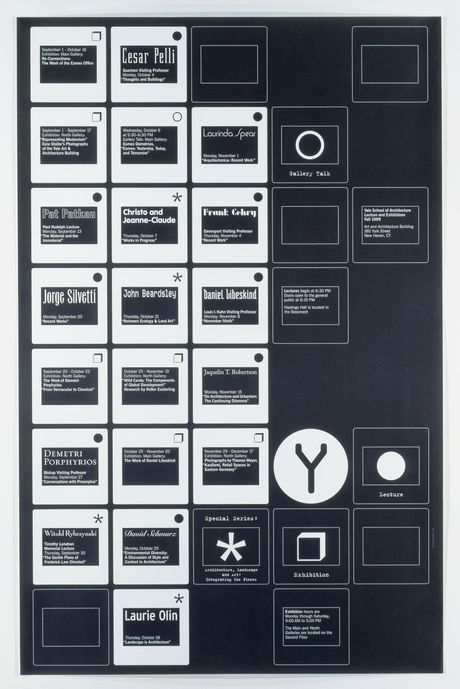 If you really want to see a graphic designer show off, take a look at the work they make for architects — a group that really appreciates experimental typography and form. Michael Bierut, a partner at Pentagram, has designed posters for the Yale School of Architecture for 40 years, each one serving as a clever visual allusion to the event it's advertising, like an open-house flyer that features a floor plan with an open door or a lecture about Las Vegas architecture that riffs on the city's famous Googie sign. A few of them are on view in a one-room exhibition at the Century Association. Through February 11.