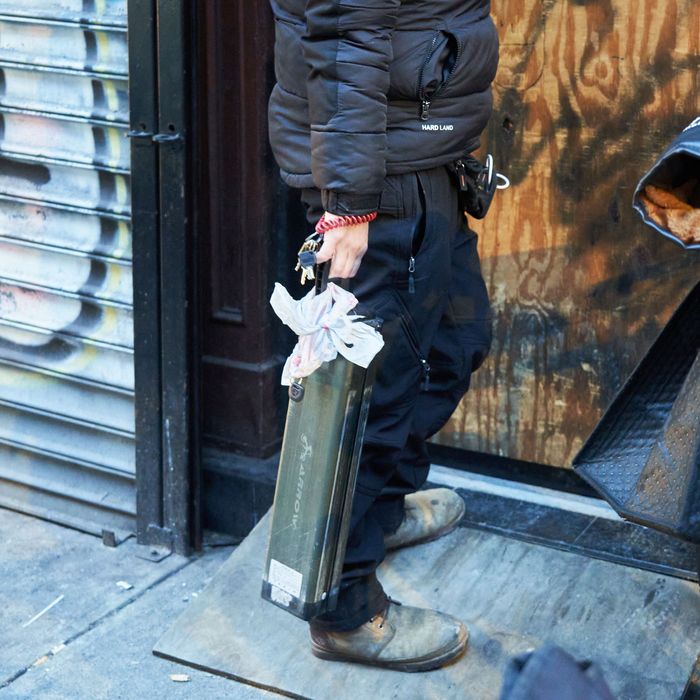 When Manny Ramirez and his wife, Jessica Choque, come home after a long food-delivery shift to the Bronx two-bedroom they share with their five kids, they check their e-bike batteries. They wipe off any rain, ice, and mud. They comb every inch of the metal casing for new dents or scars — anything that could compromise the high-powered cells inside. Then they charge the batteries in the kitchen inside a bin Ramirez lined with aluminum foil in case the batteries should ignite while they're asleep.
Ramirez and Choque are well aware that the threat of a battery fire is real. The amount of chemical energy in each lithium-ion battery — enough to keep a deliverista moving for six or seven hours — has the raw materials to start a life-threatening blaze. In New York City, this has been happening with alarming frequency.
Just over two weeks ago, an e-bike's battery burst into flames while charging in a Bronx restaurant, starting a four-alarm fire that drew more than 150 first responders and left one firefighter seriously injured. Last month, a man was killed and multiple families displaced when the nine e-bike batteries he was charging erupted inside his East Village apartment. The force of the blast blew out the windows and collapsed an internal wall, according to the FDNY, forcing two neighboring teens to escape by climbing down a pipe outside the building. That followed a September e-scooter battery fire that tore through a house in Queens and killed a 9-year-old boy. These are just a fraction of the fires in New York City caused by e-bike and e-scooter batteries last year, which reached a record of 104 fires, resulting in 79 injuries and four deaths. These numbers more than doubled from the previous year, when 44 fires led to 23 injuries, up from 28 fires in 2019. "We want to really stress the seriousness of this situation," FDNY Commissioner Daniel Nigro told reporters after the fire in Queens. "This is a new phenomenon in the city; we really need to get a handle on it."
The people most threatened by these rising numbers are New York's estimated 65,000 delivery workers. Commonly classified as independent contractors by gig companies like Uber and DoorDash, they must spend their meager earnings to buy their own electric bikes and batteries, and they often charge the batteries in their homes, sometimes just a few feet from their beds. Without the means to do all this safely, more tragedy is certain.
In the past few years, the VC-backed boom in delivery services has made electric bicycles ubiquitous. Delivery work, with its long hours, grueling distances, and low pay, has become practically impossible without the aid of these vehicles, which are well suited to thread through Manhattan's congested streets. But not all e-bikes are created equal.
Fancier rides aimed at affluent consumers can easily cost $3,000 to $6,000 and often come with batteries certified by the Illinois-based Underwriter Laboratories, whose standards are among the industry's most stringent. But the models used by delivery workers can be had for as low as $500 and frequently come with unbranded batteries of questionable reliability.
Many deliveristas ride some variation of the Arrow, a Chinese-made e-bike that is sold out of storefronts in lower Manhattan under a couple of different names for around $1,600. One storekeeper told me the battery cells are made by Panasonic, a reputable brand, though I couldn't confirm this. Other delivery workers, like Maurice Jamison, rent their e-bikes: He's an Instacart worker who pays $80 a week for his Zoomo e-bike and battery, which he charges at home overnight. (In a statement, Zoomo said its batteries are UL-certified, and "after 4+ years in business and millions of deliveries done on our bikes, we haven't seen any battery incidents related to battery quality or normal use.") Antonius Davis, an Uber courier, converted his regular pedal bike to an e-bike using a kit he found online. The batteries are generic but "seem to be a high quality," he told me. "I've been using the same brand for over five years now."
Delivery workers can't be too picky, says Hildalyn Colón Hernández, the policy director for Los Deliveristas Unidos, a labor group. "It's not about high quality. It's about 'What can I afford?'" It's common for deliveristas to save money by buying equipment secondhand from other workers or ordering something online that comes with a lower-priced battery.
Cheaper batteries mean greater risk. Qian Who, a lower Manhattan bike-shop owner and mechanic, said the industry for e-bike batteries is "like the Wild West" because of the influx of lower-tier batteries from China, which produces nearly eight out of ten lithium-ion batteries in the world. While the country has made strides in high-end EV technology, it has also seen thousands of e-bike fires responsible for hundreds of deaths, according to official reports, drawing calls for stricter regulations. It's often up to foreign importers to spot quality-control risks, but "I would say 80 percent of Americans can't tell what's good, what's bad," the bike-shop owner said. He refuses to service e-bikes even though this means turning away many customers.
Even well-known models aren't foolproof. Just ask Marcus Hoed, the head of Dutch-X, an upmarket New York City delivery company that has contracts with Whole Foods and Amazon. Until last year, he was operating a fleet of 100 e-bikes by Rad Power Bikes — a popular Seattle-based brand — that came with what Hoed describes as no-name, "white-label" batteries. One morning, five minutes into a charge cycle, one of the batteries caught fire and exploded inside Dutch-X's downtown warehouse; a worker on the scene luckily avoided injury. Hoed recalled that after the firefighters came and extinguished the flames, the battery continued to smolder and reignite.
Hoed, who has since launched a legal case against Rad Power, said specialists who checked the batteries afterward found that some of the cells inside may have been improperly secured, turning them into "ticking time bombs." Another problem, he added, is the battery enclosures may not have been truly water resistant, making them "even more dangerous" in bad weather. In an emailed statement, a Rad Power Bikes spokesperson said the company "does not comment on any pending legal matters" and advised "all ebike owners to properly care for and maintain their ebikes and components."
Since the fire, Hoed has replaced his entire fleet with different bikes powered by UL-certified batteries, which have battery-management systems that protect the cells from malfunctioning and overcharging. For good measure, a team of certified technicians inspects each battery before and after it's put on a bike and regularly analyze the batteries' performance using special hardware tools. But Hoed believes that "most companies and most people using e-bikes have zero procedures or processes."
The reality is most delivery workers simply don't have access to proper charging infrastructure. In the app-based delivery model, workers don't get help from restaurants, so they are forced to charge their batteries anywhere they can, from "basements to stores to wherever they can find," said Colón Hernández. Ramirez told me he often heads to his Bronx apartment mid-shift for a fresh battery, but other workers who live farther may spend two to three hours to go home, switch batteries, and ride back out to work. This, too, is iffy. "Some of these apartments are extremely old, and they don't have the capacity to hold the amount of charging that is required," said Colón Hernández. And because it's not uncommon for as many as five or six delivery workers to share an apartment, that means a lot of batteries charging at the same time.
Some e-bike shops have tried to address this need. One small store I visited in the Lower East Side was charging what appeared to be two or three dozen e-bike batteries at once using a maze of power strips on a large wooden shelf; the employee on duty told me I could rent a charging spot for $50 a month. It seemed a little dodgy. "The various e-bike stores, those who choose to charge batteries, it's just another revenue stream for them," said Qian Who, the bike-shop owner. "Hopefully, the business is setting up the correct type of wiring for that type of juice consumption; if not, it's going to cause electric fires just like plugging in too much crap into one single outlet."
There is one potential solution that workers are especially interested in. Ramirez and fellow members of Los Deliveristas Unidos want the city to establish physical hubs throughout New York City where gig workers can use the bathroom, enjoy a meal, repair their bikes, and charge their batteries safely. Ramirez thinks the hubs could also serve as resource centers. "If the guys need something else, like they want to apply for insurance or they want to understand the laws on the gig economy," a staff advocate on premises could help them, he said.
It's an initiative that has drawn the support of politicians like Senator Chuck Schumer, who rode a bike with Los Deliveristas in October, a few weeks after the workers won landmark protections through City Council bills. In a phone call, Schumer told me he intended to push for the creation of "scores" of worker hubs throughout New York City "by exploring every area of funding — city, state, and federal." Schumer didn't offer a timeline for the hubs and said he had yet to speak with Mayor Eric Adams about them, but "my guess is that he would be friendly," he said. (The mayor's office did not return a request for comment.) Schumer added that billions of dollars allocated in the recently passed bipartisan infrastructure bill for electric-vehicle charging could be spent on e-bike-charging infrastructure. It remains unclear whether that money could also be used to build the worker hubs.
For Colón Hernández, building the hubs would represent a much-needed shift in how people think about e-bike infrastructure. "Policies around this idea of biking and electric equipment have always been from the perspective of leisure — someone who just wants to spend a couple hours riding to work and coming back from the office," she said. "It's not the same conversation when it comes to electric mobility or charging stations for workers who are spending 12 to 14 hours in the street."
In the long run, deliveristas need not only better tech and infrastructure but an industrywide shift in who is held responsible for their working conditions. What if delivery workers were no longer misclassified as independent contractors? What if workers didn't have to buy their own bikes and batteries and could count on their employers to provide safe vehicles? What if workers could make a living wage without needing to juggle two or three batteries to ride 60 to 80 miles a day?
For now, Ramirez is focused on pushing officials to build the first worker hub; he hopes to eventually see one in every neighborhood of the city. He's confident they'll succeed. "Last year, when we were looking for new laws, nobody thought we could do that, but we did it. Now we need to do more things, and now we know we can get it."
Until then, he and his wife plug their lithium-ion packs into the chargers inside the foil-covered bin before bed. Assuming nothing goes wrong, the batteries will be juiced up and waiting for them in the morning for another long day on the road.