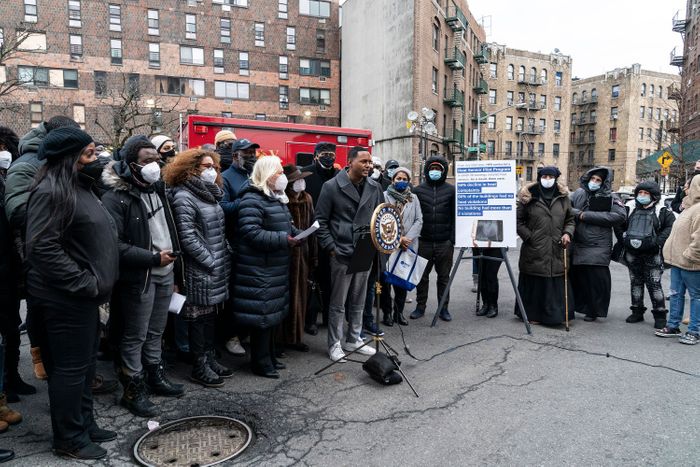 Rep. Ritchie Torres announced new legislation Monday that would require federally subsidized housing like Twin Parks to have heat sensors.
Photo: Lev Radin/Pacific Press/Shutterstock
In the days following the deadliest New York fire in the last 30 years, it became painfully clear that existing safety laws failed to protect the residents of Twin Parks North West in the Bronx. The fire started when an electric space heater used to warm a chilly apartment malfunctioned, and smoke billowed into stairwells and hallways after malfunctioning self-closing doors failed to contain the blaze. The 19-story building also lacked both sprinklers and fire escapes — neither of which it is required to have. In the wake of the disaster, which left 17 people dead, a variety of new laws are being introduced in an attempt to prevent a fire like this from happening again.
On Monday, Representative Ritchie Torres and Senator Kirsten Gillibrand announced legislation that would require federally subsidized housing like Twin Parks to have heat sensors. During the colder months, city law requires building owners to warm apartments to at least 68 degrees during the day and 62 degrees overnight. But landlords regularly flaunt that rule. At Twin Parks North West, tenants reported "inconsistent" heating that led some to rely on space heaters. Installing sensors, Torres said, would deter landlords from skimping on the heat — if housing authorities had access to real-time temperatures, they could better enforce heating requirements and issue violations. This has already been proven effective: In 2020, the city piloted sensors at 26 buildings — including a seven-story apartment complex on the Lower East Side and four-story red brick building in Fort Greene — and those properties saw heat complaints drop by more than half. Torres also wants to pass a bill requiring an automatic shutoff for overheating space heaters, which are a leading cause of house fires.
Then there are the self-closing doors, whose failure during the fire created a flue effect, drawing smoke to higher floors where many of the deaths ultimately occured. It is easy in New York for landlords to get away with leaving broken self-closing doors unfixed — once a busted door is reported, all they have to do is tell the city that they've made the repair without providing any proof. Local City Council member Oswald Felix is now pushing five new bills that would ramp up enforcement and penalties against landlords who fail to maintain them.
One such bill would require the city's housing department to reinspect any building written up for self-closing-door violations within seven days. If a door hasn't actually been fixed, a city worker would repair it, bill the landlord, and fine them a yet-to-be-determined amount. On the federal level, Torres plans to introduce legislation that would require self-closing doors for both apartments and common areas in federally subsidized housing. The bill would require building owners to inspect the doors on a monthly basis and ensure they are working properly.
Other fixes have been floated too. Feliz wants to boost the minimum temperature landlords are required to heat apartments. (They don't have a specific number in mind yet, though the idea may be to inch it closer to the temperature required in neighboring states — New Jersey's overnight number is 65, Massachusetts's is 64, and Pennsylvania's is a relatively staggering 68.) And Gillibrand said that exempting older buildings from city laws requiring sprinkler systems is "unacceptable"; together with Torres she said she is working to get federal resources to install them in buildings across the city. "There should be no grandfathering," she said on Monday. "We should never see this kind of devastation again."