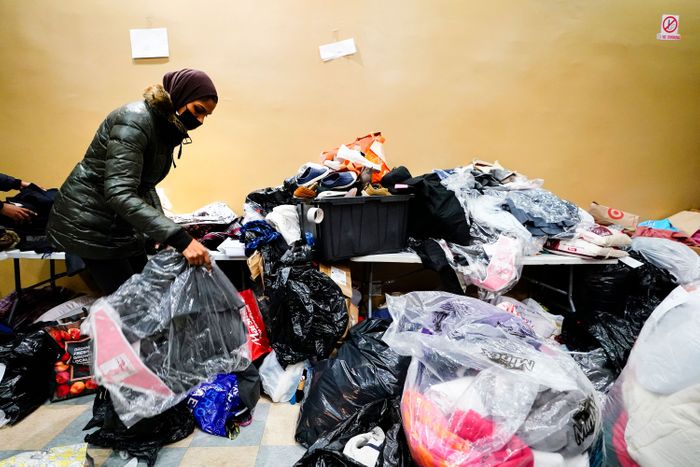 Photo: Matt Rourke/AP/Shutterstock
Here are some things the Gambian Youth Organization, on 181st Street in the Fordham Heights section of the Bronx, had plenty of this weekend: glittery puff jackets; codfish-fritter mix; I Can Read! Level 1 children's books; Kellogg's Bran Flakes; aux cables, all sizes; "Patriotic"-branded red-white-and-blue paper tablecloths; clipboards with the names of displaced families from the Twin Parks North West building just blocks away; hand sanitizer, extra-strength garbage bags.
The ample supply of toiletries the organization had early Saturday was considerably diminished by six o'clock. As the rush of recipients finally thinned, the group was down to just the basics. A battery of eight volunteers — all members of the local immigrant community that suffered the brunt of the losses in the Twin Parks fire, New York's worst in three decades — sifted through the mounds of donations in the one-room office, readying bundles of items in case any late arrivals walked through the door.
"It's going to take people a long time to recover," said Momodou Sawaneh. "We're trying to get it all organized so that, once this runs out, we can bring in more." The founder and former president of the GYO, Sawaneh started the group in 2002, just a few years after he arrived in the United States from Gambia and completed his B.A. at John Jay College of Criminal Justice. "I felt like a lot of folks coming to this country, especially youths, were not exposed to the system," he said. "I wanted to be a pioneer." Today, his organization serves a substantial population of Gambian Americans living on the steep slopes around the Grand Concourse, helping connect area residents with health care, legal services, educational opportunities, and more. "We have other activities, play soccer games, basketball," said Sawaneh. "It's about having a sense of belonging."
And then came the fire. Everyone at the GYO over the weekend knew somebody affected by the blaze: Of the 17 lives lost in the disaster, all but six were members of the community; one helped run the organization's food pantry and beauty pageant. The apartment building at 333 East 181st Street has long been a major center of Gambian life in the Bronx, and for many — including Sawaneh, who lives on the block — it was hardly necessary to turn to the internet or TV the morning of January 9 to know what had happened. Standing just outside the GYO's storefront, a visitor can just look to their left, where the street ends abruptly at the base of the looming, 19-story tower, its lower floors now smeared in black.
Within hours of the incident, the GYO launched a pitched effort to provide aid to victims and their loved ones. For an all-volunteer organization with a typical annual operating budget of less than $100,000, the logistics have been fairly overwhelming. "We've gotten donations from all around the country. People FedEx things," said Sawaneh. The material largesse of well-wishers was in evidence all around the group's modest floor-level space: in this corner, an as-yet-unopened garbage bag from the Queens Baptist Church in Queens Village; in another, a tote bag bearing the logo of Dignity Grows, a Jewish nonprofit in Connecticut dedicated to providing free hygiene products.
Keeping track of it all — unpacking the donations, spreading out the items on tables, sorting them into boxes and atop ceiling–high Metro shelving — has been the work of GYO's volunteer crew, whose numbers have swelled to as much as 60 people, all of them squeezing in hours between grad-school classes and jobs. "We want people to feel like they're coming into a store," said Jaharai Sillah, a tall young woman in her 20s. "This is for them." Working from a confirmed list of those affected by the tragedy, the volunteers trawl through the collection and fish out whatever applicants seem to need, producing sheets, towels, and googly-eyed purple plush toys as if by magic. They're not above helping noncommunity members as well: When one woman wandered in asking for change, the team tried to upsell her on free food and blankets. "Whatever you need, honey," said Sillah.
The GYO's current windfall is not confined to castoffs and hand-me-downs. Only four days after the fire at Twin Parks, the group shut down its official GoFundMe campaign after donations shot past the $1 million mark. Aminata Sillah, a lifelong Bronx resident employed at the Gambian Consulate in Manhattan, has been busy trying to expedite visa applications for victims who had indicated their wish to be buried abroad. She's now also taken on work as part of the hastily assembled committee that will determine how to pay out the GoFundMe endowment. It's a lot to take on, but Sillah, who lost two family members in the fire, felt she had no choice. "I have to have several tasks going on at the same time," she said. "If I was sitting down doing nothing, I would feel terrible."
Alongside the GYO, local masjids, city agencies, and other nonprofits have been distributing relief. On Saturday afternoon, in the plaza directly in front of Twin Parks, the Bronx-based U.S. Army recruiter Sgt. Michael Illidge had set up his van full of donations on behalf of his Ruff Ryders motorcycle club chapter. He'd had plenty of takers, he said, but added, "Some people are just waiting for funding so they can go start over." At this point, the amount of material donations — clothes, food, household items — may have reached a saturation point. Some organizations are now only accepting certain kinds of goods — or none at all, as is the case with GYO, which has posted a sign on the door declining additional gifts.
Yet, for all the things the GYO has gotten, there are still far greater things that the group and the people they serve are still eagerly awaiting. On the shortlist: answers, accountability, and some feeling of security, psychological and otherwise. As Ajifanta Marenah, an M.A. student at St. John's University, folded blue jeans and stacked cardboard boxes with fellow volunteers, she said they'd already heard complaints that the heating in Twin Parks remained subpar for the tenants who had returned. "This community has always been neglected," she said. The property's owners have yet to face any official inquiry into the heating conditions or the rumored faulty doors, and no extensive overhaul of the building has been announced; even if it is, the GYO staff said many residents would be too traumatized to return to Twin Parks any time soon. Displaced renters, some living in nearby hotels, have been coming to the organization for help finding longer-term housing, and their numbers may grow if the city shuts down a nearby temporary service center this week, as rumored. "We need to keep that resource center open 24/7," said Mareneh.
"Because we're Black, because we're immigrants, we've always had to fight for ourselves," she added. "We're still fighting." For now, the group can only do its best for the people in its charge. This includes the volunteers adding social-media advocacy to their long list of to-dos. During a quick break, chatting over aluminum takeout plates, Jaharai Sillah half joked that the group should start a real Gambian restaurant in the area, serving national delicacies like domoda, a rich peanut stew. (It turned out that no one in the group was quite sure how to make it.) The hour was getting late, but the mood had lifted. "We have to be a bright place," said Sillah.