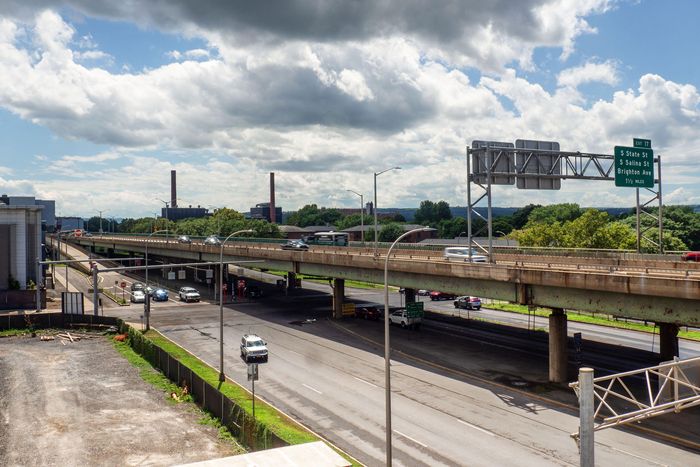 I-81's elevated viaduct through downtown Syracuse has been a popular candidate for removal.
Photo: debra millet/Alamy Stock Photo
A notorious example of postwar transportation development gone horribly wrong will be gone soon. Governor Kathy Hochul announced this week that New York State will demolish a 1.2-mile stretch of I-81, an elevated interstate that sliced through downtown Syracuse as part of a failed urban renewal promise in the 1960s, and knit back together the original grid of surface streets. It's one of five projects that will receive $3 billion over five years to "undo the wrongs of the past," Hochul said at a press conference. "Reconnecting neighborhoods that were severed by asphalt highways is a cornerstone of our bold infrastructure vision."
As cities across the country have confronted the concept of dismantling the monuments to sprawl that divide U.S. communities, Syracuse has served as a prime candidate for highway removal — and also for the complicated discussions that follow. For years, local residents have agreed that the highway has to go, but there hasn't been widespread consent about what should replace it. Hochul backs the "community grid" plan, which would more or less restore the scale of the 15th Ward, a densely populated neighborhood that housed 75 percent of the city's Black population in the 1950s. But the proposal is also fraught with concerns that opening up the land to new investment would end up displacing existing residents, much in the same way hundreds of those households were forcibly removed for the highway's construction in the first place. Hochul says her funding will focus on mitigating that development pressure, something she specifically alluded to in her remarks this week when talking about a similar intervention to reimagine Rochester's Inner Loop — which will also receive some funding from the state. (There, supportive housing for low-income residents that replaced the sunken highway is part of the project.) Hochul is also proceeding with a highway removal in Buffalo, decking over the below-grade Cross Bronx Expressway and beefing up funding for a project, already underway, to divert truck traffic from Hunts Point.
The unbuilding of the highway joins her Interborough Express proposal, the 14-mile rail line connecting Brooklyn and Queens that she's also attempting to hustle forward, making it clear that Hochul intends to make material transit improvements to urban cores during her (at minimum) 15-month partial term. Hochul, who attended Syracuse University, told local reporters she saw the viaduct's damage to the surrounding city up close. "I know there was a huge disconnect between the university and downtown because of this artificial barrier," she said. "I'm going to continue working with our DOT to get it done and get it done soon."