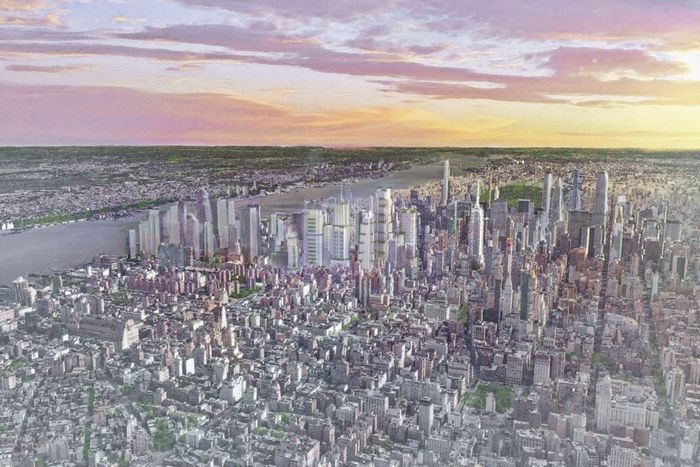 Do we really need all that?
Art: governor.ny.gov
In the years after World War II, American planners did as much damage to American cities as Allied bombers had done to German cities. There was less bloodshed, but a lot of urban centers emerged looking almost as two-dimensional as Cologne's. Failing department stores and janky rowhouses were wiped away and streets spread into parking lots, all in the hope that companies would salivate at the sight of all those nice bare squares and start building headquarters in desolate downtowns. It must be tempting, when you're gazing at a city from above, to dream of clearing the board and setting up the pieces from scratch.
A similar spirit animates Governor Kathy Hochul's plan to raze a thick wedge of midtown around Penn Station (roughly between Sixth and Ninth Avenues from 30th to 34th Streets) and replace it with a set of shiny extra-large office towers. Late last year, Hochul rolled out an appealing vision of a rebuilt Penn Station loosely linked to a separate plan for a new rail tunnel under the Hudson. But it came with a megacatch: The state would raise its $7 billion share of this crucial project through a monster real-estate deal. The only way to save the city is to destroy a big chunk of it — a Manhattan demolition derby dictated by Albany.
Public hearings have rung with objections on preservationist, procedural, financial, political, and urbanistic grounds, but what's really united a disparate bunch of opponents is the proposal's casual arrogance. Only the state, it suggests, has the wisdom, the clout, and the lack of sentimentality to cope with the area's ancient dysfunctions. One-upmanship — or ten-upmanship — was the operating principle of the Cuomo–de Blasio era, but it's not a basis for a healthy relationship between state and city. Determining the density and height of a large swath of Manhattan is a decision we make through a messily democratic, infuriatingly cumbersome city process whose faults are no excuse for the state to preempt it — especially with such a Strangelovian solution: The Pennsylvania Station Civic and Land Use Project makes its case in a fusillade of dispassionate bullet points, but the overarching tone is one of old-fashioned paternalism. Trust us, it says, in a dozen different ways.
Trust us; the area is too far gone to be fixed up.
The state's report discusses the existing neighborhood in a head-shaking, disappointed tone, as if it were a teenager's bedroom in severe need of scouring. The architecture firm WXY produced a lively map showing a mix of building ages, but the text laments the area's stagnation. Look at all this junk, it suggests: buildings too old to be functional but not old enough to be historic, "graffiti, garbage, and debris that may be evidence of deterioration or disinvestment," dumpy office buildings with low ceilings, tightly spaced columns, and inefficient mechanical systems. These are all a total loss, the document implies, entire blocks destined for the scrapyard.
Look at Chelsea, Times Square, Hudson Yards, Hell's Kitchen, the state admonishes: All are paying their way, making room for greater densities and new towers. Around Penn Station, though, decades of procrastination and fussing with zoning have stimulated no fresh construction and coughed up no significant revenue. There's a certain amount of muffled glee buried in the section on current conditions because blight is the necessary precondition to renewal. The crappier the neighborhood looks, the brighter and bigger its future.
Trust us; there's nothing worth saving here anyway.
A clutch of architectural standouts stud the area, among them the neo-Gothic church of St. John the Baptist, from 1871, designed by Napoleon LeBrun; McKim, Mead & White's Penn Station power plant, as elegant a piece of urban infrastructure as you will ever find; and most spectacularly, the green-copper Gimbels skybridge over 31st Street designed by Shreve and Lamb. Some losses have been all but foreordained: the Hotel Pennsylvania is on deck for demolition, to be replaced by Foster and Partners' Penn15, as tall as the Empire State Building.
What's being lost in these streets is the remnants of New York messiness, the small businesses that needle into whatever poky premises they can afford, the hodgepodge of unfashionably old addresses, the unprettiness of a workaday city. A purveyor of handmade cigars on West 31st Street, around the corner from Molly Wee Pub and across the street from a wig store, hangs glumly on to existence in a neighborhood that's only gotten more depressive. The rug outlets that were once scattered along the blocks between Park Avenue and Seventh Avenue have retreated into a more compact redoubt around Fifth. The grungy establishments that catered to commuters with half an hour to kill before the train to Ronkonkoma are quiet now. A few fluorescent tubes flicker in the windows of commercial buildings, possibly suggesting more activity than is really taking place inside. But decline can be reversed without demolition, as vast tracts of the city prove. Many of these buildings have been allowed to crumble because they have always felt temporary anyway.
Trust us; the plan's opponents hate progress.
It's true that the area around Penn Station invites a muscular, even transformative approach. The neighborhood can surely absorb its portion of skyscrapers so long as they are well placed, judiciously proportioned, and genuinely needed. Among the opponents to the state plan is the architect and planner Vishaan Chakrabarti, who literally wrote the book on transit-oriented urban density and is not exactly fearful of towers. To him, the most sensible solution is to dislodge Madison Square Garden from its perch atop Penn Station, move it east across Seventh Avenue, and flank it with a pair of behemoths. That would hardly leave the area unscathed, but it would do less damage to fewer blocks.
Trust us; this is all for your benefit.
Much of the land around Penn Station belongs to a single developer, Vornado, and loosening the zoning there will likely trigger wild festivities in the boardroom because bigger buildings yield more billions. For the public, the real-estate deal is incidental, a tool to get the transportation infrastructure the city needs. For Vornado, it's the whole point, a chance to cash in on long-term holdings and multiply the value of assets. In an ideal public-private partnership, both sides win. In reality, public-private partnerships are rarely ideal, and the developers almost never lose.
Trust us; what New York really needs to ensure its economic future is another range of glass-mountain offices. 
This is one of the central head-scratchers of the entire project, an unalloyed faith in the continued dominance of Class A office space as an economic engine. Under Hochul's proposal, developers would have to build 540 new apartments, 162 of them affordable, and would be allowed to build up to 1,800 (540 of those affordable). That's fine as far as it goes, but the bulk of the square footage is reserved for a kind of space the city is drowning in now: offices. Maybe, when the pandemic ebbs, cubicles will fill again, corporations will rediscover the joys of togetherness, and any self-respecting global capital will require a new generation of well-aerated, super-tall, trading-floor-fat, hyperwired workplaces within walking distance of commuter rail. But then again, maybe not.
Trust us; this is an environmentally worthy project since the existing buildings are too leaky and wheezy to be made efficient, but the new ones will purr greenly along. 
This makes perfect sense so long as you don't bother to calculate the energy consumption and carbon emissions from converting existing buildings to rubble and manufacturing numberless tons of concrete and steel to go in their place. It would take a lifetime of perfect efficiency to pay off that kind of carbon debt.
Trust us; there is no other way to get this done. Reject this plan and you'll be stuck with the Penn Station hellhole for eternity. 
There's an element of blackmail to a plan that presents a multibillion-dollar generational undertaking as a binary decision. The truth is the plan demands a blank check but makes no guarantees, maps out no clear pathways toward a new era in transportation, and doesn't make the case for why we should accept its all-or-nothing proposition. Which leads us to a final point.
Trust us; the math works (or maybe not).
The state makes the dubious argument that the Penn project is urgent and necessary because the station's upgrade expenses start now, but the real-estate deals won't start generating revenue for years. There are mechanisms for bridging that delay, such as getting developers to pay taxes on future profits up front. But the report still makes a strangely self-defeating case that revenues might dribble on anemically for decades and may never add up to enough. Points for frankness, anyway.