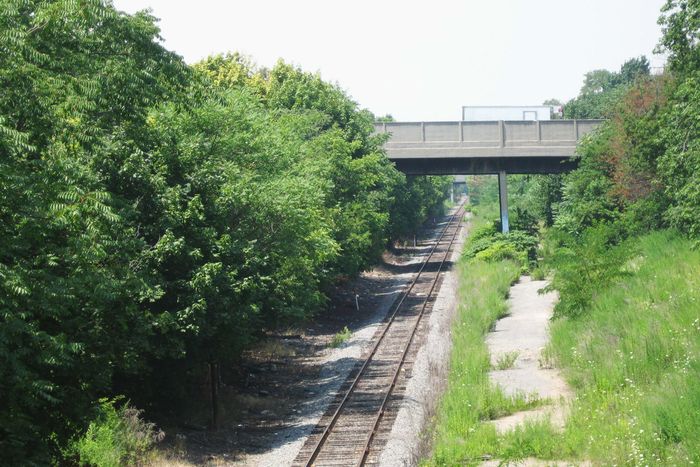 The Interborough Express would put passenger trains on 14 miles of underutilized freight lines in Brooklyn and Queens.
Photo: Jim Henderson via Wikimedia Commons
"Today, I'm announcing a bold idea: Take an old unused, 14-mile-long right-of-way and create what we're calling the Interborough Express, a new rail service that will connect Brooklyn and Queens," New York Governor Kathy Hochul said in her State of the State address this week. It's not a new idea — Hochul's plan is a somewhat truncated version of a Regional Plan Association proposal called the Triboro from the 1990s — but it is indeed a substantial one, which has the potential to improve daily life for some of the most transit-dependent communities in the country. Hochul's plan won't just be game-changing for New York; it could serve as a new, nationwide model for smart reuse of existing, underused infrastructure.
The beauty of the Interborough Express itself (are we calling it the IBE yet?) is that it fills in a bunch of gaps. The old rail lines in question — Long Island Rail Road tracks in Brooklyn, CSX tracks in Queens — are now used for freight a few times per day. Adding passenger trains will create a wormhole from Bay Ridge to Jackson Heights that will turn a 70-minute commute into a 40-minute one. It will supersede awkward bus connections or looping into Manhattan to change trains. The IBE will cut north-south through two boroughs where the preponderance of subway lines run east-west, so it will connect a dozen subway lines plus a couple of commuter rail lines as well. (Contrast this plan with former New York City mayor Bill de Blasio's briefly-resurrected-but-probably-now-dead Brooklyn-Queens Express streetcar proposal, which would have served some of the same neighborhoods but was too expensive for the ridership projections, required a great deal of route procurement, and was still not guaranteed to shave any time off commutes.)
The proposal is likely to reignite an overdue conversation about how to best reactivate rail rights-of-way. As the "rails to trails" movement swelled during the '80s and '90s, cities and states mostly converted these abandoned railways into walking and biking routes, like New York's recently completed Empire Trail and other major trail systems in cities including Atlanta, Chicago, and Dallas. They're all valuable projects, but cities also need "rails to rails" plans that put unused or underused routes back into action as transit. Locally, the Interborough Express could become a model for how to bring other neglected lines, like the Rockaway Beach Branch that crosses Queens, back into service. It has been proposed that the Rockaway branch be made into another High Line, and sure, an outer-borough elevated park would be nice — but a lot of these train lines are still incredibly valuable as actual train lines (and cities can always thread greenways around them).
Hochul's plan still has a lot of challenges to confront. Nearly 1 million residents call the area around the proposed Interborough Express home, the majority of whom live in communities of color with very low rates of car ownership. As the line is built out and begins to attract residential development, special attention will need to be paid to ensure that these residents don't get pushed out. Hochul's Interborough Express map shows the project terminating in Jackson Heights instead of running all the way to Co-op City, as the original Triboro plan did. That last leg would have served tens of thousands of people who now have relatively few transit options. (A Metro-North plan in the works would serve that part of the East Bronx, although it wouldn't be as cleanly integrated into the subway system.) Hochul says planners believe the IBE can continue to carry some freight concurrently, which would introduce some complications — and a lot more stakeholders — to the project. (It's not an insurmountable logistical problem, however. Chicago manages it well, and Amtrak uses freight lines all over the country, albeit sometimes with difficulty.) Most of all, the IBE plan will at least theoretically speed up New York's awful pace when it comes to building new subway lines, because so much of the work is already done: The route is procured, and the tracks are grade-separated. The plan also offers the idea of converting the whole thing to a dedicated bus-rapid-transit line as an option, and that would go even faster. With federal infrastructure money pouring in, an MTA environmental review under way, and an eager future ridership at the ready, it would literally be fast-tracked.
The IBE is exciting at this exact moment because it shows how a governor can champion a major urban transportation project that's guaranteed to shift a large number of car trips to transit trips. It's a much better investment than, say, widening highways. If every state leader threw their weight behind improving transit commutes in the centers of their most densely populated cities, the climate, congestion, and economic benefits for the country would be enormous. Granted, Hochul is a little unusual, in that she controls mass transit in her state's most populous city. But states do have a lot of control over what makes this project such a win: putting underutilized rights-of-way back to work.