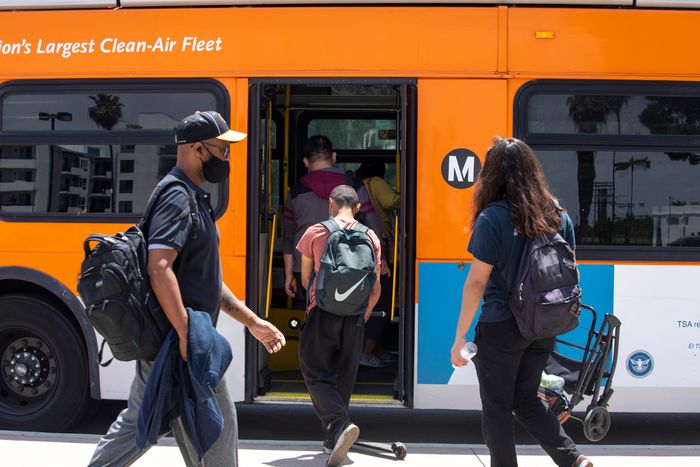 Photo: Brian van der Brug/Los Angeles Times via Getty Images
In March 2020, Los Angeles' public-transit agency, Metro, stopped collecting fares on its buses as a COVID-19 safety precaution. For the next 22 months, Metro waived fares for anyone who wanted to keep riding its buses, anywhere they wanted to go (as long as they wore a mask, of course). And people did keep riding. Outside of the initial stay-at-home order in the spring of 2020, Metro's ridership never dipped below 50 percent of before-times ridership, with buses eventually recovering to within 10 to 15 percent of pre-pandemic numbers. While the agency doesn't know exactly how many people were riding fare-free buses during this time — because fare collection is one of the ways to track ridership — a spokesperson says that from April 2020 to December 2021, it's safe to say Metro's buses provided about 281 million fare-free boardings. This means the agency has inadvertently been conducting what may be the biggest free-transit experiment in U.S. history. Fare collection restarted last week after two unprecedented years in which transit agencies learned a lot about how people moved (or didn't) around their cities, and now Metro is using some of this information to game out improvements and pilot other free- and reduced-fare programs.
Even without precise information, the numbers tell us something. Transit ridership in L.A. didn't plummet nearly as much as other systems' during the pandemic. "Just comparing ridership numbers across the nation, Metro's ridership is nearing 80 percent of pre-COVID levels, and that's better than any other nationwide agency," says Alfonso Directo Jr., advocacy manager for the Alliance for Community Transit, citing data from the American Public Transportation Association. (According to that same data, New York's MTA has yet to surpass 60 percent of its pre-pandemic ridership.) That at least suggests that free fares were a factor. Bus ridership also recovered at a faster rate than rail, where fares continued to be collected, says Oscar Zarate, assistant director of organizing with Strategic Actions for a Just Economy: "I don't think that's by coincidence. I think it's because most of the people who ride the bus depend on it because they're workers and that's their primary transportation. And because they didn't have to pay for it, it was really easy to get on and benefit from our public transportation system."
L.A.'s Metro is unique among large U.S. transit agencies in that its budget doesn't rely heavily on the fare box, which made the decision to temporarily waive fares a bit easier in the first place. A ride costs only $1.75, and the total funds collected make up only 6 percent of total revenue — about a third of which goes right back into fare enforcement (although that doesn't include contracts with law-enforcement agencies). Adding to Metro's relatively comfortable financial situation is a local sales tax, Measure M, which was approved by voters in 2016 to generate $120 billion for the system over 40 years. Aside from L.A.'s experiment, the largest permanent free-transit program in the U.S. is run by Kansas City, which is providing free rides for 30,000 to 40,000 passengers a day. Boston is trying it on some dedicated bus routes. But New York's MTA has argued that fares, which bring in $6 billion during a non-pandemic year, are too critical to waive, and is instead cracking down harder on fare evasion, even on buses.
The unofficial pilot program has helped Metro take some baby steps toward a universal fareless future for L.A., something advocates have demanded for decades. The agency offers deeply discounted weekly and monthly passes for low-income riders — with a free pass for the next 90 days — and students pre-kindergarten through 12th grade in certain school districts, including the half-million students who attend L.A. Unified public schools, can now also ride fare-free. But, as advocates point out, since a majority of bus riders already qualify for these discounts, Metro should make them standard, not an exception requiring extra paperwork (and extra administrative costs). "They have good stats on who is riding in terms of demographics," says Directo. "We know the ridership is overwhelmingly low-income, making $18,000 a year or less, for half of the riders on the buses." Yet as of this week, according to Metro, only 103,083 individuals, or one-fifth of the system's current daily bus-ridership figure, are enrolled in the low-income fare program. If the goal is to offer more affordable transit for those who need it most, reinstating fares is not the way to do it, says Zarate. "If you're not taking what happened as a way of understanding your ridership deeper, and how they could have benefited from going fareless, to me this signifies that maybe there wasn't an intent to go to universal fareless in the future."
Metro's also looking at other benefits from its fare-free experiment. According to the agency, buses saw a two-second reduction in what's called "dwell time" at each stop when not collecting fares. That might not seem like a lot, but Metro estimates it sped up boardings by 10 percent. Here again, however, the systemwide effects are difficult to judge when so many other pandemic-era service factors have been disrupted — like many transit agencies, the combination of operator COVID cases and labor shortages has Metro canceling bus runs — but Metro says it highlights the need to move to all-door boarding.
Universal fareless transit would also have an outsize climate impact. According to a Metro report that surveyed which regional transportation investments can most reduce vehicle miles traveled — a priority of the agency, it claims — waiving fares would result in both fewer miles driven and fewer greenhouse-gas emissions, more than any other intervention, including congestion pricing or charging drivers a mileage-based fee. And that alone makes a very good case for keeping buses free. Directo and Zarate estimate that one likely repercussion of fare reinstatement will be seeing Metro's ridership numbers, which have recovered somewhat steadily until now, start to plummet again. (The Omicron surge is likely to be a contributor as well, but what better reason to keep fares free?) Beyond the clear benefits to the most transit-dependent riders as they recover from the pandemic, free fares offer a built-in ridership boost, which should make it a top priority for any agency that wants to seriously address the climate crisis.