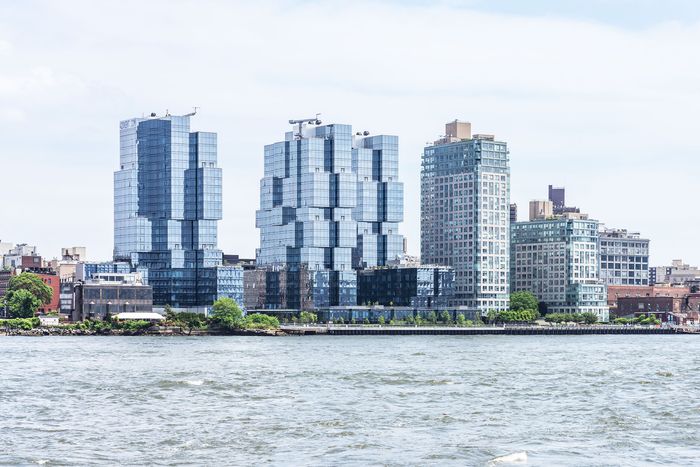 Even if you can afford to live here, you're probably too late.
Photo: Michael Lee/Getty Images
It's a distant memory now, but in the early days of the pandemic, it seemed likely — inevitable, even — that rents would plummet. And they did …  for about six months. By last summer, the days of bargains were long gone, and people were getting into bidding wars over rentals. So intense was the frenzy that even the luxury-rental glut — the oversupply of apartment rentals that clogged the market for years before the pandemic — is finally gone.
In December, rents in Manhattan luxury and doorman buildings surpassed pre-pandemic levels, according to Douglas Elliman's most recent market report. Top-end rents in Brooklyn were up both month-over-month and year-over-year. And concessions, considered to be a given in the world of luxury rentals for the past five years, are disappearing (a quarter of Manhattan rentals now offer them, compared with 50 percent a year ago). "There's been an inversion, a tremendous boom in the upper part of the market. It's the opposite of what it was pre-pandemic," said the appraiser Jonathan Miller of Miller Samuel, who wrote the report.
Mark Martov, an agent at Corcoran, said he's never had so much trouble (or really any trouble before now) finding rentals for upscale clients. He's currently working with a family looking for a three-bedroom with outdoor space in Dumbo. They have upped their budget to $15,000 a month from $9,000, and there's still nothing out there. "If you go on StreetEasy and type in 'Dumbo,' there is literally one listing for a three-bed, and there is nothing luxurious about it," Martov said. "I'm calling management companies, other brokers, brokers who've done recent sales in the area." (At Magnolia, a luxury rental in Dumbo, the leasing team says that is has been fully booked with appointments since launching leasing last week.) The family isn't set on the neighborhood, he said — they're open to others in Brooklyn — and have adjusted their expectations. "At first, they wanted a backyard. But then they were like, 'If there's a balcony or a terrace, that's okay.' Then it was, 'Well, it's okay if there's no balcony as long as it's a three-bedroom.'" Lately, they're saying a two-bedroom might do.
Before 2020, the lower end of the rental market had the upper hand — which is not to say that cheaper rentals are languishing; those are moving, too, but the prices haven't entirely rebounded. Listing inventory for all apartments, luxury and non-luxury alike, is way down (80 percent over the past year in Manhattan, 83 percent in Brooklyn). Stephanie Diamond, the founder of Listings Project, said that while inventory on the site fell to normal levels in May 2021, demand, as measured by the number of inquiries rental listings received, continued to climb. Right now, apartment rentals are getting twice as many inquiries as a year ago, and rentals in room shares are seeing five times as many inquiries.
After the last recession a dozen years ago, developers raced to throw up new buildings, many in areas that had undergone Bloomberg-era rezonings — Long Island City, the Williamsburg waterfront, Downtown Brooklyn — flooding the market with tens of thousands of new units per year. In 2016, when 11,514 new rental units came on the market in Manhattan and Brooklyn, the New York Times reported that the Brooklyn rental market was "saturated." The following year, which the Times declared "the year of the renter," the number of new units in Manhattan and Brooklyn soared to 13,340. This was not, however, a case of building to affordability. Though overall vacancies in both boroughs remained low, almost all of the new apartments were luxury units — too expensive for the majority of New Yorkers. So landlords knocked the prices down with concessions, a trick (supposedly temporary) to disguise the fact that they weren't renting at the asking prices. Two months free on a two-year lease and a waived broker's fee were standard, and many buildings offered more: four free months on a two-year lease, elimination of amenities fees, gift cards.
Even as many of those concessions became more outlandish during the pandemic, the stock market was surging, the rich were becoming even richer, and this summer, the wealthy, who made up the vast majority of people who fled New York at the start of the pandemic, flooded back into the city. Rents in their neighborhoods reflected that: Soho, where 40 percent or more of the residents left in the first few months of the pandemic, saw rents go up 57.7 percent in a year to a median of $6,002, according to a StreetEasy report. In the Financial District, they were up 38.7 percent; in the West Village, 36.5 percent. (Flatbush, by comparison, rose 11 percent.)
Is the rebound at least leveling off? Things do seem to be calming. In the words of real-estate experts, the numbers are "stabilizing" — returning to pre-pandemic levels, going back to normal, in all areas of the market. Which is to say, expensive. For everyone.