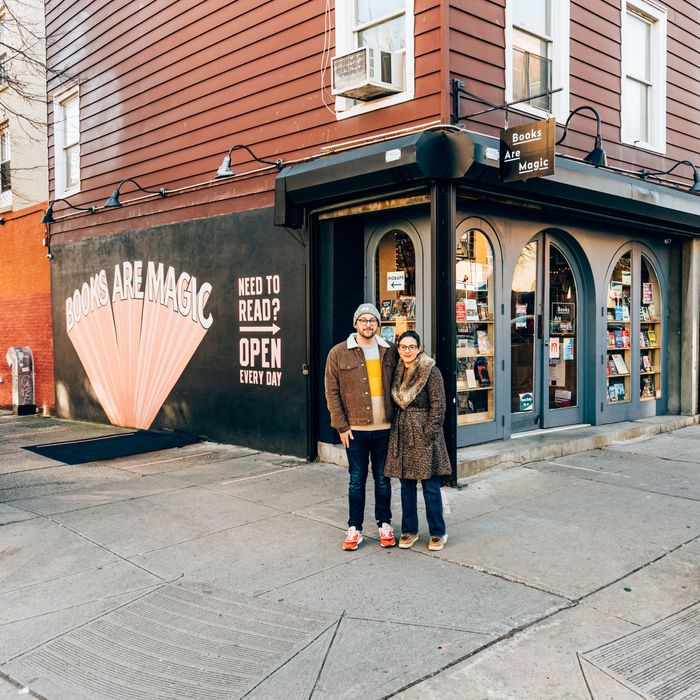 Photo: DeSean McClinton-Holland
The first morning Maris Kreizman and Josh Gondelman walked Bizzy, their pug, around Boerum Hill, they weren't sure why it was so noisy. It was 2017, they were newly married, and they had just moved to the tree-lined neighborhood. "And then we realized there were birds in the trees," Gondelman said. It was a big change from Williamsburg, which not only was short on trees (and birds), but also any sort of neighborhood amenities aside from trendy bars and restaurants.
Kreizman, the host of the literary podcast The Maris Review, and Gondelman, a Desus & Mero supervising producer and writer, are now more accustomed to the chirps. Even their dog, Bizzy, has become a regular of a local neighborhood spot. They grew to appreciate the neighborhood even more during the pandemic, since they're both mostly working from home, except on shoot days for Desus & Mero, and rarely have to stray far from the apartment, even when Gondelman has a stand-up gig.
When they aren't working on podcasts (Gondelman has one too), radio shows, TV shows, pep talks, or tweets, these are some of their favorite places to eat, drink, and test out their jokes.
Brooklyn Inn
148 Hoyt St., at Bergen St.
Gondelman: It's the first place I really feel like a regular. The staff say things like, "Hey, you're back! What's up!" when you walk in, and I think that goes a long way. They closed for a while during the early months of the pandemic, and we've been really trying to show support and go to their outdoor space, but it's a bummer because the indoors is so cozy — there are so many nooks and crannies, and you can get a booth and you don't have to shout above the crowd. It's the opposite of the feeling when you go to a bar in midtown and have to scream.
The HiHi Room
138 Smith St., at Bergen St.
Kreizman: They have the best outdoor eating-and-drinking setup for warmth in the winter.
Gondelman: And the chairs in the backyard of the HiHi Room are some of the best chairs in Brooklyn. There's a little give to the chairs on the seat and on the back — it's like a thick stretchy webbing — so you can settle into them comfortably. I don't want to name names, but so many chairs in otherwise lovely and cozy Brooklyn restaurants are small and wooden, and have very little topographical relationship to the human butt and torso.
Juju Café and Deli
143 Smith St., at Bergen St.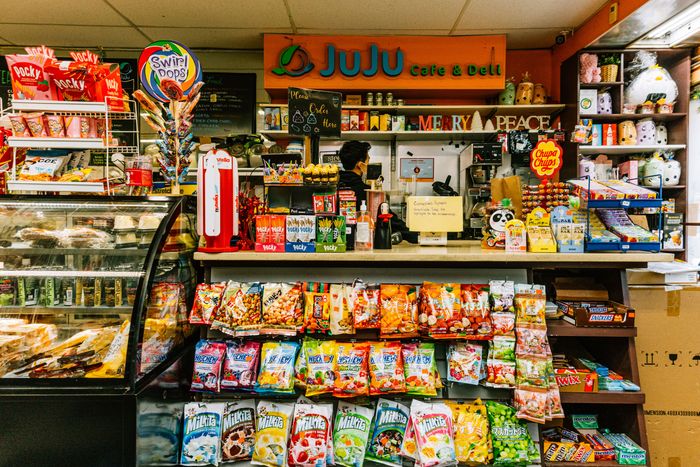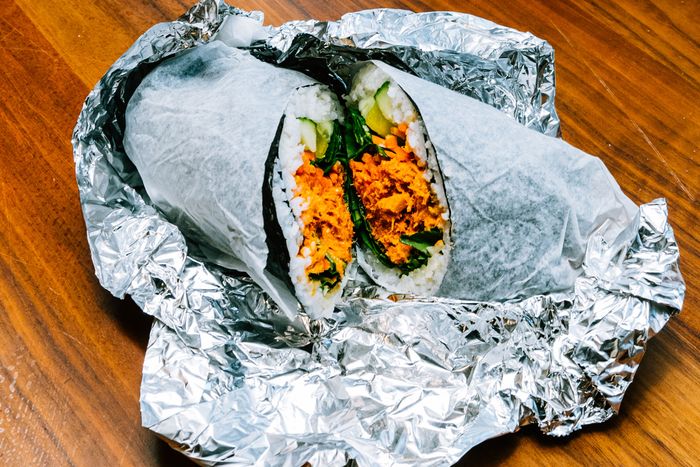 Gondelman: It's not a comprehensive grocery store but a bodega type with a lot of Asian prepared foods, and they have a really good tuna poke burrito. It's like a big hand roll that's burrito-packed — it has rice, shredded carrots, and radish and tuna. They have a counter with rice balls and these sushi burritos that they make it to order. What I like about it is that it's one of those places where you might get the equivalent of what every other place has, but this one — it's just really good. The poke burrito is big enough that you could probably save half for a second meal, but I've never been bold or restrained enough to leave a bunch of raw fish sitting around for several hours.
Books Are Magic
225 Smith St., at Butler St.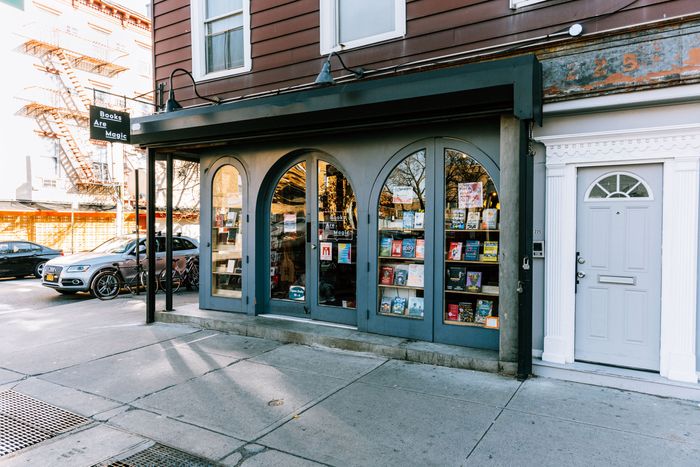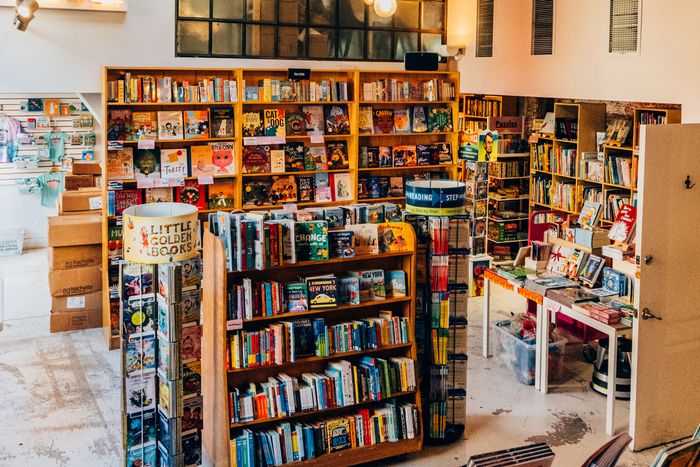 Kreizman: In my life before the pandemic, going to book events there was one of my major social things. Books Are Magic is my local bookstore, and it just so happens to be owned by friends. It feels like home. I haven't been back for in-person events since the pandemic, but I'm going to see Jami Attenberg in January — so looking forward to that.
Union Hall
702 Union St., at Fifth Ave.
Gondelman: Three of my favorite places to perform are all within walking distance — Littlefield, the Bell House, and Union Hall. Union Hall specifically has an incredibly intimate feeling. When it's packed, it's a really hot room — crowd-wise, not temperature-wise — and a smaller audience feels fun and loose. Eugene Mirman, whose work I look up to so much, used to host a weekly show there, and getting to perform on that show after I moved to New York from Boston meant a lot to me too.
Pier 6 at Brooklyn Bridge Park
Atlantic Ave. at Furman St.
Kreizman: I love sitting on a bench at the very end of Pier 2. It's very cinematic. You've got the skyline and a view of the two bridges, and it feels like you could walk a few feet and be at the Seaport. It makes me feel like I'm in an entirely different place, and it amazes me that it's only a couple of miles from home.
Rucola
190 Dean St., at Bond St.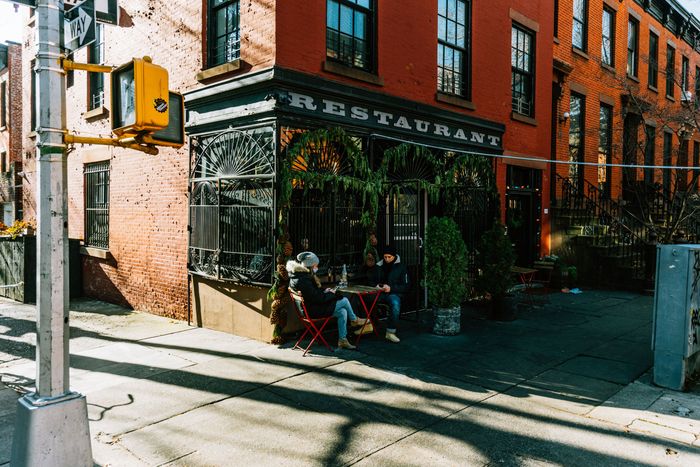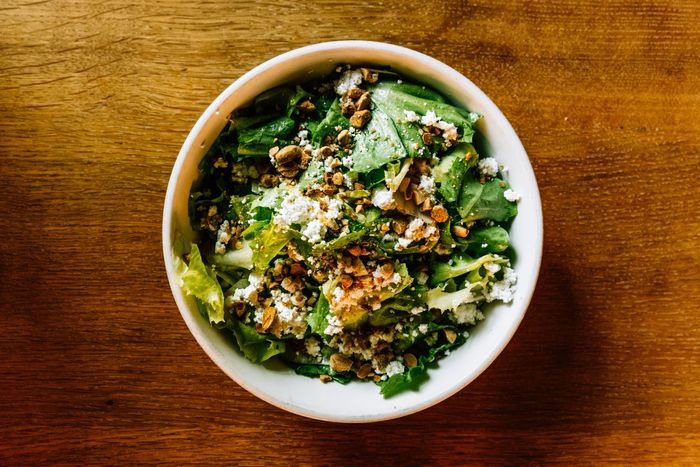 Gondelman: They have, I would say, the best salad in the world: this escarole salad, which is escarole and crumbled cheese, almonds, and this lavender-lemon-honey dressing, and it's so good. Maris, you hate dressing except for this dressing! It's the only salad specifically where I would think, Gosh, that salad would really scratch an itch right now!
Dunkin' Donuts
148 Smith St., at Bergen St.
Gondelman: If we're being honest, this is the coffee place I frequent the most. That is not an embellishment. I go there at least three times a week, or every day when I go to work and get on the subway, or if I'm working from home I get an afternoon coffee. There are a lot of better places for the coffee-shop experience, but I'm a Dunkin' loyalist — I'm from Massachusetts, so I was raised on Dunkin', coffee-wise. The iced coffee, which I drink year-round, isn't trying to kick your ass the way some cold brews do. I like a fancier iced coffee as well, but day-to-day I prefer slowly working my way through a giant gentle vat of caffeine over taking a shot of bitter liquid cocaine straight to the brain.
Elsa
136 Atlantic Ave., at Clinton St.
Gondelman: One of Andrew Cuomo's lesser injustices was getting rid of takeaway cocktails. They had great pouched and bottled takeout. They have a drink called Hotel Danger, a spicy tequila drink that's really, really good.
Kreizman: And back in the day, they used to have a drink called Tears of a Ladies' Man.
Gondelman: Death of a Ladies' Man — I think it's death because it's a reference to a Leonard Cohen album.
Kreizman: You may be right.
Les Enfants Terrible
85 Bergen St., at Smith St.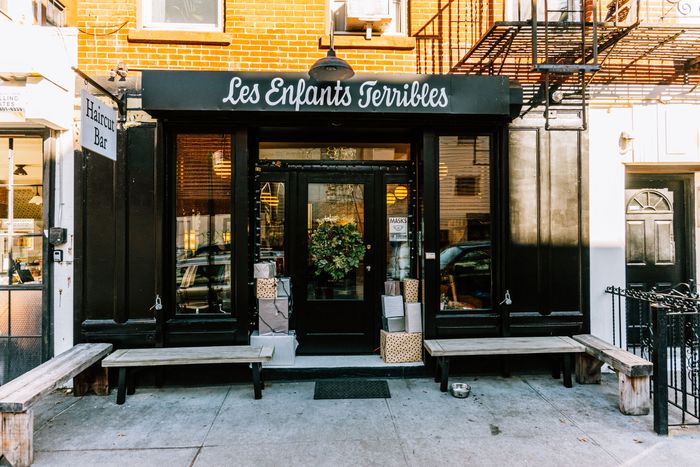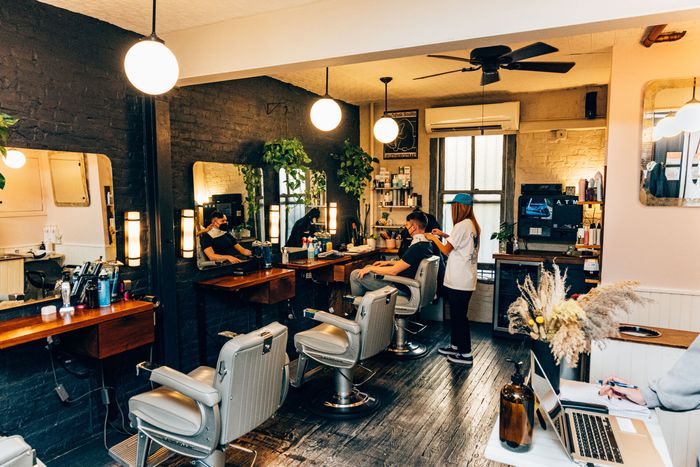 Gondelman: This is a barber shop where they have dog treats, and they're super-friendly when Bizzy comes by. Bizzy has a brain the size of a walnut, but she somehow knows when the barber shop is open because when it's not open, she doesn't walk down the street. She comes in every single day and they let us interrupt them. But I'm about to get a haircut there today too, and Maris buys hair products there. I would say it's Bizzy's favorite place in the neighborhood. She thinks it's just a restaurant for dog treats.