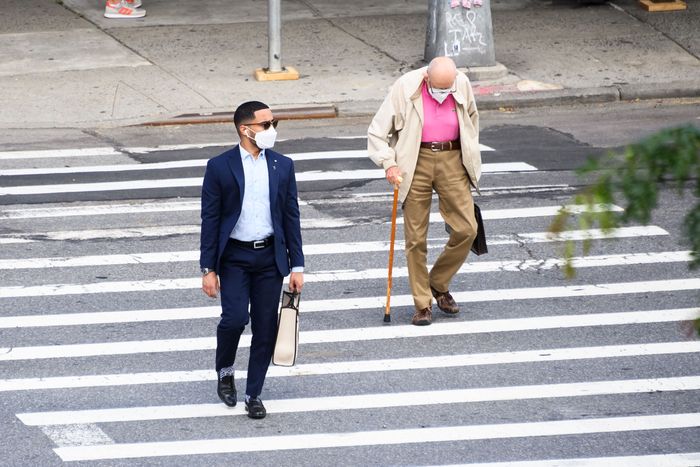 Photo: Noam Galai/Getty Images
At the bustling Kensington corner of Caton and Coney Island Avenues, where 26 New Yorkers have been injured by motorists over the last five years, Mayor Eric Adams unveiled a new plan to make 1,000 of the city's most dangerous intersections safer with traffic-calming measures like new signals and more bike corrals. But what really thrilled some transit advocates about the announcement were two little words: raised crosswalks.
Advocates have for years argued that raising city crosswalks could help bring way down the percentage of traffic injuries that occur at intersections — currently, they're where nearly 80 percent of the city's traffic injuries happen. The crosswalks serve the dual purpose of slowing down drivers and making pedestrians more visible. They also make crosswalks more accessible for disabled and aging New Yorkers. The city already has a smattering of them, which double as speed humps, like the one installed in 2018 at the high-traffic intersection of Fort Hamilton Parkway and 59th Street in Sunset Park. But even after eight years of Bill de Blasio's Vision Zero campaign, it's only now, finally, that raised crosswalks will be installed widely across the city. Adams has ordered the Department of Transportation to begin building them at a rate of 100 a year.
For the upgrades, the new plan will target intersections with repeated traffic deaths and serious injuries. The raised crosswalks will be part of a mix of new measures: Some intersections will get updated turn signals that have head-start signal timing to allow pedestrians to cross before drivers can turn, while 100 new bike corrals will be installed at others to prevent drivers from turning too quickly. Additionally, Adams said the plan will double the efforts of the city's existing turn-calming program — which adds bollards and other street treatments to intersections to slow turning cars — from 50 to 100 in 2022. Traffic cops will also have more leeway to fine motorists and cyclists who fail to yield to pedestrians within crosswalks.
Adams's plan comes on the heels of a grim year in traffic-death numbers: 2021 saw more traffic fatalities than any other in de Blasio's eight-year tenure. Over half of the 122 pedestrians who died in city car crashes in 2021 were killed at intersections. "Last year was a dark period for us," Adams said. "No matter how much we lean into the Vision Zero, that vision was clouded by the number of deaths that we witnessed in our city." Today, Adams vowed to "turbo-charge Vision Zero."