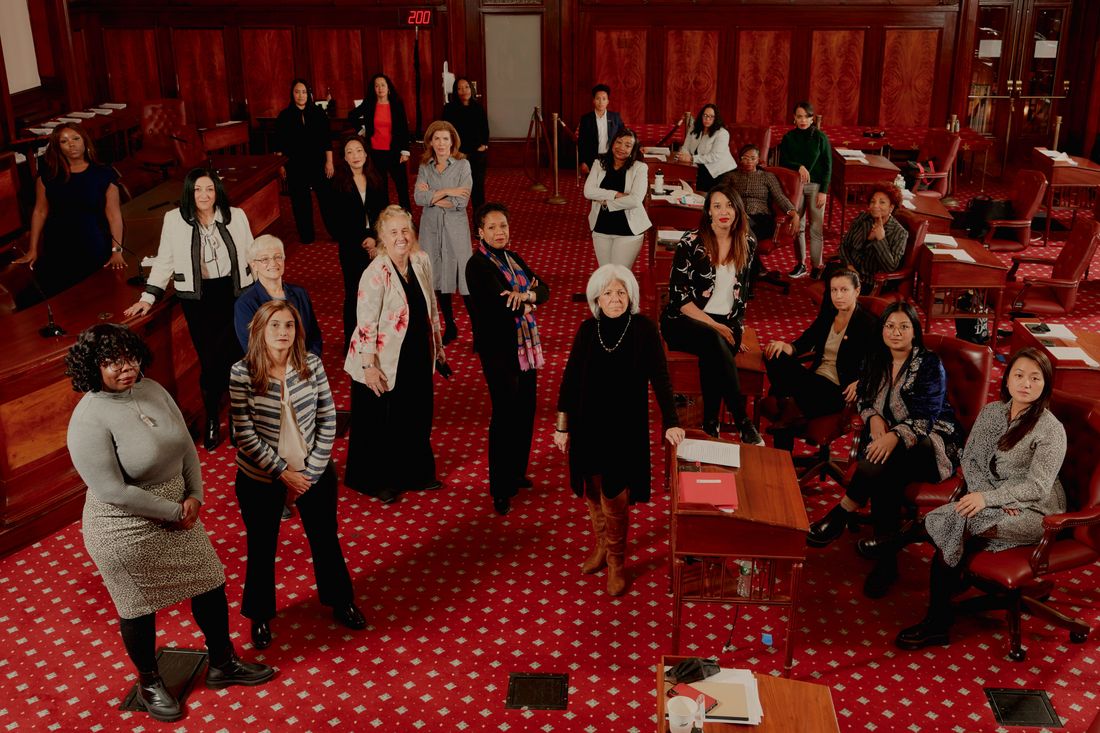 Front row (from left)
: Althea Stevens, Marjorie Velázquez, Lynn Schulman, Gale Brewer, Kamillah Hanks, Vickie Paladino, Sandy Nurse, Tiffany Cabán, Shahana Hanif, and Julie Won.
Middle row
: Farah Louis, Joann Ariola, Linda Lee, Julie Menin, Darlene Mealy, and Mercedes Narcisse.
Back row
: Amanda Farías, Alexa Avilés, Rita Joseph, Crystal Hudson, Carmen De La Rosa, Nantasha Williams, and Pierina Sanchez.
Not pictured:
Adrienne Adams, Diana Ayala, Selvena Brooks-Powers, Jennifer Gutiérrez, Kristin Richardson Jordan, Carlina Rivera, Sandra Ung, and Inna Vernikov.
Photo: Victor Llorente/Victor Llorente
Julie Won, a 31-year-old tech consultant who grew up in Queens, decided to run for City Council after her parents lost their income. It was the spring of 2020, and her mom, who worked at a nail salon, and dad, who worked odd jobs at a liquor store and a warehouse, suddenly became unemployed. They spoke mostly Korean, so Won tried to help them apply for public assistance. "We were going through all these government systems, but benefits never came through," she recalls. This month, Won begins her term as a representative of several Queens neighborhoods, including Long Island City and Astoria. "If it weren't for COVID," she says, "I would have never made the pivot to run for office."
For the first time in the city's history, New Yorkers elected a City Council with a majority of seats (31 out of 51) occupied by women. The new Council, which is also a historically diverse group, is the result of several factors: the pandemic's devastation of working-class communities of color; the city's matching-funds program, which gives candidates $8 for every $1 they raise from any city resident, amplifying the effect of small donations; and the new ranked-choice voting system, which encouraged more candidates to run in party primaries and gave average New Yorkers more influence over who wins.
Most of the candidates had to save money for more than a year in order to run or had to juggle full-time jobs with campaigning. From January to June, Amanda Farías, the 32-year-old set to replace lifelong Bronx politician Rubén Díaz Sr., would wrap up her day job at a nonprofit at 4 p.m., then dive into campaign work — knocking on doors, making calls, participating in debates, scheduling social media, and writing emails until 2 a.m.
On December 8, right after new­-member orientation at City Hall, the women noticed that while the men's bathroom is inside the Council chambers, the women's is outside. "I said, 'We should just put a sign on it and call it a gender-neutral bathroom,'" says Sandy Nurse, 37, a Panama-born carpenter and community activist representing Brooklyn's 37th District. "And we'll just take it over." It will start there, with "simple things," she says. And eventually, "we're going to do things that the city hasn't seen before."