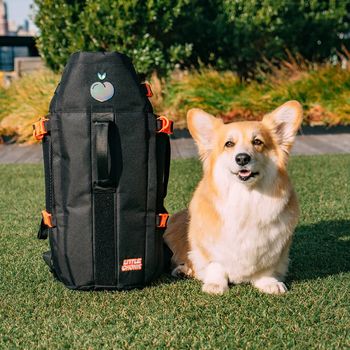 After borrowing the New York accents of Debi Mazar, Cam'ron, Jerry Seinfeld, and others to voice train announcements last year, the MTA has moved on to another even bigger star: Maxine the Fluffy Corgi. Better known to 3.4 million TikTok followers as @madmax_fluffyroad, Maxine appears in a series of social-media videos detailing the ins and outs of riding in a bag — specifically a backpack — the only way canine passengers are supposed to travel on the subway. The six-year-old corgi is something of a pro: She has been riding the train with her owner, Bryan Reisberg, since 2016, when the MTA first instituted its dogs-in-bags rule.
Reisberg narrates all the videos, offering tips and tricks and plenty of B-roll of Maxine living her best mass-transit life. Every step of the way, from getting Maxine into her carrier — she travels in a backpack, the Maxine One, which Reisberg designed — to making sure she's a very good dog, involves treats, praise, and kisses on the top of her tan furry head.
If the tips aren't enough to get your own dog into a bag — or you just really want to see her peering out of that custom backpack IRL — you're in luck: There will be a pop-up meet and greet with Maxine (and Reisberg) sometime later this month. Reisberg will reveal the date and time on social media shortly.