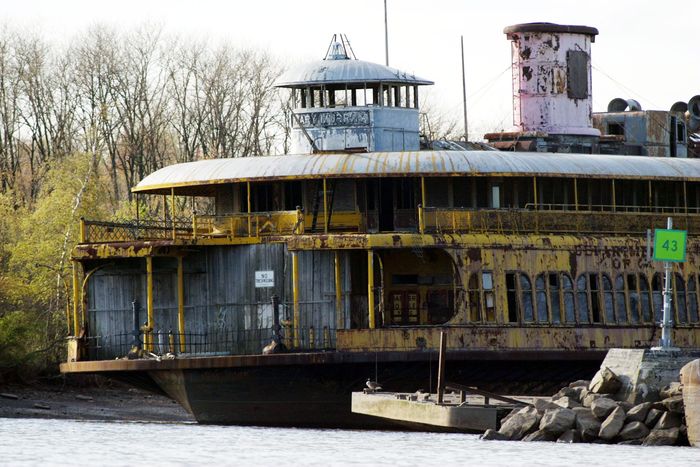 An enthusiast bought the retired Staten Island Ferry
Mary Murray
in 1976, intending to turn it into a restaurant. Instead, it sat rotting next to the New Jersey Turnpike for 34 years.
Photo: Jason Towlen/AP
On Thursday, Saturday Night Live stars and prodigal sons of Staten Island Colin Jost and Pete Davidson were revealed to be among a group of investors who purchased a recently decommissioned Staten Island Ferry at auction this week. The group paid $280,000 for the 277-foot John F. Kennedy, a 57-year-old ferry capable of carrying some 3,500 passengers. The bid was placed by their newfound business partner Paul Italia, a co-owner of the Stand, a comedy club near Union Square. And the three of them, if history is any guide, are setting themselves up to take a huge financial bath. Big old boats, particularly big old Staten Island Ferry boats, have a knack for bewitching buyers who then discover they have to grapple with a 500-gross-ton beast that accrues docking fees, costs a fortune to maintain, needs paint, and eventually rusts through — sooner rather than later if it's 50 or 60 years old.
In 1976, George Searle, a retired merchant mariner, bought the Mary Murray, a New Deal–funded Staten Island Ferry, at auction. Searle towed the boat up the Raritan River with the hopes of converting it into a restaurant. Instead, it sat beached and rusting on a riverbank for 34 years. Which isn't to say the Murray wallowed in retirement: On the contrary, it became an unofficial landmark, visible from the New Jersey Turnpike like a ruin-porn pinup and arousing the interest of millions of motorists until it was finally towed out and scrapped in 2008. "I can only hope the John F. Kennedy will be a legacy for the Mary Murray and the entire Staten Island Ferry system, repurposing a true workhorse with a wonderful second life for everyone that loves ferries," said David Moskowitz, an environmental scientist and weekend historian who wrote a paper on the Murray. "Let's just hope it doesn't end up 'all stuck in the mud somewhere in the swamps of Jersey,'" he added, quoting Bruce Springsteen.
The Mary Murray's fate didn't deter Jacques Guillet of White Plains from purchasing the Herbert H. Lehman, a Kennedy-class ferry quite similar to the one the SNL guys just bought, for about $150,000 in 2008. (It's the ferry you may remember from the opening credits of Working Girl.) Guillet planned to convert the ship into a floating dormitory for college students, but finding a place to berth the warehouse-size vessel proved too expensive. Docked in Staten Island, the Lehman became a burden for Guillet — "I start to hate it" — and he eventually listed it on eBay, where it did not sell. In 2012, the Murray was anchored in the Hudson River near Newburgh when it sprang a leak and started to list. The Coast Guard intervened, and it was scrapped soon after. "A boat is like a woman," Guillet told the New York Times. "You can't live without them, but they give you sometimes a hard time." His wife, Viviane Marescot, a "horsewoman 23 years his junior," according to The Wall Street Journal, had a less obnoxious view of the project. "If we live without a dream, we are dead, and I don't like to live like a dead soul," she told the paper.
Other failed attempts to repurpose ferries include the Knickerbocker, which was supposed to become a boutique hotel in the 1960s, and the Miss New York, decommissioned in 1975, which enjoyed a brief stint as a restaurant in Connecticut before it returned to the Hudson, where it busted its hull open on some ice and sank.
And New York City once even tried to pick up a secondhand ferry of its own. In 2007, the Governors Island Preservation and Education Corporation bought the MV Islander, which had spent the previous 57 years shuttling passengers between Woods Hole and Martha's Vineyard for $500,000. It was supposed to serve Governors Island in its new role, but six months later, the Islander was ruled unseaworthy and sold on eBay for $23,600. It, too, was scrapped, and its keel, for a time, could be seen peeking out from the muck of Staten Island's boat graveyard.
There have admittedly been successful temporary conversions of old ferries. In the 1970s, a Staten Island Ferry called the Gold Star Mother was used as a methadone clinic for a while. In the '80s, two ferries were converted into jails to handle overflow from Rikers Island. Jost, Davidson, and Italia have not detailed their dreams for the Kennedy, saying only that they are considering "an arts and entertainment venue." The boat's cumbersome size and the sad state of its engines mean it's likely to be parked, a venue more akin to the Frying Pan than Matthew Rhys's refurbished floating antique.