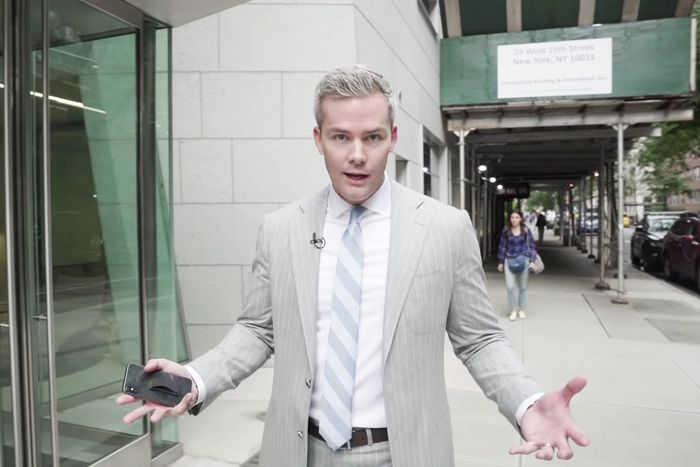 Photo: Ryan Serhant/YouTube
In September 2020, Ryan Serhant, the Nest Seekers broker who became famous on Million Dollar Listing, launched Serhant., his eponymous brokerage (with a period at the end of the name, providing a first-class headache for copy editors everywhere). At the time, it seemed anomalous. Manhattan's luxury market was in a COVID slump. Personality-driven independent brokerages had become rare in New York's high-end market, giving way to the likes of Compass. And many doubted that agents with their own name recognition would want to be eclipsed — and share their commissions with — a TV personality and social-media star. Yet the firm has poached a lot of agents in its 16 months of existence. It signed 30 new agents this month alone, including, last week, two Compass teams, bringing its agent headcount to 104. Another 20 are expected to join within the next month. So what, exactly, do agents going over to Serhant want?
"The inside baseball is: People who go to Serhant. want to be famous," said someone who works in the industry. "They have side hustles or passions that work well with Ryan's." Clearly, a chance at the spotlight has been a factor in bringing some new agents over — for example, the Bogards, a husband and wife with a team of six who came over from Compass this month, said they planned to launch an internet show. Any agent is able to pitch and pilot a show concept for the LISTED network, according to the firm, and consumer demand/viewership dictates which shows get picked up each season. The firm isn't coy about this aspect of its appeal — the website, in lieu of posting headshots, displays videos of agents posing and mugging as flashbulbs go off. It touts a focus on personal brand development, a "content-to-commerce" business model, and, perhaps most significantly, a "studios" division with an in-house film and production team (the film and creative team has 21 full-time staffers). That department produces everything from high-end listing videos to podcasts and videos that are featured on the firm's "Listed" YouTube channel, including some that are TV-show length. A recent video of agent Chloe Tucker helping TikTok star Deanna Giulietti find an apartment, for example, ran 27 minutes. The channel also features lifestyle content, like a tour of Somewhere Good founder Naj Austin's brownstone apartment in Crown Heights that has racked up more than 17,000 views after a day on the site. (A rarity in the world of real-estate videos, the $2,300-a-month apartment is neither aspirationally out of reach nor a feat of extreme transformation; it's just a well put-together one-bedroom rental.)
Of course, it's unclear how many others can follow Serhant's singular path to success. There's also the question of whether the time, effort, and money involved in building a social-media following with high-quality content is the most sensible way to sell luxury real estate. The industry's most adept social-media personalities tend to be up-and-coming agents using new platforms to build a client base, rather than the heavy hitters at any given firm. But that could change, as old and new models collide and younger and TikTok-adept agents graduate to bigger deals.
How much all this slick content costs to produce is another issue. Marketing expenses are borne by the agents at most firms. Serhant. says that it covers the costs of guided video tours for properties listed at $10 million and up — like this $14 million Upper East Side penthouse listed with Loy Carlos, a longtime Corcoran agent who joined Serhant. in the fall. For less rarefied properties, Serhant. Studios produces videos at "a heavily discounted cost — we estimate 90 percent less than market value for this level of quality production if they were to use an external vendor," according to the firm. Still, it's clear that many brokers are looking, if not for their star turn, then for help producing the kind of professional-quality, more-than-perfunctory social-media and video content that is increasingly expected of agents in a post-pandemic world.
"During the pandemic, we started doing a lot of sight-unseen sales, and I realized we weren't really equipped to handle that kind of business," said Abby Palanca, who took her five-person team from Compass to Serhant. this month. "We were taking videos on our phones or Zooming people through." At Serhant., Palanca said, she was looking forward to "better photos, better videos, maybe a podcast." And, it was nice to know that if she did ever want to do a YouTube series, "they have those resources. It's not like you're propping a phone up on a pillow like I might have done before."