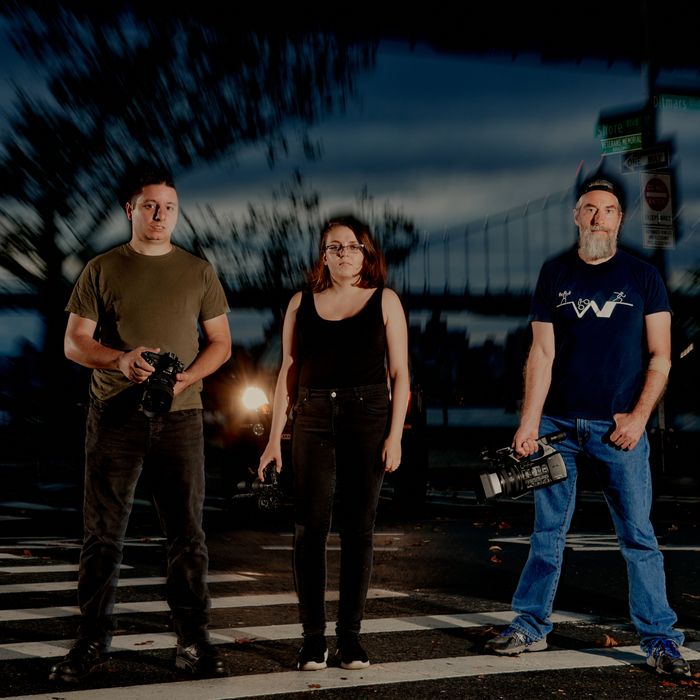 Nicholas Isabella, Mariya Isabella, Scott McPartland, and John Huntington are part of New York City's small community of storm chasers.
Photo: Victor Llorente
As tornadoes go, it wasn't much: more of a vague black mass than a funnel cloud crossing a suburban New Jersey road. But Mariya Isabella had been waiting for years to capture one on camera, and she and her husband Nicholas raced the last mile to film it, using radar as their guide. As storm chasers, they regularly track and follow weather systems, from lightning strikes to hurricanes. Some do it for the thrill, the chance to capture the raw power of a storm up close. But a few do make a living — or, like the Isabellas, run a decent side hustle selling their footage to television networks and news stations. That day, with the remnants of Hurricane Ida arriving in the Northeast, they had been anticipating tornadoes, and Mariya finally got her wish to see one. After grabbing some footage, it was time to head home to Bay Ridge.
But Ida's rain almost trapped them on the Staten Island Expressway, where water rose up to the hoods of cars and blocked the exits. As they slowly made their way to a passable exit, Nicholas continued shooting video and Mariya monitored social media, where she saw that authorities were intending to close the Verrazano Bridge. This would leave them stranded on Staten Island. They frantically drove toward the bridge and made it just before it closed. But they still didn't go home, and continued shooting video in Brooklyn and Manhattan until past midnight. When they finally got home, they uploaded their videos to Twitter, where Nicholas has nearly 14,000 followers. No networks or news stations bought their footage, since there were already so many storm videos online. Despite this, Nicholas clocked it as his most intense day of storm chasing in New York.
"That's one of the only times I've felt scared," said Nicholas. "I don't take chances. But when you're stuck on a highway like everyone else was and the water starts coming up that quick, you can't do anything. You're helpless."
Most storm chasers operate in Tornado Alley, the swath of the Midwest where tornadoes are almost a tourist attraction. Not surprisingly, the region is saturated with young, thirsty chasers trying to top each other's tornado counts. New York City doesn't have the drama of the Great Plains' tornadoes or the South's hurricanes, but it has always been good for the occasional nor'easter or summer thunderstorm. The city's storm chasers usually get their biggest thrills chasing larger storms elsewhere. But over the last few years, as the city becomes more prone to severe weather, local chasers like the Isabellas have found that New York City, not just Kansas, is now good storm chasing territory..
According to records going back to 1869, six of the ten biggest snowstorms in the city occurred after the year 2000. Just last year, the National Weather Service station in Mt. Holly, New Jersey, issued more tornado warnings than the station in Norman, Oklahoma. Hurricane Henri broke a record for rainfall in New York, before Ida set a new one. Cloudbursts, which can cause flash flooding, are becoming more intense, which is particularly dangerous in a city like New York that relies on the sewer system for drainage.
"I don't ever remember these types of events happening when I was a kid," said Scott McPartland, a Rego Park resident who has been chasing storms since he was a teenager in the 1980s. "And my father, who's been around a lot longer than me, doesn't remember these types of events." Now 49, McPartland has a youthful face, a bushy white beard, and a long gray ponytail. Early in his career, his footage of a massive tornado in Kansas landed him on national television and won him the respect of the storm-chasing community. But these days, he works from home as a day trader, which gives him the flexibility to chase storms whenever he wants. He still has his tricked-out Nissan, equipped with bulletproof hail shields and a snow guard, ready to go at a moment's notice.
As the storms have gotten more intense, the demand for storm-chasing footage and even the personal profiles of the ones doing the chasing has gone up. Few have seized on this shift toward the city more than Nicholas Isabella. For Nicholas, being in the city during Superstorm Sandy in 2012 was a pivotal moment for him.
"You could put the news on and watch the weather events in New Orleans or Texas and think, Wow, that sucks," he said. "But I was waist-high in water watching power go out in Manhattan, thinking … This is happening to my city. This hits close to home."
Nicholas volunteered in post-Sandy recovery efforts, where he first met Mariya. But he only began storm chasing three years ago, and and keeps his day job as a Staten Island Ferry deckhand, which helps pay for his chasing expenses. By now, he has become an influencer of sorts, posting weather information, his footage, and the occasional meme about failed forecast models on social media while slowly growing a respectable Twitter and Instagram following. He sees a correlation between his popularity and the increased extreme-weather activity in New York, since he posts real-time information about storms while they are happening.
The competition he faces from everyone with a cell phone makes it harder to sell footage. But because it's New York, the networks are still quick to buy videos of weather events, even if they're not that dramatic or aren't actually of a storm at all.
"I have to be creative with it," said Nicholas. "New York City is always in the news. If I lived in the middle of Pennsylvania, it wouldn't work out for me that way."
Last summer, when smoke from West Coast wildfires traveled across the country, causing poor air quality and hazy red skies in the city, Nicholas photographed the blurred Statue of Liberty and the barely visible downtown and sold the footage to ABC, CBS, and the Weather Channel. When heat waves struck, he went to Coney Island and filmed people on the beach. That sold too, for a couple hundred dollars. During snowstorms, he goes to Times Square in the middle of the night and captures the snow falling in the light of the billboards onto the empty streets, and offers his footage to the networks before the morning-news shows go on-air at 7 a.m. In comparison, chasers working in Tornado Alley rarely profit off their tape because there are so many of them and the storms are often in the middle of nowhere, causing minimal damage to houses and infrastructure.
As extreme weather hits New York more frequently, storm chasers aren't just shooting the storms; they're often alerting authorities to dangerous conditions and providing raw data to researchers. During Tropical Storm Ida, John Huntington, a 57-year-old storm chaser from Brooklyn, was driving near the Brooklyn Army Terminal when he ran into flash flooding. He called 911, but couldn't get through. So he filed a report through the Spotter Network, a nonprofit organization that has streamlined storm documentation since 2006. The Spotter Network trains anyone who is interested to recognize various types of weather and to file reports of dangerous conditions, which then get transmitted to the NWS, and are available to the media and researchers.
Because the NWS operates primarily by looking at satellite imagery and radar, knowledge of what's happening on the ground is extremely useful. "We've had to rely on [storm] spotters a lot more the last couple years because we have had so much severe weather," said Sarah Johnson, a meteorologist with NWS Mt. Holly. "It's actually very difficult to monitor flash floods in a city like New York," said Bernice Rosenzweig, a professor of environmental science at Sarah Lawrence College. "We've relied on this observational data from the people that like to go out and chase storms."
Huntington, who works a day job as a professor of entertainment technology at New York City College of Technology, chases storms only when his teaching schedule allows it. He rarely sells his images because he doesn't need the extra income, and he usually takes less-profitable photos over videos, preferring to freeze the moment in time. Instead, he often shares his images in presentations to local nonprofits.
At the end of October, Huntington was keeping his eye on a storm that had caused tornadoes in Illinois and was moving east to New York, where the NWS had issued a flash-flood watch and Governor Kathy Hochul had declared a preemptive State Disaster Emergency. The city was still on tenterhooks from the Ida flooding.
From his home, Huntington was tracking the storm by radar, and when it rolled in, he set out for the Rockaways at 9 a.m. He had four hours to chase before he had to get back for a staff meeting. He toured the island, photographing the churning surf with his camera and taking readings of the wind speed as he walked down the beach. At JFK, the daily rainfall broke a record that had been set in 2002. The storm died down that afternoon, but in the evening, the rain began again, and the winds were forecasted to pick up speed as well. Huntington was already making plans to go out the next morning.
"People misunderstand that we're looking for destruction," he said. "That's part of it, but it's about witnessing the power and documenting for the future."