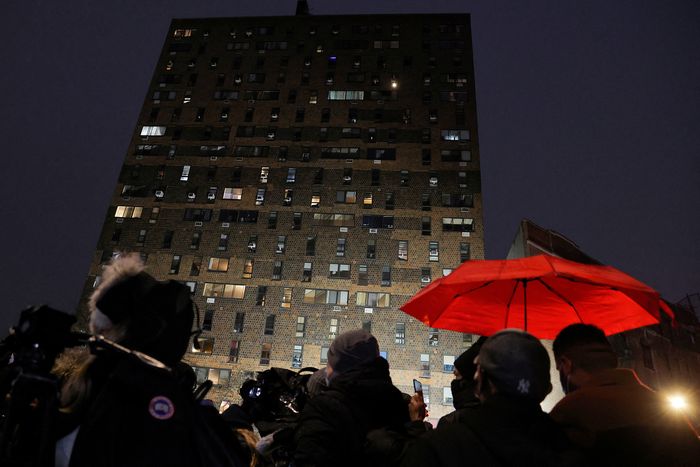 Photo: Andrew Kelly/REUTERS
It's been five days since one of the worst fires in recent New York City history killed 17 people, including eight children, at Twin Parks North West. Despite being a five-alarm fire, most apartments in the building were relatively unscathed, and tenants have trickled back home throughout the week. Some who can return have little desire to live in soot-caked apartments that they no longer feel safe in. But 35 of the building's 120 apartments are completely uninhabitable due to a combination of fire, water, and smoke damage, and for those residents, it's unclear when they can return. Curbed spoke with three displaced tenants who are currently staying with family or in hotels paid for by the Red Cross. They're stuck in a harrowing state of limbo — When can they go back? Do they even want to go back? — and are trying to wrap their heads around what happened and figure out what comes next.
"No, we can't go back."
Tamika Arthur lived in a sixth-floor duplex with her husband and three children. 
I've been calling management everyday, and nobody is telling me anything. When I call, I say, "Hey, what's going on? Can you give me a timeline? Can you give me something?" They say, "We'll call you back" or "Oh, give me ten minutes" or "Call back at 4 p.m." So, no, I haven't really heard from them. They just say that everyone's apartment is going to get fixed, and that's it.
We don't know what's going on with our apartment, but we can't move back; there's just too much trauma. We lived on the sixth floor — it's me, my husband, and my three kids — and I have a child with ADHD. He was in the apartment with me at the time of the fire, and this has been very traumatic for him. My daughter was outside of the building cleaning the snow off the car with her father, and she witnessed a lot, too.
We do want to stay in the community, but the more I learn about the history of violations and things that should have been fixed that weren't — no, we can't go back. I'd feel like I'm putting my kids and myself in danger. I have a Section 8 voucher, and HUD is working with us on options. They offered us a place in Westchester, which is where I work, but it wouldn't work for my children. We want to stay in the Bronx. Their schools are here. So I just have to see what's available and figure out what my options are and then go from there. I understand things aren't going to get resolved overnight, but we all need some sort of resolution so we can move on with our lives.
"Mentally, I am not okay, but I have to be okay to figure this out."
Yalicia Smith lived on the floor where the fire broke out with her mother and brother.
Me, my mom, and my brother all want to go back, but we just can't. We live on the third floor, and the apartment is not habitable. I can't even go up to it, so we have to look for another place. I don't know what that looks like right now. We haven't heard anything from management yet. We're able to stay in our hotel until January 24, and then I don't know. We're taking it day by day. We're dealing with a lot of trauma and trying to take care of each other mentally. I was recovering from having COVID, and the fire was on my birthday. I woke up to nothing. Yeah, it's bad, but I'm alive. We're alive. I'll see another birthday. Mentally, I am not okay, but I have to be okay to figure this out. I saw everything: People running for their lives, people getting resuscitated. These are people that we know, that we have love for. It's really hard to see that. It's so hard to deal with the trauma and think about where you're going to live. That's what I've been dealing with for the last four or five days. I just had my first real meal since the fire this morning — French toast that the Red Cross provided me.
"We're trying to be patient with management, but it's frustrating."
Nicole Anderson is a lifelong resident of Twin Parks North West.
We live on the 13th floor, and our apartment doesn't have a lot of damage, but we're not going back. We already told management they need to relocate us. I live with my mom and 11-year-old daughter. They're both scared and too nervous to come back. My daughter is petrified and can't even look at the building without crying, so we won't be back. Workers are upstairs now trying to clean the walls, the floor, the ceilings. It's smoky, and there's some soot in the living room. We filled bags up with clothes, bedding, whatever we could grab. We're staying with one of my aunts for now. It's not permanent. We're fortunate she has one extra bedroom for us. It's a difficult decision not to come back, but I have to think about my daughter and my mother, and I'm not going to put them anywhere they feel uncomfortable.
When I called, management said they're working on some things. That's really all that they've said. We told them we want to relocate, and they said they understand and that they're working on seeing what they can do. We're trying to be patient with them, but it's frustrating. We're looking ourselves to see what apartments are out there. Ideally, we want to stay in the Bronx; most of my family is in the Bronx — my mother has been here since the place opened, and I've lived here my whole life.