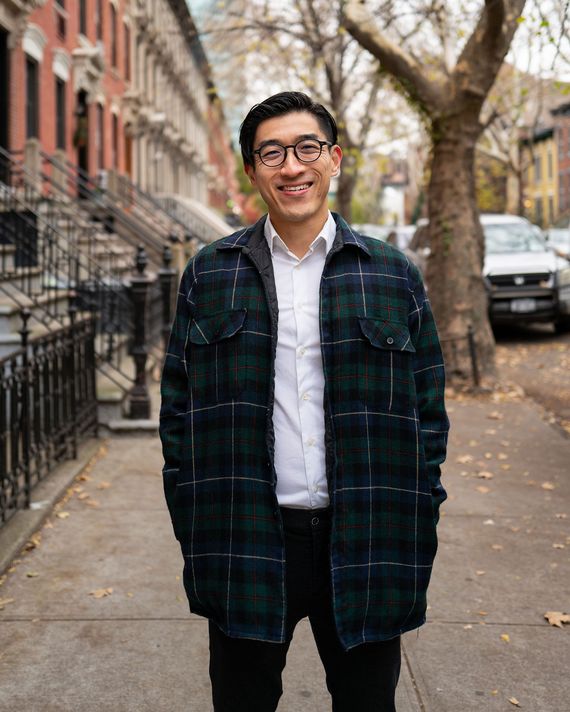 New York's own Vax Daddy is aiming for a new title in 2022: assemblymember. Huge Ma, the TurboVax founder who became a beloved local character in the early days of the COVID-19 vaccine, has announced a primary challenge to Catherine Nolan, who has represented the 37th district in Queens — including Astoria, where Ma grew up and continues to live — since 1984, five years before he was born. Ma certainly has a lot of goodwill flowing his way, thanks to the civic success of TurboVax. With his background in both activism and corporate tech (he used to work for Vox Media), Ma is running as what you might call a techno-pragmatist — a little more centrist than a DSA candidate but still very much a progressive, with big ideas of how government can do more for people. Like, say, coming up with an effective way to find available vaccine appointments during a pandemic. Curbed spoke with Ma about the would-be politician's approach to housing.
Caroline Spivack: At Curbed, we were pretty excited to learn last year that you had a lot of ideas about safer biking in New York City, and now that you're running, we're even more intrigued by a certain phrase on your campaign website, where you say you believe in "housing abundance." What does that mean?
Huge Ma: "Housing abundance" is having options in every neighborhood. We live in a city that built more housing in the 1920s than it has in the past 50 years. The multiple crises that we see with housing and with climate are all coming together and hitting New Yorkers hard, especially in Queens, and what we really need are policies at the state level that will lead to affordable, safe housing for all New Yorkers.
So what policies are those?
For one, we need to take a hard look at dismantling exclusionary zoning. There's a bill State Senator Hoylman introduced late last year that would eliminate some of the policies that preserve exclusionary zoning, which at the end of the day discriminates against minority communities by making housing unaffordable and unattainable in certain communities. Dense multi-family housing is how we tackle both the climate crisis and our housing crisis, and building multi-family housing near transit — both inside and outside of the city — and legalizing multifamily housing in single-family housing communities is an easy way to add units to our housing supply. I don't know how specific you want to get with things, but I'll just stop there.
No, keep going. We're interested in specifics.
Beyond that, eliminating parking minimums will allow us to build more housing more affordably, and legalizing accessory dwelling units will help us turn our garages, our backyards, and certain basements into homes. This all ties into the reason why I'm excited to run for the State Assembly rather than a City Council seat: The state has incredible agency to use the many tools in its toolbox to solve this housing crisis.
You just laid out ways you really want to amp up housing in New York, but how would you ensure apartments are being created for a variety of income levels?
I'm sure you're familiar with social housing, which is a big buzzword nowadays. It's the model we should lean on in the future — publicly developed, moderate cost, mixed-income housing — and I think the ability to empower the government to build more, where market-rate units can subsidize lower-income units, is the future. When the state becomes the housing developer, it no longer needs to chase profits, and the rate of return is no longer the primary goal. The primary goal is to provide housing! And the city and state can start doing more of that with all of the empty lots that they own.
When you say on your website, "We must have the courage to build more housing," what does that mean in practice?
We can't guarantee housing if it doesn't exist. What I think we need to transition away from is a battle over individual rezonings — for a certain building or on a neighborhood level — toward an understanding that housing is a regional problem, a state-level problem. Then we can have the courage to pass state-level policies that will encourage new housing everywhere.
That sounds like you're talking about an overarching statewide plan. 
Yes. I spent a couple of years living in California before the pandemic, and that has partly informed how I feel about housing here, and why I think state-mandated housing benchmarks are something that we should consider. Nobody likes mandates, right? But what we see is the state as a whole really failing at its obligation, because the job of producing housing is owned at the local level. I do believe that some sort of ten-year master plan, whether it comes with mandates or otherwise, is something that we should start doing.
Are there existing plans that you think could be a good blueprint for New York to build off of?
California has one called the Regional Housing Needs Assessment. It has teeth.
When it comes to the state's rent laws, you've said you'd modify those too. How?
I support the Good Cause Eviction bill. I support expanding the right to counsel. Our eviction moratorium is ending soon, and when the last moratorium was passed, Delta was sweeping the city. Now Omicron is sweeping the city, and at the end of the day, people are most protected from this virus when they're safe at home.
Someone that I grew up with and went to elementary school with — he's a Queens guy through and through — told me that his landlord raised his rent 30 percent and that he just could not make it work and decided to move his family to New Hampshire. That really breaks my heart, and I really do believe that reducing the reasons landlords can deny a lease renewal would lead to higher tenant stability.
You just mentioned the eviction moratorium. It's set to expire soon. Should the State Legislature extend it?
I think we can do that with Good Cause by making eviction only possible with Good Cause and making that permanent and not a temporary stopgap measure.
Besides Good Cause, what are other tenant-oriented measures you'd prioritize?
I think an obvious one is eliminating brokers' fees. The idea of brokers' fees, in this market, where so many renters are desperate for housing — I don't believe that real-estate agents should be able to ask for brokers' fees from prospective tenants. I would be interested in co-sponsoring or introducing a bill that does this myself.
Shifting gears a bit: If elected, you'd have the largest public-housing development in North America, the Queensbridge Houses, in your district. What's your message to NYCHA tenants on how you'd improve their situation?
We have to do everything that we can to make sure that it stays public and oppose attempts at privatization. We know that there is a massive repairs backlog. We do not know if Washington will come through with Build Back Better, and even if it does, it's unclear whether that amount of money will cover even half of that deficit. The state has an obligation to provide relief to NYCHA residents and should provide that relief as soon as possible.
How did your experience growing up in Astoria shape the way you think about housing?
I remember waiting for the train at Queensboro Plaza when I was younger, and you could see for miles all around, and now the station is in a canyon surrounded by buildings. What I want to emphasize is that I want a New York, a Queens, that is as welcoming as it was to my parents 30 years ago, when they were able to buy a place on two working-class salaries. That is the kind of New York I want to build. I have seen many neighbors I grew up with and other millennials like me move out of the city to raise a family because they don't think that they'll ever be able to buy a place. That breaks my heart, and for that reason, I support policies that will make it easier for people like me who want to stay in their neighborhoods and who want to have a long-term future here. That is the sort of displacement that I want to prevent.