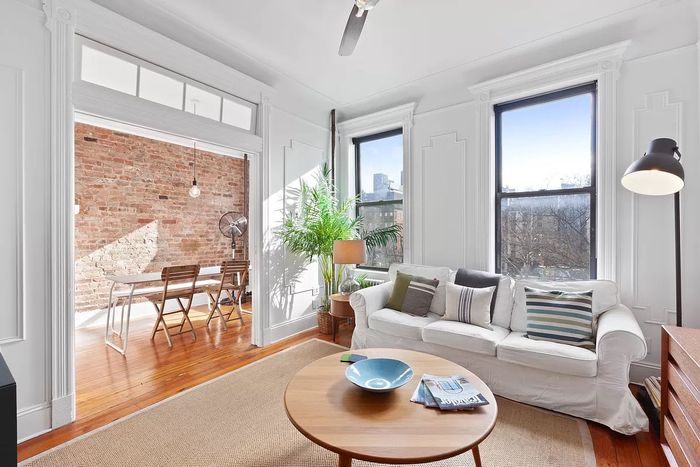 For under a million dollars, one can find all sorts of housing configurations: park- and subway-adjacent studios, one-bedrooms hidden in carriage houses or former shoe factories, and even the occasional true two-bedroom. With apartment prices rising again and inventory continuing to tighten up, we're combing the market for particularly spacious, nicely renovated, or otherwise worth-a-look apartments at various six-digit price points. This week: a renovated West Village Studio, a Brooklyn Heights brownstone one-bedroom, and more.
A Renovated West Village Studio for $475K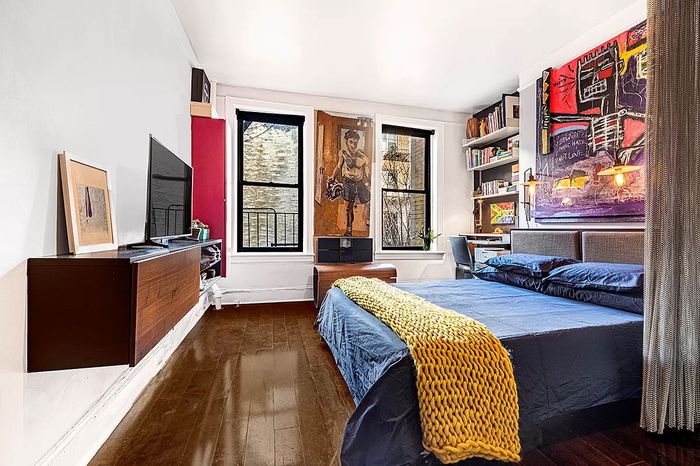 51 Jane St., Apt. 12 — This third-floor unit is one of the lowest-priced studios in the West Village, and it comes with a ton of sleek updates, especially in the kitchen (where there's a peninsula with seating for two and white handleless cabinets) and the bathroom (which has monochrome gray mini mosaic tiling on all sides and a huge rain showerhead). The living area has a floating wall cabinet and a recessed nook that's been turned into a home office with a wall-mounted desktop plus shelves. A small hallway, which connects the bathroom and a deep closet, has an arched doorway and gives the studio more of a full apartment feel. The rear-facing unit sits on a quiet, leafy block of Jane Street lined with almost all brick buildings.
A Bright Corner One-Bedroom in Cobble Hill for $475K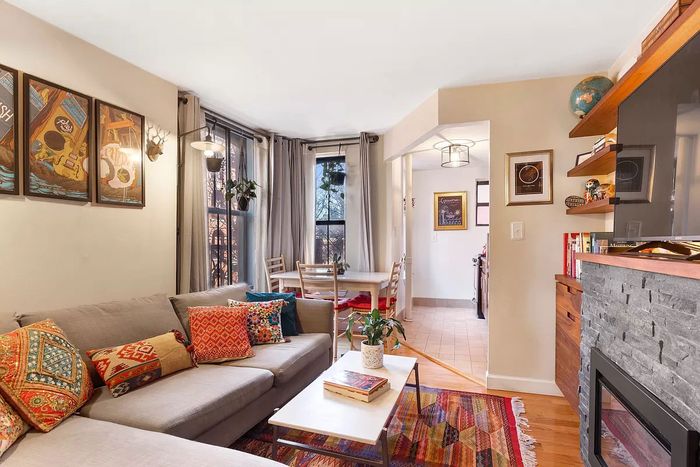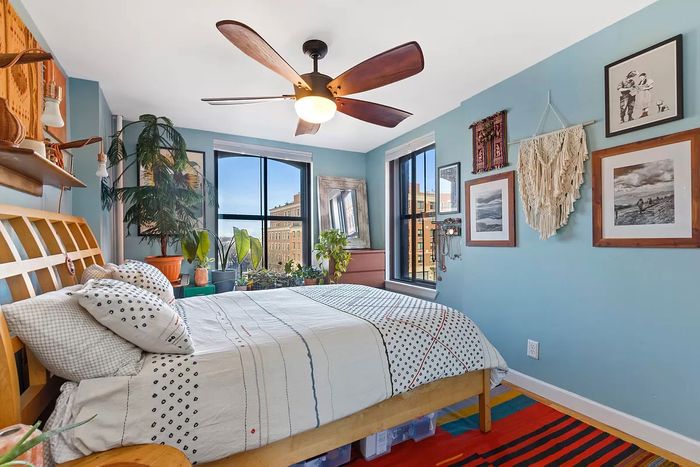 439 Hicks St., Apt. 4A — There are only four one-bedrooms on the market in Cobble Hill right now, and the cheapest and most charming of them is this fourth-floor walk-up condo at Cobble Hill Towers, the gated Victorian-era complex by the BQE known for its red-brick facade and wrought-iron breezeways. The A-line apartments stand out for having two sets of corner windows (other lines generally have just one, if any): one in the bedroom and another in the living room (which makes a nice little dining nook). There's a large window in the (dishwasher-equipped) kitchen and another in the bathroom (where the tiled sill is deep enough for a row of potted plants). And the living room comes with a wall of built-in storage.
A Brownstone One-Bedroom in Brooklyn Heights for $689K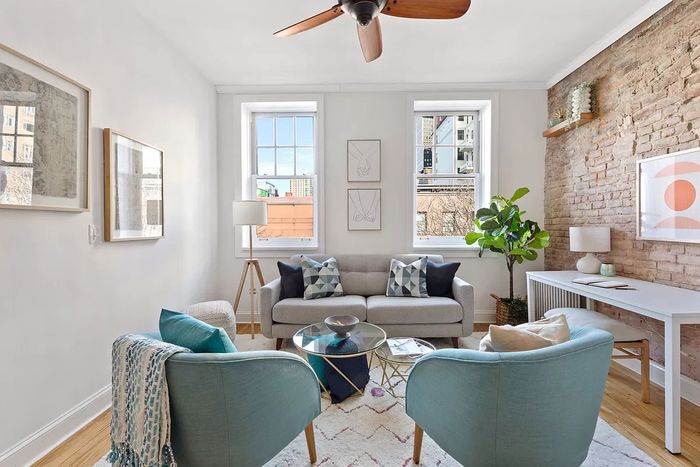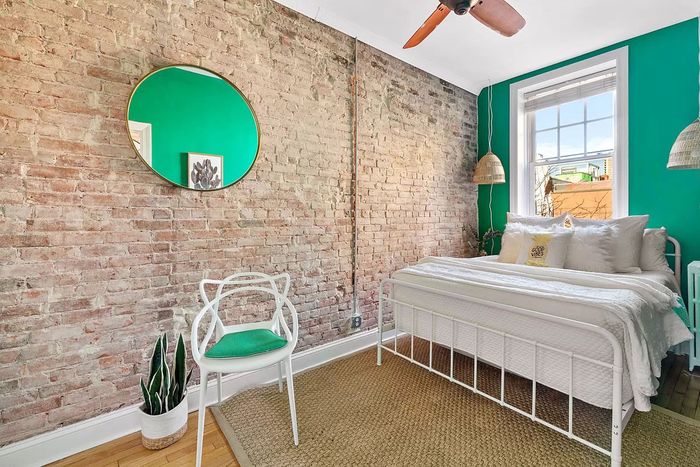 138 Remsen St., Apt. 5A — This one-bedroom co-op on the top floor of a brownstone (around the corner from the Court Street R train) is smaller than a few other options in the same price range in the area, but it has pretty low maintenance ($677 a month) and comes more thoroughly updated (including the recessed lighting throughout). The storage space here is especially abundant: There's a hallway with two bifold closets as well as a walk-in closet (with built-in shelves) in the bedroom. Meanwhile, the all-white C-shaped kitchen has a small but efficient peninsula that seats two and conceals deep shelving underneath. There's a wall of exposed brick in each room and a skylight in the (subway- and penny-tiled) bathroom.
A Two-Bedroom With a Clawfoot Tub in East Village for $950K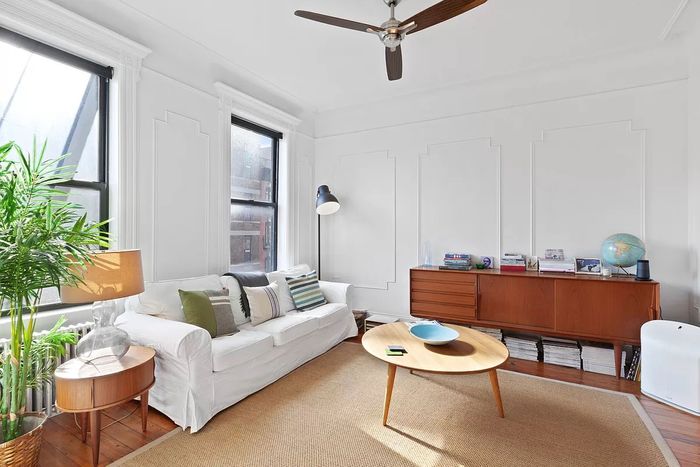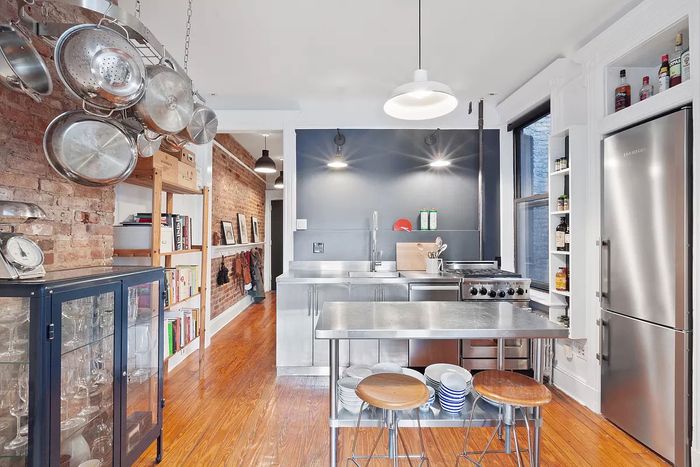 54 E. 1st St., Apt. 4A — For an under–$1 million listing in the East Village, this walk-up apartment is fairly spacious (there's an extra windowed walk-in closet or home office in addition to two decently sized bedrooms) and especially full of period details and custom fixtures. You'll find pocket doors with a transom window leading to one of the bedrooms, picture-frame wall moldings throughout, exposed brick everywhere, and a clawfoot tub. There's also a consistent, inoffensive industrial look going on, from all the stainless steel (appliances, counters, cabinets, and a hanging pot rack) in the large windowed kitchen to the multiple metal-shade and Edison-bulb pendant lights around the apartment. The building is just a two-minute walk from an entrance to the Second Avenue F train.