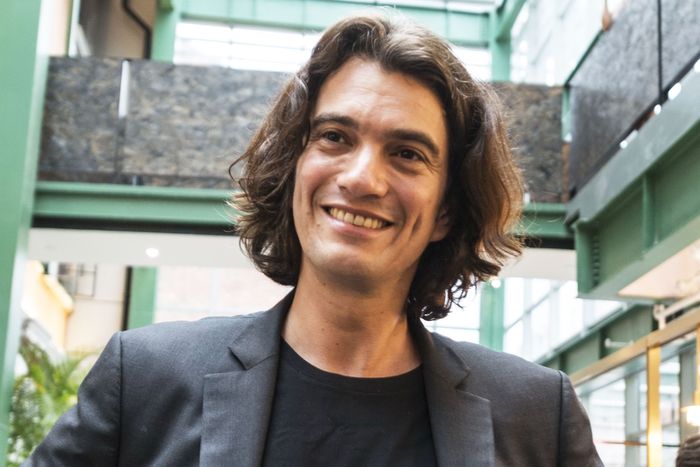 "I'm here to pick up your rent check."
Photo: VCG/Visual China Group via Getty Images
Ever since that photo of Adam Neumann barefoot with a rabbi and a pizza in the Hamptons circulated this summer, observers have wondered what's going on with the disgraced WeWork founder. A few months earlier, an "insider" had told the New York Post that Neumann had "big plans," the scope of which "involves what happened in the world because of the pandemic." And now those big plans have been revealed: Neumann is becoming an apartment landlord.
The Wall Street Journal reports that entities tied to Neumann have acquired majority stakes in more than 4,000 rental apartments in southern cities including Atlanta, Nashville, and Fort Lauderdale, a portfolio that is valued at more than $1 billion. Which does technically involve what happened in the world because of the pandemic — rental prices are surging around the country and a lot of people moved to smaller cities — although it's kind of an underwhelming comeback for the man who'd once imagined a global all-encompassing empire of We: WeWork (offices), WeLive (apartments), WeGrow (a school), Rise By We (a gym), WeBank, WeSail, even WeMars. Neumann's other ambitions include becoming Israel's prime minister and living forever.
Then again, WeWork, once considered a particularly magical tech unicorn, turned out to be a subleasing company that lost a lot of money. At least it did so spectacularly, with tequila-fueled ragers, wild investments ($13 million for a company that made wave pools for indoor surfing), and rapid growth (it was at one point New York's biggest private office tenant). It seems safe to say that when Neumann himself eventually comes out of quasi seclusion to speak about his new venture, there will be lots of self-regarding over-the-top rhetoric (WeGrow once vowed to revolutionize elementary school via "elevating the collective consciousness of the world by expanding happiness and unleashing every human's superpowers"). In fact a partner in Neumann's family office is already offering garbled New Age–y quotes, telling the Journal that they are "excited about multifamily apartment living in vibrant cities where a new generation of young people increasingly are choosing to live, the kind of cities that are redefining the future of living."
What does that mean, exactly? Neumann apparently has "ambitions to build a company that would shake up the rental-housing industry." And how does he intend to do that? By bundling in services and amenities, it seems, and up-charging for them. Which is familiar ground for Neumann — WeWork's business model was to make money by bumping up the rent on office space in return for supplying perks like nice design, flexible lease terms, and craft beer. WeLive did much the same thing with shared, furnished rental housing. It's not clear how he was planning to do that with Mars.
The details of Neumann's plans remain opaque, but the properties he's investing in are fairly traditional luxury-apartment complexes with 200 or more units and lots of amenities: saltwater pools, putting greens, dog parks, co-working spaces (!), and (less traditionally) trash valets and on-site barber shops. Last year, according to the Journal, he acquired a major stake in Alfred Club, Inc., which provides concierge services like dropping off groceries and laundry. (The company pivoted a few years ago from providing virtual-butler services to renters to providing property-management services to landlords. Common, WeLive's old co-living rival, has also leaned into its property-management role.)
Renting out traditional apartments in a well-staffed full-service building is not exactly a new concept. Nor could investing in the rental market at this particular time be described as remotely visionary. But then the blue-sky aspects of WeWork didn't exactly pan out. Up-charging for services and amenities did, and it's a proven business model. Neumann, who walked away a multibillionaire after being forced out as WeWork's CEO, is said to be investing his own money this time.