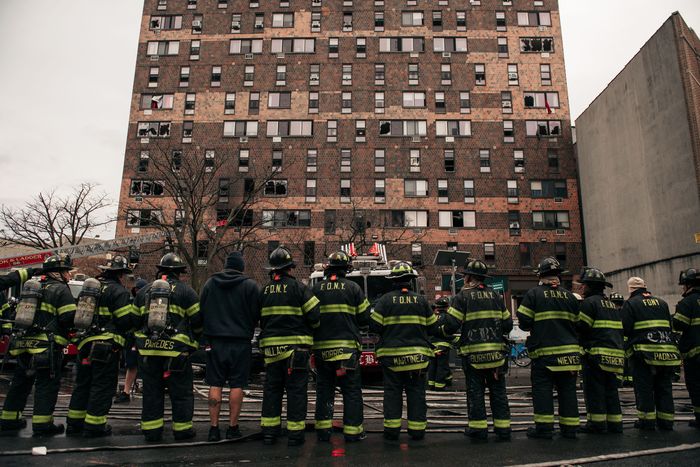 Photo: Scott Heins/Getty Images
After a Sunday morning fire left 17 dead, eight of them children, people started sifting through the details, looking for the patterns of absentee ownership and neglect that usually emerge in the wake of such tragedies. At first, the signs seemed to be there: The fire broke out in a 19-story tower for low-income renters in Fordham Heights. Built in the 1970s, the structure, known as Twin Parks North West, was part of an eight-building Mitchell-Lama portfolio that had traded hands a few years earlier for $170 million. The cause was a malfunctioning electric space heater — the apartment where the fire started seems to have had multiple space heaters that had been running for days — which implied that the heat might not be working well. But one big piece didn't fit the narrative: The three property owners — LIHC Investment Group, Belveron Partners, and Camber Property Group — who'd purchased the building almost exactly two years earlier, weren't exactly slumlords. They were well-regarded affordable housing developers, particularly Camber, which has ties to one of the biggest and most respected affordable housing developers in New York, L+M Development Partners.
Camber was founded in 2016 by Rick Gropper and Andrew Moelis, the son of L+M founder Ron Moelis; both had worked at L+M before branching out to start their own firm, which is mostly but not entirely focused on affordable housing. L+M is often a partner in Camber's projects and a minority investment was made in this one through an affiliate fund, according to city records. Camber, San Francisco–based Belveron Partners, and LIHC, which is based out of Portland, Maine, have worked together frequently in the past (Camber has a 20 percent stake in the LLC that was formed to purchase this portfolio, Bronx Park Phase III Preservation). Affordable housing deals tend to be complex, involving not only a competitive bidding process and regulatory hurdles but securing financing from public and private sources. Partnerships are common.
And they are, especially in this case, widely perceived as a positive turn. In its first five years, Camber was involved in a number of deals that were unusually forward-thinking for a new firm. One was purchasing an 11-building complex in the Bronx and reverting 100 market-rate apartments to rent regulation. Another was the renovation of Baychester, a New York City Public Housing Authority complex, also in the Bronx, one of the first public-private collaborations of its kind in New York. (NYCHA retains ownership of the buildings and rents remain affordable; the partner developers are paid through Section 8 vouchers. For that project, Camber partnered with L+M and MBD Community Housing Corporation, a Bronx-based affordable housing developer.) The renovation was lauded as a model for what the program could achieve; the tenant association leader called it "a miracle and a blessing." NYCHA was also impressed; in December, it announced that Camber and two partners had been selected to renovate the complex across the street, Edenwald, the largest NYCHA complex in the Bronx, which has more than 2,000 apartments. "Seeing is believing," the tenant president at Edenwald told the New York Times earlier this year. "Neighbors saw Baychester before the renovation, and we see it now. We want the same chance."
Much has been made of the fact that Rick Gropper was on Eric Adams's housing transition team, but given Gropper and Camber's background, he was exactly the kind of person you would expect to see involved, especially on a team as large as Adams's, which had 56 people. Gropper had been named to Crain's "40 Under 40" list. He had an inspiring personal story; paralyzed after a car accident at 13, he started adaptive ski racing and was once featured on the MTV series True Life: I'm in a Wheelchair. He decided to attend Columbia's real-estate program after sitting next to a professor on Metro-North, after which he landed an internship with L+M.
The purchase of Twin Parks North West was very much in line with Camber's previous work. The project had opened in 1972 as a "celebrated experiment in public housing" — there was even a Canadian documentary about it. The building fell into disrepair over the years, but the complexes were part of the state's Mitchell-Lama program, and in 2013, Twin Parks North West received $39.6 million in state funding for repairs to the façade, new windows, energy-efficient lighting, and a new furnace and boilers, among other things. When the buildings were sold in early 2020, the new owners said they planned to make operational improvements. That Camber was part of the team that bought the buildings was seen by affordable housing advocates as a win at the time. "He really has a phenomenal reputation, especially in preservation, and especially around preservation of Mitchell-Lama," said one.
Self-closing doors that didn't shut appear to be the cause of the fire's high death count. On Monday, city officials said that the third-floor apartment's open door as well as one on a 15th-floor stairwell created a flue effect, sucking smoke upward; all deaths from the fire were determined to be from smoke inhalation. Between 2014 and 2019, when the building was under different ownership, four violations were issued for problems with self-closing doors to four different apartments and one stairway, according to the New York Times. All were resolved, although a number of tenants reported after the fire that their doors also don't close automatically.
As for insufficient heat, some residents reported heating problems — one told the City that she used space heaters because her heat was "inconsistent." But it seems, at least, not to have been a problem throughout the entire building; at least four residents told the Daily News that they didn't have problems with the heat not working; two said their apartments were so hot they needed to open their windows. In 2021, there were three complaints about a lack of adequate heating and one problem with a self-closing door; the door was not to the apartment where the fire broke out. Those were resolved as well. "In general, the complaints and violations do not seem to amount to a long list of egregious problems with fire safety," the Times concluded. Nor did the number of heat complaints in a building of that size provide much insight into the building's conditions, Jumaane Williams, New York's public advocate, told Bloomberg. In July, maintenance staff did repair the lock on the door of the third-floor unit where the fire broke out, according to a representative for the owners. "The repair was in response to a work-order request and the self-closing mechanism was checked in accordance with standard operating procedure," the representative wrote. "No further issues about the door were reported to property management since then."
Why didn't those doors close? Adams has said the third-floor door may have malfunctioned; the man who lived in the apartment with his family told the Post that he pushed the door so far open that it got stuck. Inspectors have now found that most, but not all, doors in the building closed as designed. The situation is, in any event, more complex than a bad landlord — as one person who works in the affordable housing world pointed out, the building had local, state, and federal oversight and funding, which should have meant any safety issues were identified and fixed. "This wasn't some kind of unsupervised, abandoned slumlord situation," he said. "It's kind of what we want in these properties — layers of oversight and money in housing for low-income families."