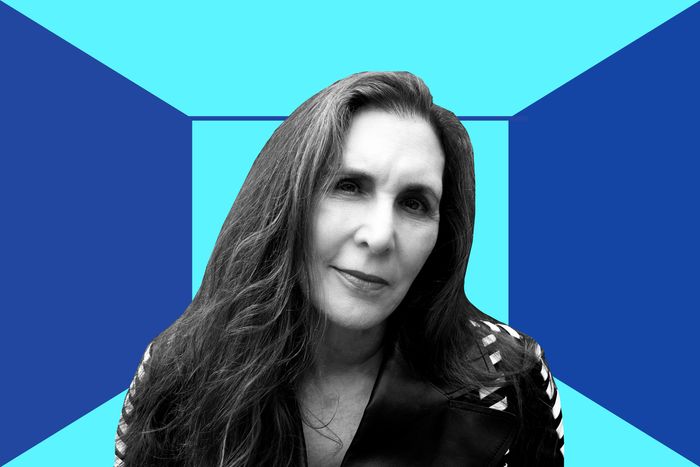 Photo-Illustration: Curbed: Photo: Danielle Bartholomew
New York's "21 Questions" column is back with an eye on creative New Yorkers. Laurie Simmons is an American artist, photographer, and filmmaker whose work tells the stories of her characters' inner lives in domestic settings that she creates in dollhouses or other interiors of her own making. Simmons is part of the Pictures Generation, which came to fame in the '70s and '80s staging their work with props such as dummies and dolls. Her first film, The Music of Regret, was a musical made with a coterie of friends that included Meryl Streep and a cast of Alvin Ailey dancers.
Name: Laurie Simmons
Age: 72
Neighborhood: Flatiron District
Occupation: Artist, photographer, filmmaker
What's hanging above your couch?
Well, the couch moves around a lot, but in the recent past it's been below a Kyle Staver, an Ellen Berkenblit, an Alan Turner, and a William Copley. We really do move the couch a lot, but that is the last move.
What's the first job you had in New York?
I once heard Leo Castelli giving a lecture, and he said, "Real artists don't have real jobs," so I made sure I only worked odd jobs — let's call them surreal jobs — all at once, like dogsitting a Bedlington terrier, putting up wallpaper in people's homes Lucille Ball style, working in a backgammon store when I didn't know how to play the game, having drinks, only drinks, with businessmen. Can we even write that? To say that I was always broke is an absolute understatement.
What color are you always drawn to? 
I'm such a red person. I've never gotten over the thrill of that color. I like a clear, true red, but I like all reds, and right now I love it paired with a robin's-egg blue.
Which artwork or artifact are you most surprised you own?
We have a beautiful little Lucio Fontana drawing in an antique gold-leaf frame that my husband got at an auction years ago. I love it so much.
Which New Yorker would you want to hang out with?
I would have loved to have known Stephen Sondheim, but then I am just another besotted fan. But I do love all the New Yorkers I get to hang out with, my friends!
What's the last thing you made with your hands?
Oh, that's so funny because I was going to say I made the bed! I just made slime for my work, and I just made a collage with all the food props I've collected over my lifetime, so I had to say good-bye to all that stuff.
Is there one thing you own multiple versions of?
Yes. Christy Rilling unstructured silk pants in all colors, which get mixed up with my husband's identical pairs. I wear mine out, but he wears his in the studio.
Which New York City museum do you always go back to?
My first date with my husband, Carroll Dunham, was at the Cloisters, so I have a special feeling for that place. I love the Museum of the City of New York, where years ago I shot the Stettheimer Dollhouse for Nest magazine. When I walk into the Guggenheim, I get as buzzy as the first day I ever saw it. The Studio Museum in Harlem is always fantastic. I am resisting giving one sentence about every museum in New York, but I will say that my visits are usually determined by the exhibitions, rather than just a drop-in.
What do you always have next to your computer?
My coffee, my iPhone, my iPad, and my dog, Penny.
Where is the best view of the city?
One apartment we had in Williamsburg had a view of four bridges, and all I did when we lived there was look at the river and the skyline. I had a Marine Traffic app to identify boats; I had the Star Walk app to look at stars, and I had the Slice app to find pizza in Williamsburg. Did you know there was a Slice app so you can find a slice anywhere?
Which building or object do you want to redesign every time you see it?
The perimeter of Manhattan and its relationship to the river could definitely get a rethink; that one is always very frustrating to me. And on a micro level, I'd like all of the laces in my footwear to be replaced by zippers and Velcro.
What's one thing you would change about your field?
The conflation of artistic brilliance and commercial success is truly the vomit emoji, and the art market isn't telling the story of great art.
If you could live anywhere in NYC, where would it be?
When I was a kid, I saw the musical Evening Primrose on TV. It was a made-for-television musical about a group of characters who secretly lived in the display rooms of a department store, and they pretended to be mannequins all day and they came out to party and play cards and have elaborate meals all night. I just realized when I said that, that must have really been another influence on my work. And you know what's amazing about that is that Stephen Sondheim wrote the music.
What would you hoard if it stopped being produced?
On a personal level, Oslo's Freya coffee and Essie's No Place Like Chrome silver nail polish, which I already hoard. For the studio, colored gels for lighting and colored Plexiglas — I'd be lost without them, 'cause color in a photograph is absolutely crucial in my work, and light is my paint, actually.
What do you do to get out of a creative rut? 
I just live my life and wait it out. And sometimes I lie down on the studio floor, and that's the truth.
Where was your first NYC apartment, and how much was the rent? 
Oh my God, it was on the Bowery between Broome and Spring, and the rent was $100 or $150.
Where in the city do you go to be alone?
There's such a long list because I have been finding places to be alone for so many years. I'm just going to toss out some of them. There was Genroku conveyor-belt sushi at 35th and Fifth; I used to go there every Friday night and then I would go shopping alone at Macy's at the $10 rack. Then for years, it's always been Century 21 department store, wandering, thinking, watching people, and there used to be this McDonald's Town House down there with a piano player in a white tuxedo playing a white piano in the mezzanine, and you could sit there and listen to him and sip a McCappucino. I would get away from the kids there.
On a little bit more elegant level, I love the Astor Moon Garden at the Met, and the inside-outside feeling of the American Wing courtyard at the Met. Honestly, I would wander for days looking for props for my work, but with eBay and Etsy, I have no reason to go shop for those things in person. But now I go to stores on 125th and buy braids and ponytails as props in all these colors that don't exist in nature.
What's the worst piece of career advice you've ever gotten? 
My first painting teacher at art school told me to get out of art because I was a girl with no promise. And then years later he came to see me and asked if I could help him find gallery representation.
What have you given away to someone that you wish you could get back?
Nothing. I really love giving stuff away, and my favorite re-homing project was giving my father's old, obsolete dental tools to the sculptor John Newman. I can only think about something that I gave away that I was excited about giving away.
What's your favorite NYC restaurant and your regular order? 
Hollywood Diner, grilled cheese and tomato, or turkey burger.
Which descriptive phrase do you want on your obituary headline?
The one that comes to mind is "She died with her boots on."