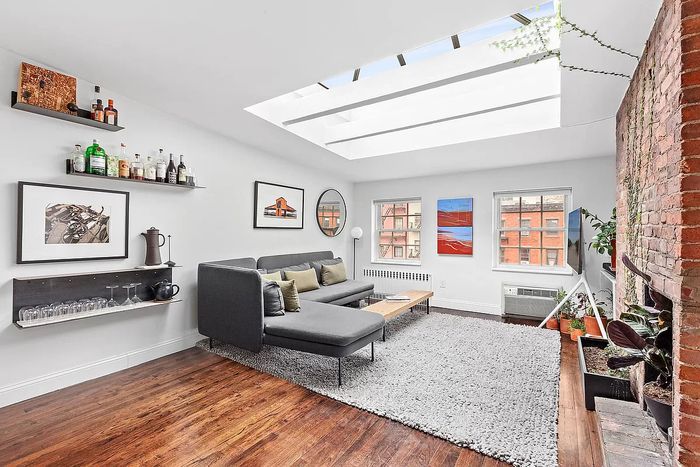 Photo: Nikola Strbac, courtesy of the Corcoran Group
Renting an apartment in New York right now is, by all accounts, a fairly harrowing task. According to a recent Streeteasy report, there has been a "record drop" in rental inventory (Q4 of 2021 had about 50 percent fewer units than the same time in 2020). Which means when a remotely desirable apartment (a decent location and maybe a fireplace or updated kitchen) does come on the market, it is met with a barrage of aggressive New Yorkers willing to do what they can to secure the deal. Realtors are reporting terse bidding wars (some resulting in apartments going nearly $1,000 over asking), extremely personal letters to the landlord, lines out the door at open houses, and absolutely no pushback on 15 percent broker fees.
We talked to listing agents behind three recently rented apartments, each of which was saved at least 400 times on Streeteasy.
The West Village Apartment With Arched Windows 
Listed for: $3,800
Actually went for: $4,595 (not the highest offer)
Total inquiries: Approximately 600
Total showings: Eighty-five appointments across one 2-hour open house on a Saturday, which had a long line to enter the whole time — a scene that went viral on TikTok. The open house, per Corcoran listing agents Alexandra Newman and Ron Pamposa, was filled with "desperation." Newman says she had people come up who'd be like, "I'm Ben, please remember my face. I will do anything I can to get this apartment — this is my story."
Total applications: More than 20 collected by the "best and final" deadline of noon the following Monday. The agents received three offers above asking before even formally sending out applications.
Who got it: Out-of-towners who came in just for the weekend to look at apartments. "They were texting us constantly; in this case the squeaky wheel definitely got the oil," says Newman.
The Chelsea Walk-Up With a Massive Skylight
Listed for: $3,650
Actually went for: $3,750 (not the highest offer; there were several in the $4,000 range)
Total inquiries: At least 100 within the first 12 hours
Total showings: Forty appointments over a one-and-a-half-hour open house. "People who came by said they had already lost out on other apartments," says Corcoran listing agent Etie Khan. "There was a sense of urgency. There was no pushback on the 15 percent fee. It was almost like people were happy to pay the fee."
Total applications: Thirteen (the landlord's top three picks were later given an opportunity to make a higher bid).
Who got it: An applicant who recently moved to the city from Germany. "For this landlord, the most important thing was to have someone who they feel will be approved by the co-op board," says Khan. "So the landlord actually ended up doing Zoom interviews with the final two candidates."
The East Village Corner Condo Overlooking Tompkins Square Park
Listed for: $3,400
Actually went for: "Hundreds over ask" (it was the highest offer)
Total inquiries: More than 100 immediately. "It was all I did for days," says Melissa Bolotow of the Clinton Stowe team at Compass.
Total showings: Twenty appointments across two 2-hour open houses. The first open house happened to be on January 29, the day of the blizzard. One person canceled and 35 people were waiting to take that spot. There were two additional fully booked open houses that were later canceled after an offer had been accepted.
Total applications: "Multiple" (several offers were above asking).
Who got it: An East Village resident who had already been looking for a while. "They understood how competitive it was and went a big step up," says Bolotow. "We didn't think it was going to go higher than that."