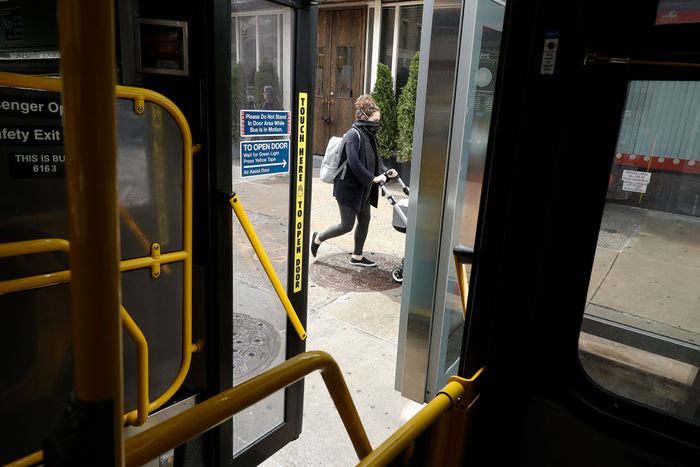 Photo: John Lamparski/Getty Images
Anyone who has had to wrangle small humans on transit knows it's daunting enough to just get everyone on board, let alone pay fares, find seats, and keep your mask on straight. That task may get a little easier, AMNY reported this week, as the MTA announced it will take a "fresh look" at its policy requiring caregivers to fold their strollers on the bus. This is welcome news for weary caregivers: holding a squirming 6-month-old in one hand while collapsing a stroller with the other defies the laws of physics.
"Being a mom in New York City is hard enough as it is, and for us moms that rely on public transportation, currently it is really a struggle," said Elisabeth Koechlin, one of a dozen parents and caregivers who gave public testimony on the policy earlier this week. Parents said the most frustrating part of the MTA's current rule is how it adds unpredictability to their trips; some drivers will allow babies to stay in the stroller depending on how crowded the bus is, while others demand an immediate baby extraction, which parents worried was less safe than having an infant remain secured in an infant-size seat. Danielle Avissar, another parent, spoke about how strollers play double duty for caregivers, not just as a way to travel with their kids but as a place to stash groceries. When a driver told her to dismantle her entire errand-running setup, she was in disbelief: "How am I supposed to do this?"
The MTA's commitment to revisit its stroller policy is also coming with another promising improvement: 800 new buses where the front seats flip up, creating more space for stroller-toting parents as well as passengers who use wheelchairs and grocery carts.
There's a lot more that the MTA could be doing for families: free youth passes, boosting off-peak service that more closely mirrors the trips caregivers are taking to get kids to schools and day cares. In Scandinavian countries, there are sections of buses demarcated for families with straps for strollers, in the same way seats are reserved for riders with disabilities. (And passengers with strollers in some cities ride for free!) So yes, the MTA's stroller policy is a start. Now the mess of inaccessible subway stations — another gauntlet of obstacles for stroller users — needs to be tackled next.