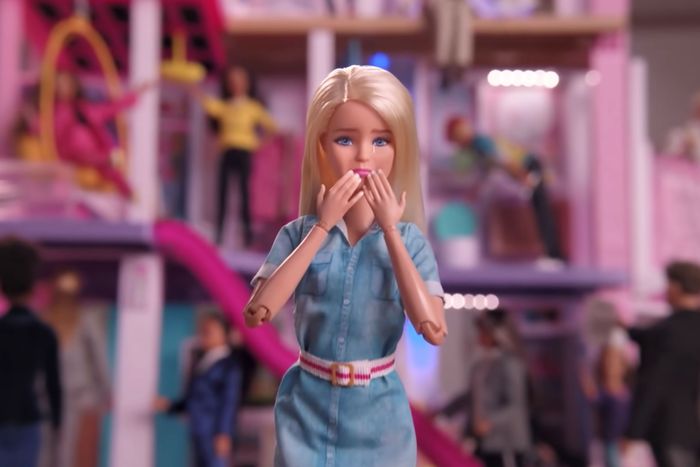 Photo: Rocket Mortgage/YouTube
If you watched the Super Bowl, you might have seen Anna Kendrick helping Barbie land her Dreamhouse, which, like all dream houses, has both stunning views and a slide. Trouble comes for Barbie when Better Offer Betty swoops in with "ten over asking" and Cash Offer Carl offers "straight cash" (a classic Cash Offer Carl move). Also inexplicably in competition is House Flipper Skipper, who intends to tear everything down to the studs. Barbie wins the bidding war, however, because she is backed by Rocket Mortgage.
Is this realistic given the conditions of the current housing market, especially in desirable locales seeing the most interest? (After all, Barbie's Dreamhouse is canonically located in Malibu.) To gauge the situation, I turned to Peter Newman, who has been selling Hudson Valley real estate for the past six years and is currently with Columbia County's Beach & Bartolo Realtors.
Did you see the Barbie Super Bowl commercial last night?
Yeah, I was a little disturbed by it.
What did you think?
Well, we don't take any offers unless someone's preapproved, whether it's cash or a mortgage or however you're financing it. It's part of the process. It's not a Rocket Mortgage phenomenon.
Right, so every doll in the bidding war would have been preapproved in some sense.
Absolutely — [from] the flipper to Barbie herself.
Do you think Barbie would have won out over a cash offer and an above-asking offer?
Not realistic. Cash is still king. And overasking, where I am in Columbia County and Dutchess County, still seems to be the norm. Good houses are selling quickly.
If you had to guess, which doll would have won in that scenario?
The cash offer would have won, provided that it was equivalent to or better than the best mortgaged offer.
I found it funny that Skipper was also bidding to flip the property. Would she even try to buy the Dreamhouse? What would need to be done?
Well, it depends. Barbie's Dreamhouse could need renovation. A lot of people are floating around the house, going on the slides and up the elevator. It could have been a house that needed some TLC, and somebody who's good at it can certainly add value if they know what they're doing.
Any other inaccuracies you'd like to address? 
Barbie getting her Dreamhouse because she's prequalified. The fact is, I often recommend buyers to use local offices or local mortgage companies, banks, or somebody who understands [the local market].
And that would give you an edge over being preapproved by an app? 
Well, I'd rather you be preapproved by a local financial organization.