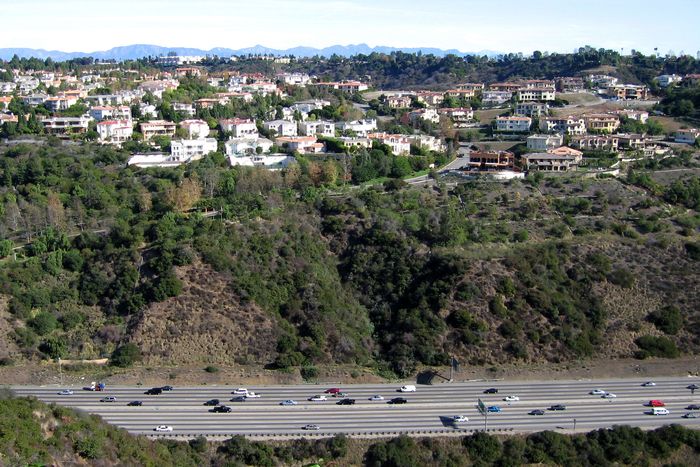 These homeowners are hyperventilating over potential transit ventilation.
Photo: dzalcman/Getty Images/iStockphoto
Since it was formed in 1942, the Bel-Air Association has worked to "protect the enjoyment of home ownership and property values" by insulating well-off Angelenos from threats such as denser housing and racial-justice movements. The achievements proudly documented on the association's website include stopping apartment buildings and roads from carving up the idyllic neighborhood. But the fresh wince of Bel Air is directed toward a new mass-transit project for the Sepulveda Pass, where a train from Westwood to the Valley is being proposed to alleviate congestion on the 405 freeway (yes, the one Los Angeles spent a billion dollars widening only to make everything worse). To transit advocates, the subway is, in every way, superior to the other option that L.A.'s public-transportation agency Metro is still considering: a monorail that will travel alongside the freeway. But Bel Air homeowners aren't convinced. They're not anti-transit, they claim; on the contrary, they're like the Lyle Lanley of neighborhood associations: They just very, very much prefer the monorail. That's because Bel Air would prefer the train to stay above ground and far, far away from their gated community because of the horrors of tunnels.
"Which ventilation shaft will Metro use for your street or property?" asks the Bel-Air Association in its call to action, warning residents that they are in "serious danger" due to the imminent taking of their bountiful landholdings via "easement acquisitions," or eminent domain. As first reported by Streetsblog L.A., the association has been disseminating an audio file demonstrating what a subway might sound like underfoot; I assume it's for the many Bel Air residents who wear earplugs when visiting other parts of Los Angeles lest they be assaulted by the faint sigh of public transit down below. The worst part, warns the Bel-Air Association, is that such sounds might be heard every 2.5 minutes. (If only our subway ran so often!!) What's most bizarre is the Bel-Air Association's assertion that tunnels are somehow an old-fashioned solution to a mass-transit problem, claiming that Metro is "FILLED WITH TUNNEL DIGGING ENGINEERS WHO ARE CLUELESS HOW THE WORLD IS CHANGING." This perspective is particularly interesting considering the billions of dollars of free publicity generated for tunnels as a futuristic transportation solution by the neighborhood's own former resident Elon Musk.
Yes, Metro's subway option would require tunneling below Bel Air. But these people live on a literal mountain range, making it unlikely that residents would ever see, feel, or hear what's happening underground. They would also be paid on the off chance that tunneling would occur on their turf, approximately 100 feet below their infinity pools. As for the possibility of any air vents (Bel or otherwise) being installed on the area's streets — which are, despite the wrought-iron gates keeping people out, still property of the city — grates aren't even part of the proposal for the neighborhood. What you're seeing here is the last desperate flailing of anti-transit NIMBYism in L.A. as it sputters out. Even Beverly Hills, which for decades notoriously beat back the subway's arrival with expensive lawsuits, has acquiesced, and is building a shiny new station a block from Rodeo Drive that will open in three years. It's past time for Bel Air to get onboard.