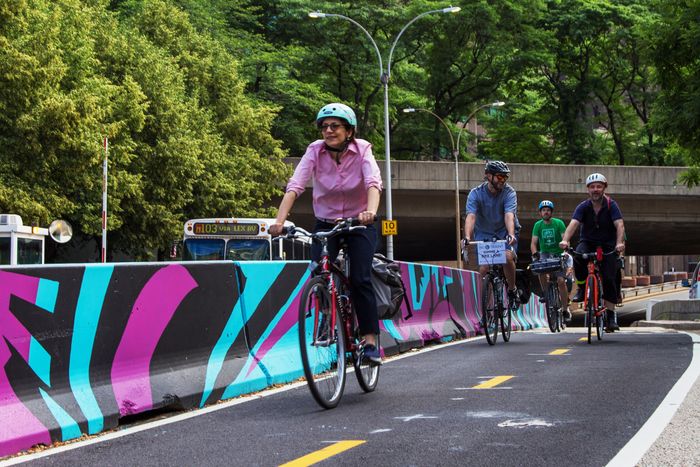 They're not always this pretty — but they work.
Photo: NYC DOT
When he was sworn in as Eric Adams's new transportation commissioner, Ydanis Rodriguez made a promise to protect half of the city's not-very-well-protected bike lanes in the first 100 days of the new administration. Last week — about 50 days in — that work finally began. "We have an actionable, concrete plan to protect cyclists, and we are going to deliver on this work to keep our lanes clear," Rodriguez announced on Friday. And the actionable, concrete plan is actually … concrete. Well, it's technically fortified cement: laying down four-ton, 15-foot Jersey barriers — those gray road dividers — to replace the flimsy plastic flexiposts that currently line up to 40 miles of New York City's bike lanes (and that cars can easily plow right over).
It's a process known as "hardening," which has been proven to save the lives of cyclists, pedestrians, and even drivers. The protective barriers are also an infrastructural intervention that attract less-confident riders to try biking, creating exponential climate and congestion benefits.
Another reason to love the Jersey-barrier-fication of the city: This is the type of project that can come together fast. A half-mile of Broadway, from Barclay to Morris Streets in Lower Manhattan, and some hairy sections of 40th Street and 11th Avenue near the Lincoln Tunnel were made safer just over the long weekend. More sections of Manhattan and Queens, prioritized by advocates to help fill in gaps in the cycling network, have already been announced for improvements, with a list of more stretches in Brooklyn and the Bronx forthcoming. Picture it: low-slung walls of car-hostile concrete snaking through the city, with cyclists pedaling in pure bliss.
While it's exciting to see DOT respond relatively nimbly to the accelerating crisis of traffic deaths on New York City streets — just in 2022 the city has already seen a 50 percent increase in fatal crashes compared to 2021, which was an exceptionally deadly year — there are a few caveats to the original pledge. These 20 miles of lanes will not be protected within the administration's first 100 days, as promised; rather, the project is slated to be completed by the end of 2023. (That would be over 700 days, for anyone counting.) One reason for the delay is due to supply-chain issues in procuring Jersey barriers (precast concrete is having a moment). At the same time, DOT says it's looking into other types of lane-separating curbs, made from materials like rubber, some of which will be tested on New York City streets this summer and considered for larger-scale applications.
In the meantime, New York City should consider other options to fortify its bike lanes, like those bright-orange plastic barriers filled with sand or water often used at construction sites. They're hideous, yes, but they're even more visible than Jersey barriers — a real advantage when it comes to protecting bikers. And let's be honest, it's not like concrete slabs are beautiful, either. We welcome more ugly, well-protected bike lanes — and the sooner it happens, the better!