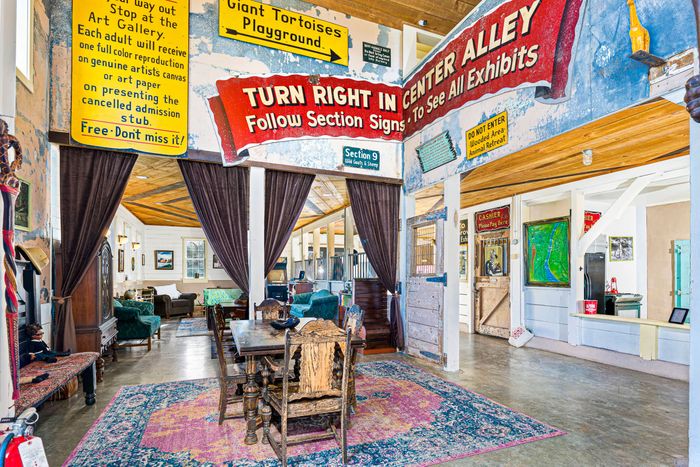 One of the most unusual properties for sale upstate right now comes in the form of a 193-acre former zoo. More specifically: the Catskill Game Farm, the first privately owned zoo in the United States. When the place opened in 1933, it only held deer, donkeys, and sheep. But in the late '50s, when it achieved official zoo status, it was able to attain more exotic animals — eventually housing over 150 species, including camels, mountain lions, hippos, kangaroos, llamas, alligators, and prehistoric horses. It brought over 500,000 visitors a year at its peak in the '60s (this very magazine included the Game Farm in a story on family-day-trip ideas in a June 1969 issue, highlighting its two feeding grounds, an "exciting experience" for city kids who are "accustomed to admonishments not to feed animals at the zoo.")
After the Game Farm closed in 2006, the grounds were abandoned until a couple bought and transformed the place into an inn and campground in 2012, renovating the old giraffe house into the six-bedroom Long Neck Inn, complete with an open kitchen (with a massive stainless-steel utility sink), a game room (where a row of barn stalls used to be), and common area covered in original zoo way-finding signage. The listing photos show one bedroom that appears to occupy some fully enclosed barn stalls (it has wood planks on all walls and the ceiling), while another looks strangely normal for a former zoo (cerulean-blue-painted walls, white baseboards, even an Eames-style shell chair).
The property was last sold to a group of investors in late 2020 for $1.86 million. They'd planned to continue to use the property as a hotel but with more activities (like horseback riding, mountain biking, and archery) but waves of pandemic-induced cancellations made even running the place untenable. Now, the Game Farm is listed for $3.6 million, almost double the sold price from two years ago. And the flip might just work. The upstate housing market has been pure pandemonium with intense competition for few available houses, so the fact that this property includes four 1.5-acre residential lots (currently used as glamping sites) could be especially appealing to developers.
Listing agent Jeanne Rakowski says she's already gotten interest from people looking to turn it into a development of single-family homes or a small-house community. A lot of the prospective buyers, Rakowski says, remember it as it was a couple of decades back. "It's a nostalgic place. The first comment from nine out of ten people when they hear about the Game Farm is, 'Oh my god, I have so many memories of that place as a kid.'"