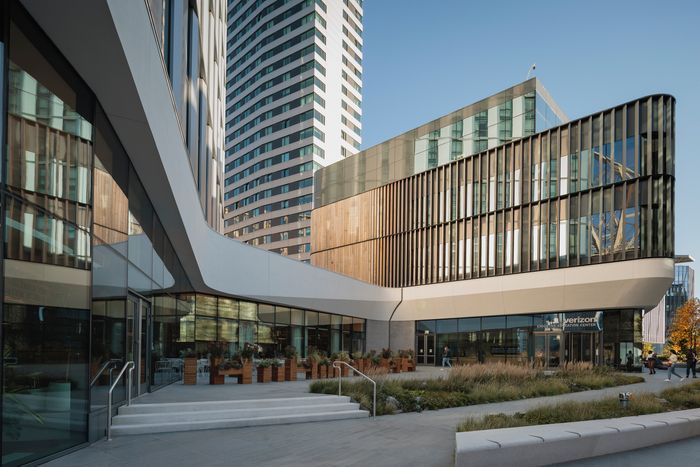 At Cornell Tech, on Roosevelt Island.
Photo: Michael Grimm
New York now has not one but two new Ivy League campuses, and they could almost be twins, slowly moving on Manhattan from two sides. Cornell Tech on Roosevelt Island and Columbia's expansion into Manhattanville give their occupants panoramic views of water and Gilded Age bridges. Sunny buildings wrapped in noise-blocking glass and sleek metal jackets stare at each other across gently sloping pathways and windy plazas laid out by Skidmore, Owings & Merrill and landscaped by James Corner Field Operations. Generous staircases sweep through the various cores, widening and narrowing like old city streets, with landings that serve as elevated plazas.
Both campuses are only half-finished and won't be fully built for decades — Cornell Tech administrators are shooting for 2037 — but in the meantime, each has recently opened two facilities: a hotel and conference center at Cornell Tech, a pair of business-school towers at Columbia. Although they're by different architects, they share a palette of gray and glinting surfaces judiciously tweaked to project personality. Together, these structures embody today's aesthetics of higher learning, especially as applied to new frontiers in making money.
Business and tech (and tech-based business) aspire to the perfect fusion of rationality and inventiveness. So does the new architecture that nurtures them at these two schools. Startups incubate ideas they want to share with the world, while also protecting their intellectual property. The architecture, too, oscillates between openness and self-protection. With their unwalled perimeters, graciously curving walkways, and transparent ground floors, both the Roosevelt Island and Manhattanville complexes claim to be welcoming neighbors. Yet in the end they've moated themselves in open space, signaling their insularity as clearly as if they had built high fences. Disrupters at work, all this techno-utopian design announces; visitors tolerated.
On Roosevelt Island, Snøhetta, the firm responsible for the latest additions, lets location take care of awe. Midtown Manhattan preens just across the water, and the Queensborough (pardon me, Ed Koch) Bridge vaults overhead, as if extending a muscular arm over the brittle-looking buildings below. There, an 18-story hotel called the Graduate links arms with a low-rise conference center by means of a curving podium. The connection means they can share a kitchen and visitors can grab a power nap between PowerPoint presentations without stepping outdoors. The buildings themselves, smartly positioned, angled, and chamfered to play up the views, keep showy flourishes to a minimum. In the conference center, concrete floors and exposed ducts, those universal emblems of nerd cool, confer an aura of unpretentious seriousness. The hotel is more flamboyant, at least on the interior: The first character guests meet at check-in is a 12-foot sculpture by Hebru Brantley, Flyboy, crouching over the reception desk and hoisting a light bulb like a bright idea.
These new additions join the three original projects: an academic center, an innovation center where students and professionals can rub shoulders, and a residential tower. All that construction, representing $1 billion and 880,000 square feet, serves a population of roughly 500, an awfully lavish ratio. Of course, the impact of mixing high tech and higher education isn't measured in warm bodies but in hot companies, and in the seven years since the school opened, it's nurtured 82 start-ups, which have raised a total of $156 million in venture capital. That's a lot of money, but not a head-spinning sum. By comparison, in 2016, MIT launched a venture-capital firm, the Engine, to tackle difficult, slow-moving tech challenges. Within a year it had raised nearly $200 million; it's now got a total of $672 million spread around dozens of companies. And if Cornell Tech's's intellectual ferment has spilled over into Long Island City or the east side of Manhattan, the effect isn't obvious to the naked eye.
At Columbia, the two business-school siblings, Kravis Hall and Geffen Hall, by Diller Scofidio + Renfro together with FXCollaborative, represent a different order of sophistication. Neither has the nervy exuberance of the Vagelos Center at Columbia Medical School, DS+R's contortionist tower rising on a tight, steep site. But they do share the same preoccupation with folded, continuous surfaces, which stretches back to one of their early unbuilt concepts for the Eyebeam Museum.
Kravis Hall, the one closer to the Hudson, is the more extroverted partner. A mostly glass façade folds into two interlocking sections, like a hedgerow maze seen from above. Protruding segments with glass fritted to appear pale and translucent are the faculty areas. The ultra-transparent recessed parts belong to the students: classrooms, lounges, and study areas. The two zones have been gerrymandered into ribbons that wind up through the floors along separate sets of stairs; those who pay tuition and those who are paid need never cross paths, except in designated pockets. It's hard to avoid the sense that the social arrangement of aristocratic country homes has been transposed to the contemporary business school, though it's not clear which group's dignity needs to be protected from the other.
The interiors are complicated arrangements of spaces for lectures, seminars, tête-à-têtes, hangouts, and various other flavors of face-to-face interactions, plus sessions of solitary labor. The student staircase, which corkscrews up along a chute of sculpted facets, is the structure's twisting spine, part connector, part showpiece, part social space. These are the kinds of strokes that architects live for, the transformation of necessity into art. (Technically, it's accessible since an elevator serves all its destinations. In practice, the more successfully it fosters fertile chats, the more exclusionary it will prove.) There's magic in the balance of the straightforward and the unexpected. You go around a corner or down a hallway and discover a new perspective, a doorway to a different area. There will, no doubt, be a certain amount of wandering around looking for Room 610.
There are places to sit everywhere, each with its dedicated style: stackable café chairs, rolling desk chairs, fold-down auditorium seats with extra padding for overlong lectures, sectional ottomans, high stools, even the sort of high-backed wing chairs you can sink into with a cat in your lap and an evil plot for world domination in your bald head. The variety has two purposes. Just as tech offices were conceived to keep employees from going back to their dingy apartments (before those dingy apartments became tech offices), these buildings are meant as comfortable places to spend the hours from coffee at dawn to after-pizza study session. The other point of the seating smorgasbord is to foster serendipitous encounters and conversation among students, faculty, and entrepreneurs. After two years of no-meeting meetings, it's strange to see this kind of socializing design, predicated on the old-but-new-again idea that the creativity is collaborative, unplanned, and face-to-face. Will all those freshly minted entrepreneurs and aspiring CEOs relish leaving academe for the global Zoom office of prescheduled everything, or will they want to cling to physical togetherness?
It's a privilege to be enrolled here, and admission gives students access to a platform that keeps drawing their attention to the city outside. You need only look up from virtually any desk, wait for an elevator, or turn a corner, and New York is there, cannily framed. Kravis Hall's west-facing windows offer close-ups of the Riverside Drive viaduct, a grande dame of lacy ironwork from the early 20th century. Renzo Piano, who drafted the master plan for the Manhattan campus (along with SOM) and designed its first three components (a science center, an arts school, and a student forum) has had a lot to say about the link between the new academic architecture and the area's industrial past. (A university is "a factory for ideas.") The business school is less precious about that relationship. Industry exists here only as a series of stylistic holdovers, best viewed from behind soundproof glass. (Elevated subways, like small children of yore, should be seen but not heard.)
The current between inside and out, enclave and neighborhood, mostly flows one way, although the administration likes to think it's reciprocal. Those without the right ID to swipe them through the turnstiles can peek in on an expensive education, thanks to the multitiered auditorium that steps up from the lobby level in each of the two buildings. From the street, the indoor intensity appears like a shadow play of figures striding up and down those theatrical stairs. But this is not really openness or solidarity or transparency.
When Columbia was selling this expansion, it vowed to knit the new campus to the neighborhood with more than just glass-walled cafés and a rock-climbing gym on the ground floor. The Columbia-Harlem Small Business Development Center has its offices in the school and reaches out to give local enterprises a boost. The sidewalk on 12th Avenue was left wide enough for a farmer's market. Construction projects include an apprenticeship program for local youths. In summer, kids will frolic in the dancing fountain on the square between the business school's two wings. The university recently bought the site of the defunct Fairway market and is hoping to attract another maxi-grocery. And maybe this goodwill strategy will finally be enough to exorcise the ghosts of 1968, when Columbia's plan to build a gym in Morningside Park triggered protests and violence and got the project scratched. But I doubt it. Old social rifts aren't healed by design, no matter how refined or bespoke.