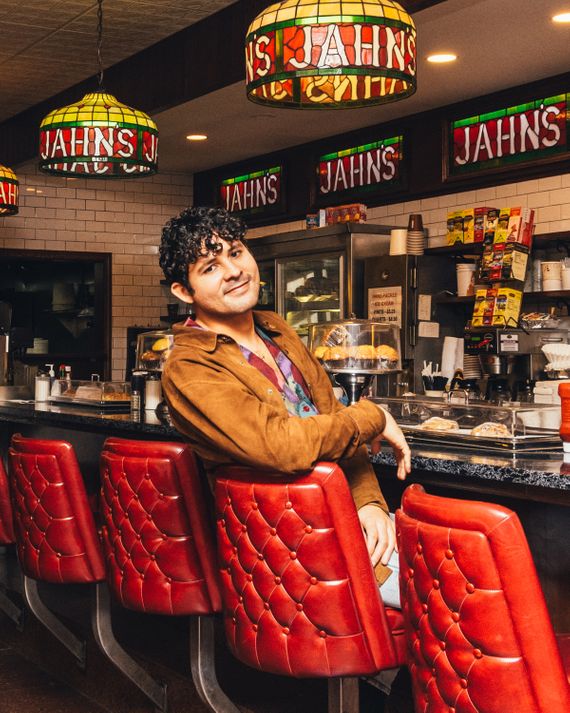 Photo: DeSean McClinton-Holland
As a gay Latino, Edgar Gomez has felt out of place almost everywhere he's lived. This feeling permeates just about every page of his debut memoir, High Risk Homosexual. His book details that search to build community — first in Florida, where he grew up, then in California during college, and later Brooklyn, where he moved in 2019.
But when he first visited Jackson Heights in August 2020, on the fourth anniversary of the death of the Mexican singer Juan Gabriel, he immediately recognized it as a place where he could belong. Walking down the streets, to-go cocktail in hand, he heard Gabriel's music blasted through speakers and sung by people he passed on the street. The neighborhood celebrated the Mexican music icon, despite the fact that he was widely assumed to be gay. Gomez said this felt like a sign he would be accepted there. "It was also the first place that I've lived where I saw the Nicaraguan flag on a business. Just seeing that, I was like, Oh shit, these are my people."
The half-Nicaraguan, half-Puerto Rican writer, who moved to Jackson Heights later that year, says he never expected this immigrant enclave to be such a haven for queer people. "One of my favorite things about Jackson Heights is that it not only is very Latinx, but it is so, so gay." And at most bars he's frequented in the past, he's had to wait for a dedicated Latin night. But in Jackson Heights? "Every night is Latin night."
Las Americas
4030 82nd St., at Ithaca St.
I usually start my day by going to a Colombian panaderia and café con leche and an empanada de queso. Las Americas is definitely my go-to. They have a little bit of everything. They also have what they call a chicharron de guayaba, which is like a guava pastry. But usually I go to the tamale lady on the sidewalk literally five steps away from the bakery, bring my tamales back to the bakery, and eat at their outdoor seating.
I definitely grew up with coffee culture. In Miami, where I was born, it was a big thing. We would always go to these Cuban bakeries. Seeing Colombian bakeries here, it feels almost like the last un-gentrified place — even though Las Americas is literally across the street from a Starbucks.
The Love Wins Food Pantry
78-11 Roosevelt Ave., at 79th St.
A week after I moved to Jackson Heights, I just felt immediately so at home and embraced. I was like, how do I find a way to contribute to this community? So, I found this food pantry and started volunteering right away. Jackson Heights is the most diverse neighborhood in all of the United States, and there's a huge immigrant population. A lot of folks don't have access to social services, like food stamps, or are afraid to access those services, even if they are available to them. And so the pantry is super important here.
It's run out of Friends Tavern, which is now my favorite gay bar in the neighborhood. My job was to work the line. Almost 400 people would come every week. It's an all-queer-run food pantry. The fact that it's queer is really cool too, because it puts queer people at the forefront. And people who might not ordinarily be face-to-face with a trans woman, for instance, get to see all the queer people in the community and see that we're giving back.
Hombres
8528 37th Ave, at 86th St.
The thing to do in Jackson Heights is definitely to go bar-hopping to all the gay bars. There are so many places to go: True Colors, where you can sing Selena on karaoke night, or Friends, which has the best drinks and best music. After you go to those bars and get your nice drinks, and you're so drunk you can't taste anymore — that's when you go to Hombres, where the drinks feel like drinking battery acid. They're a really great place to go for hookah. Not for the faint of heart, but it's definitely a vibe.
Mirror
3763C 83rd St, at Roosevelt Ave.
Mirror is a nonprofit beauty-school co-op for trans and gender-nonconforming people. It was started to teach trans people these new skills, particularly those who do sex work and are trying to find some other way to make money. During the pandemic, it was hard enough for cisgender people to get jobs, so you can imagine it's even harder for a trans person. So they're helping get trans and gender non-conforming people certified to practice beauty. In the past, they've needed models to paint and practice makeup on, so I volunteered for them.
Usually we put some music on — Juan Gabriel, or Los Ángeles Azules — and they'll paint for a little over an hour: gluing my eyebrows down and drawing new ones, color-correcting for my beard, foundation, contouring, eyeshadow and eyelashes, and then a wig. They don't mess around — it's a whole production. After that, we'll either hang around and gossip about our lives, or sometimes we'll head out to a gay bar.
Lorena Borjas Way
Baxter Ave., at 83rd St.
Lorena Borjas was this huge personality in Jackson Heights. She was a trans Latina activist who moved here 20 years ago, and she was a giant part of the community. She would do needle exchanges for people who inject hormones, she would walk around handing out condoms to sex workers, and she was a big advocate for the immigrant community. She really fought against the police who treated trans people here like shit and arrested them for anything. ​​So last year, Baxter Avenue on 83rd Street was co-named Lorena Borjas Way. This is right on the border of Elmhurst and Jackson Heights, right along a former parking lot on Roosevelt Avenue that was turned into a public square called Manuel De Dios Unanue Triangle. It's really nice every time I walk by it to see her name on the street sign. It's cool not only that she was here, but that she was clearly so embraced, they named the street after her.
Mi Tierra Supermarket
8102 Northern Blvd., at 81st St.
A lot of the products that I cook with were hard to find in parts of Brooklyn, and even harder in Manhattan unless you're way uptown. But they're so easily accessible here. There are specific Puerto Rican products that I can pretty much only get here, like recao — which you need to make sofrito — plantain leaves, and things like that. My boyfriend is Mexican so he gets all his chiles at Mi Tierra — you know, all the chiles you could want.
Jahn's Diner
81-04 37th Ave. #1, at 81st St.
Jahn's Diner is this old-school diner. They've been around for maybe over 100 years. It used to be a big chain, but now this is the last one left. The vibes are Twin Peaks almost. They have red-vinyl booths. The windows are stained glass. It's like stepping into a time capsule. Everybody from the neighborhood goes there, it isn't just some white-people spot. There are more than a hundred languages spoken in Jackson Heights, and you will hear all of them here. They're also open 24 hours, so after the bars, you can go there for a burger or a late-night breakfast.
Librería Barco de Papel
4003 80th St., at Roosevelt Ave.
It's low-key chaotic in there, but I appreciate that as a chaotic person myself. You never know when they're open. All of their books are in Spanish. They even have a whole section on Nicaraguan books, which I love to look at. They have maybe two boxes of English books, but they keep them outside. Every time I come here, it feels like I'm visiting like my tia, because one of the booksellers, she'll give me cake. When I ask how much does this book cost, she'll be like, how much do you have? I don't know how this business stays afloat, but I'm happy that it's there.
London Boutique
78-3 Roosevelt Ave., at 78th St.
There are probably four or five London's in Jackson Heights, a sex shop around here. These boutiques have really funny outside window displays where it'll be, you know, a guy in a jockstrap and a harness and a woman laying seductively in a leopard-print kaftan. One of them used to have video rooms before the pandemic, but unfortunately, they don't have that anymore. They do, however, have an excellent poppers selection.
Junction Boulevard Station
Junction Blvd. and Roosevelt Ave.
So this is a stop on the train but it's also a whole street where it's basically a mercado. There are people selling elotes, esquites, tamales. Any kind of street meat you could want. And at the same time, if you want a pair of huaraches — the footwear but also the food — if you want a bracelet with an evil eye, if you want a statue of La Virgen … I've even gotten a limpia at Junction: Just fully in the middle of the street had a spiritual cleansing ceremony done on me. This lady named Mari, she calls herself a bruja, and yeah, she just stands in a corner and she sells her different spiritual things. Honestly, as many Starbucks as there are, there are probably as many places where you can get a limpia here in Jackson Heights.