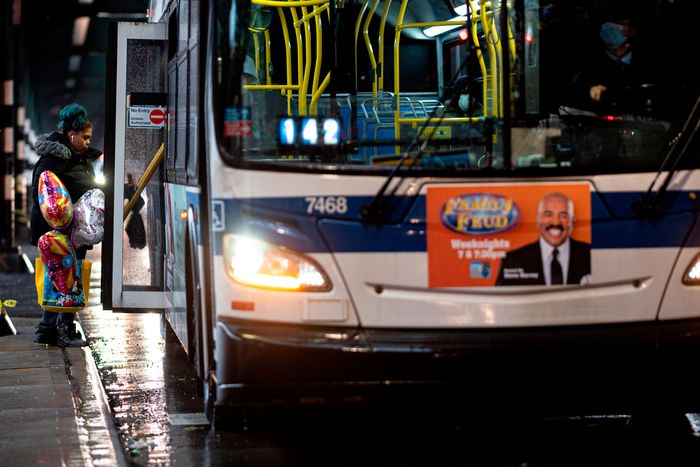 Photo: Johannes Eisele/AFP via Getty Images
At a press conference on Friday, when asked about fare evasion on public transit, Eric Adams made a point you've probably heard him make before: "It's a big mistake not enforcing fare evasion," he said, adding that it "sends the wrong message … and it does not create the environment that we need." The environment we need, according to Adams, is way more cops on the subway. (This isn't a new idea: Former governor Andrew Cuomo's plan to add 500 police officers to the subway system was projected to cost $249 million over four years and save only $200 million in lost fares.)
Adams went on to say he is not "criminalizing poverty," claiming there are avenues people can turn to like "going to the token booth clerk" and saying you can't pay or participating in the city's Fair Fares program, which offers discounted MetroCards to New Yorkers living under the federal poverty line.
Neither of these suggestions is particularly helpful. Fewer subway stations than ever are staffed, and putting these decisions on individual booth workers seems like a bad idea. And, as the New York Times recently reported, the lack of awareness of the Fair Fares program and its stringent eligibility requirements (to participate, a family of four has to make less than $28,000) mean the program only reaches some 260,000 New Yorkers. A survey by the Community Service Society found that in 2021, nearly half of eligible New Yorkers hadn't applied for the program, and it estimated that post-pandemic, more than 700,000 people would now qualify. Adams allocated $75 million to the program in his first budget, which is an increase over this year's funding but is still less than the pre-pandemic $106 million.
A recent MTA survey found that nearly 30 percent of people evade fares on buses, but not everyone agrees with Adams that it's a problem cops need to solve. When asked about fare beating, JP Patafio, who represents bus operators as the vice-president of Transport Workers Union Local 100, told the New York Post that maybe the fare itself was the problem. "I don't know that there's a police solution to 29 percent fare evasion," he said. "They should look at making local bus service free. As we saw during the pandemic, it's an essential public service — like, the most essential of the essential."
If New York tossed out its fareboxes for good, at least on its buses, we would, as usual when it comes to transit, not be the pioneers. Boston mayor Michelle Wu recently made three major bus routes in the city completely fare free for the next two years, expanding on a pilot program, which saw a reduced boarding time of 20 percent on a fare-free route and ridership increase to 90 percent of pre-pandemic levels. Los Angeles kept its buses free for 22 months during the pandemic. And, as you may remember, for five months early in the pandemic, the MTA also made local buses free, in part to help essential workers get around. Why not try it again?