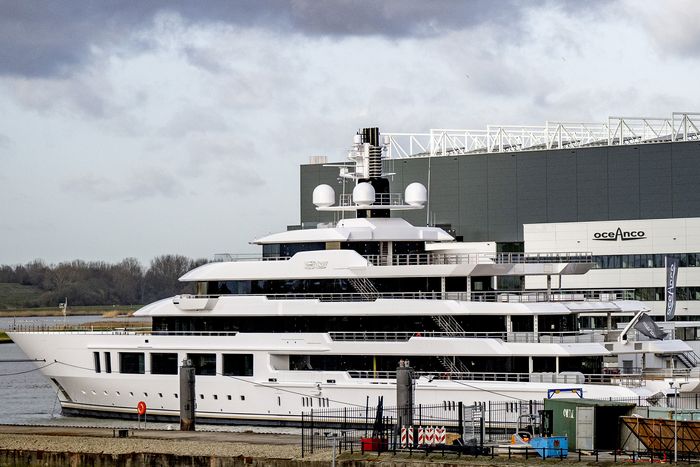 So big you can't miss it. Or can you?
Photo: Robin Utrecht/Shutterstock
The biggest athletic event of the year is not, in fact, the Beijing Olympics (too international; dystopian COVID-19 vibes too heavy), but rather a mass stinky egging planned for this summer in the Netherlands. A group of residents in Rotterdam has put out a call to throw rotten eggs at Jeff Bezos's superyacht when it passes through the city's river in June. The event, succinctly titled "Throwing eggs at superyacht Jeff Bezos," is a response to reports that the city is considering a plan to dismantle the historic Koningshaven Bridge (known as "De Hef," which means "the lever") to allow Bezos's $500 million, and apparently very tall, new superyacht to take to the sea.
The event itself has gotten considerable media attention, but a more pressing question has been left unexamined: How hard would it be to hit Jeff Bezos's superyacht with a rotten egg?
An egg is tiny, full of yolk treasure. Bezos's superyacht is enormous — reportedly 417 feet in length, it will be the world's largest, according to the boat experts over at Boat International — and full of egg-shaped trash (Bezos's head). Is nailing it with a projectile really that simple?
A study by Yale and Harvard researchers on "optimal strategies for throwing accurately" frames the undertaking — throwing in general, not egging Jeff Bezos — quite beautifully: "The ability to throw fast and accurately is quintessentially human, and a seemingly complex task." Those attempting the quintessentially human (but complex) task of throwing an egg at Bezos's superyacht might want to follow its guidance. Speed, it suggests, might be the enemy of precision: "What we find is that almost the slowest arc is often the most accurate," lead author Madhusudhan Venkadesan said. "We've compared these calculations to published data of people throwing into wastebaskets; we've compared it to a study on dart throwing." Venkadesan went on to note that people's natural throws are often quite close to mathematically optimal methods — so if in doubt, those throwing rotten eggs at Bezos's superyacht should just do what feels right.
WikiHow's guidance on how to throw a baseball recommends a 45-degree arc and practicing a long toss for at least 15 minutes a day. Bezos's yacht is not set to be moved downstream until June, so interested egg-throwers would have sufficient time to prepare. Knowing the direction of the wind is also crucial: In an article about baseball conditions, Alan Nathan, a professor emeritus of physics at the University of Illinois, told Popular Science that "a five-mile-an-hour wind that's blowing out will increase the carry of a fly ball by like 18 or 20 feet."
Here's another point of data for consideration: The Guinness world record for throwing and catching a fresh hen's egg in 1978 was 323 feet. The Privilege One, a comparably giant motor yacht set to be delivered in 2023, is about 72 feet wide. By a rough estimate on Google Maps, the Koningshaven, at the point in question, is about 468 feet across, plus another 40 feet up to the sidewalk along the riverbank. So an egg would have to travel about 238 feet to hit the hull. A difficult, but not impossible, feat. Dream big, my throwers — Bezos's yacht may well be within reach.