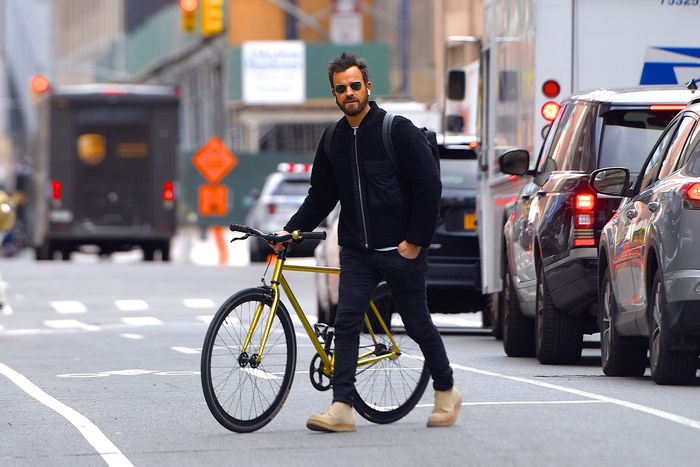 Photo: Robert Kamau/GC Images
Justin Theroux's yearslong battle with his neighbor Norman Resnicow, a real-estate attorney, might be coming to a close — or it may last until the Earth stops spinning and all the stars turn to stone in the sky. On Tuesday, Theroux's Greenwich Village co-op filed a lawsuit seeking to kick Resnicow out of his apartment. According to the suit, the board voted to terminate Resnicow's lease earlier this month, but Patch reported that as of Tuesday, Resnicow was still in the building.
For those who have not breathlessly followed this multiyear saga, this all started in 2017, when Theroux filed a lawsuit against Resnicow, who lives underneath Theroux, claiming a "targeted and malicious years-long harassment campaign" that devolved while the actor was renovating his apartment. Resnicow then brought the Daily Mail into the building for an interview in which he claimed he was under siege from Theroux's dogs' alleged "loud yowling," the actor "walking around in his biker boots" late at night, and a basement filled with "Justin's junk." (Before this, he claims, "I had been particularly close to Justin in the building.")
What came next was a five-year back-and-forth that involved restraining orders, alleged water leaks, bricks being lined up to divide their shared patio, photos of Resnicow trespassing in his pajamas entered as evidence, and Resnicow ripping up ivy on the patio because, as one lawsuit claimed, "he knew that Mr. Theroux enjoyed the aesthetic provided by the ivy." Other residents got involved, with Resnicow denying in a counterclaim that he "threaten[ed] anyone with the decorative log rollers he was carrying from the basement." The latest lawsuit also claims that neighbors overheard Resnicow "screaming" and "using abusive language" against his wife.
The co-op's lawsuit against Resnicow claims that the real-estate lawyer was being kicked out for "verbal abuse, threats and offensive language" toward other residents and building employees, trespassing on other shareholders' properties, and bringing a Daily Mail camera crew into the building. For his part, Resnicow told Patch that Theroux "dominates the co-op board" and that he is being harassed by Theroux, who he claims shines bright lights in his window and has a deck umbrella on their shared patio that is too big.
Either the board's latest lawsuit will finally resolve this saga or the battle will go on until the rising seas consume the West Village and wash away Theroux's allegedly enormous patio umbrella.