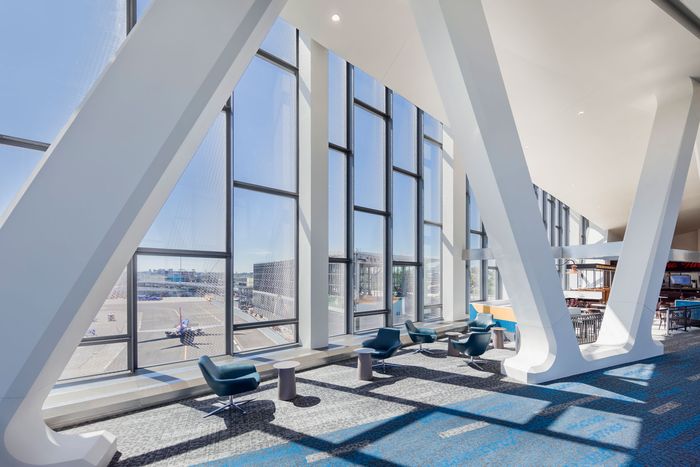 Breaking: It's not broken!
Photo: LaGuardia Gateway Partners
Enter La Guardia Airport's Terminal B from the side door, next to the parking structure, and you walk down a hallway paved with polychrome light. Look up, and you see sunshine flowing through a translucent cityscape affixed to the glass façade and cascading on the floor — an artwork by Sabine Hornig. Alternatively, come in via the front driveway, roll your bag across a wide curbless sidewalk, and you'll find yourself in a ticketing area that's clean, bright, airy, and self-explanatory — everything a functional airport should be and La Guardia has not been for decades. Those first impressions — one of character, the other of clarity — combine to express the new building's ambitions.
The global megafirm HOK designed Terminal B to provide an only–in–New York experience, but in a good way. The curved façade turns toward the Manhattan skyline and the afternoon sun. Indoors, artists evoke the city that's just a traffic jam away. Sarah Sze suspended snapshots of the New York sky on wires, forming an immense yet insubstantial orb. Laura Owens sprinkled a 500-foot mosaic with hometown icons like the Chrysler Building, the Apollo Theater, and subway-station signs.
So much deliberate New Yorkiness may be a bit lost on the multitudes who will scramble through these halls, aching to get out of town or back to the real thing. But then every big airport addresses two quasi-opposite conditions: the desire to get in, through, and out at a brisk and unbroken step and the need to linger for hours, even entire days or nights, without triggering a psychotic rage. The best terminals are high-efficiency people-processing operations and also pleasant places to read, chat, eat, or listen to music. They are equal parts factory and clubhouse.
The old La Guardia was, overpoweringly and exhaustingly, neither. The plant was efficient only in the speed with which it inflicted misery. If you were cutting it close, you jumped out of a cab and joined a line that looked and moved like a giant millipede. Arriving passengers stepped into a slough of passageways, low-ceilinged alleys, skinny-people escalators, and halls like feedlots. A long layover or a canceled flight meant wandering in search of a seat or being rousted from the sticky floor. Everything was small, old, and barely hanging together.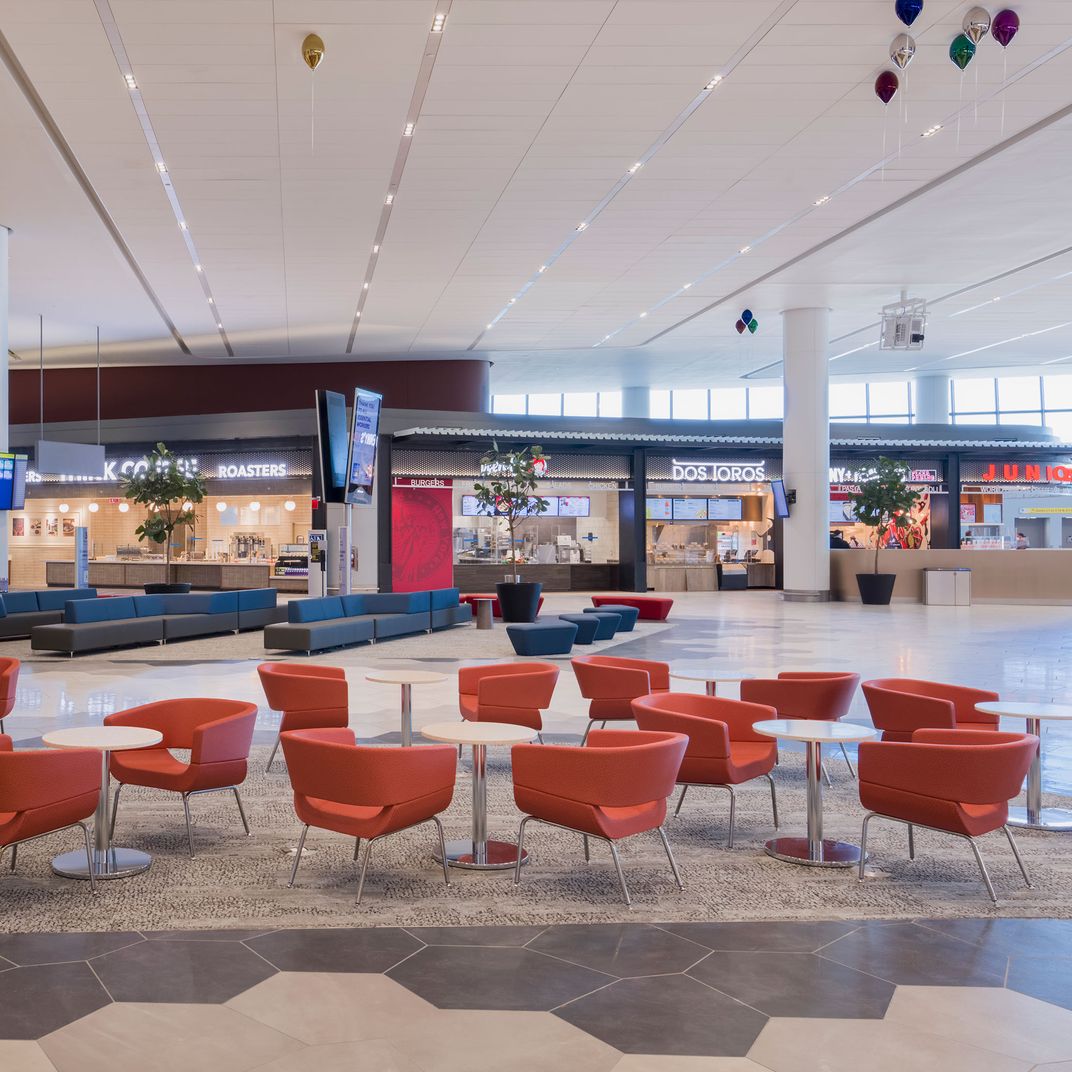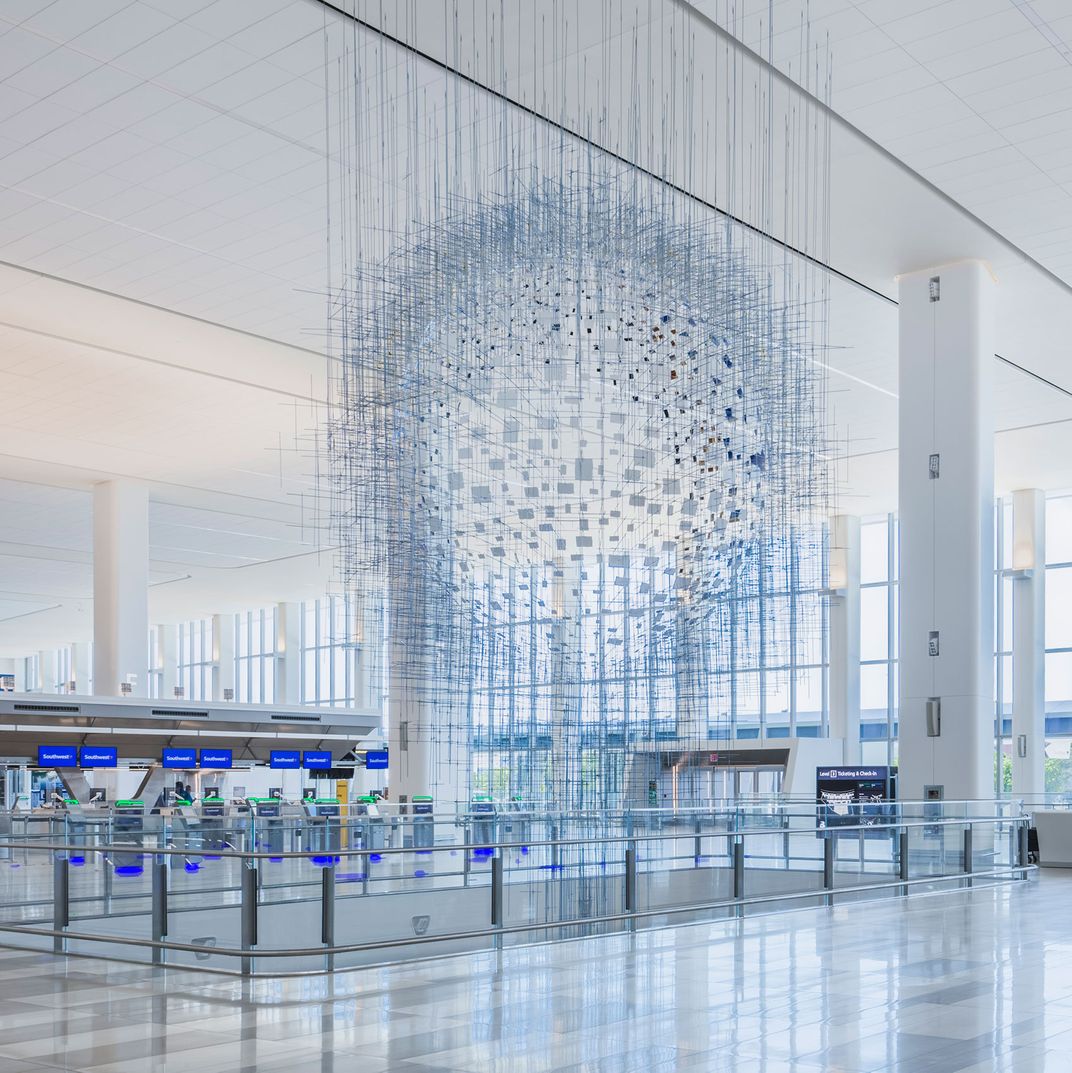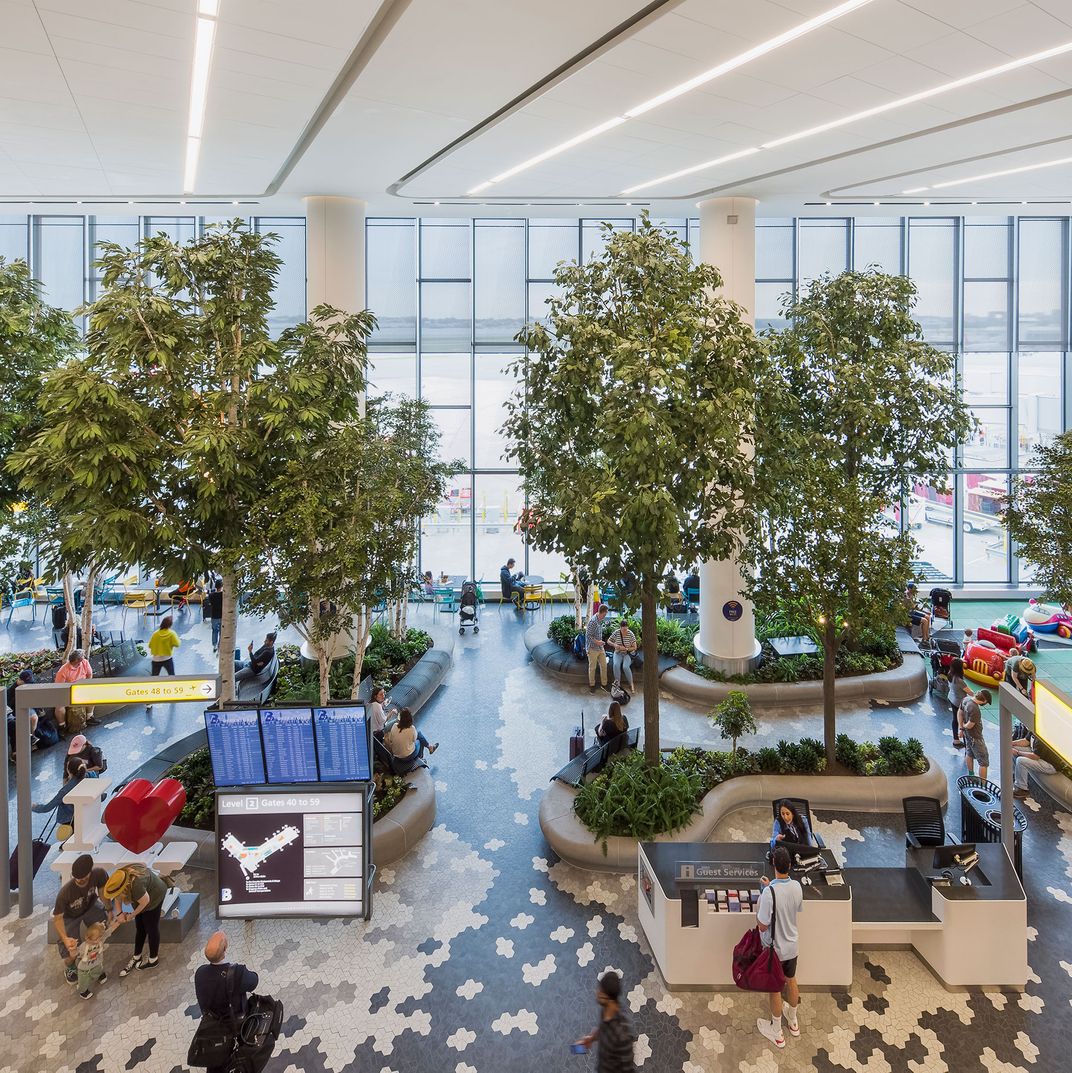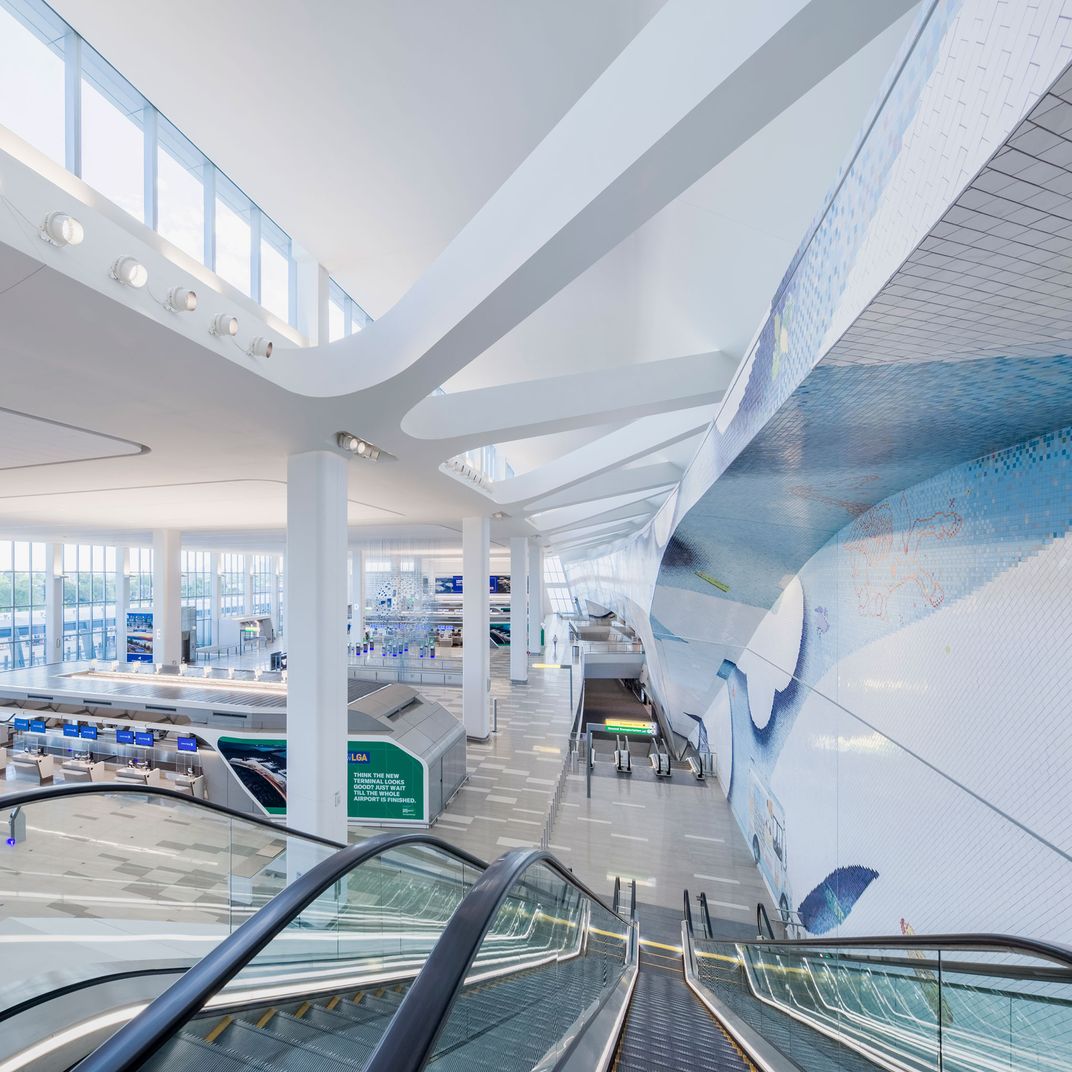 All that is gone. The designers of the new La Guardia have anticipated various forms of travel-related discomfort and tried their best to ease them. Most passers-through will never thank the designers or even notice the analgesics. When you're hustling for a gate or a cab, you don't register the absence of sonic assault, the flooring patterns intended to draw you in the right direction and calm you when you've arrived, the extra doses of daylight that make you feel like you're still on Planet Earth, the iridescent wall of tiles indicating the entrance to a restroom. But they're there.
Some people will pause in the indoor equivalent of a New York pocket park, where fake trees rise out of real plant beds and benches provide sight lines to a children's play area. Others will appreciate the carpeted zone with standing lamps and leatherlike sectionals that evoke a vague notion of home. And everyone will be grateful for the abundance of outlets and the banishment of those torturous charging posts.
Flying is no fun. It hasn't been for a very long time, and ever since 9/11, it's only gotten more frustrating. The first commandment of airport design should be Don't make it worse. In this, HOK succeeds. But La Guardia Gateway Partners, the entity that built and operates the airport on behalf of the Port Authority, goes beyond that to claim that this is a world-class facility — and they've even got UNESCO's Prix Versailles to prove it. The rhetoric overreaches. Terminal B makes travel tolerable, but it stints on glamour, spectacle, or coziness. In these past two low-mileage years, stay-at-home design pilgrims could console themselves with pictures of Zaha Hadid's Daxing Airport in Beijing, a burst of undular ceilings and suspension footbridges, or Fuksas's Shenzhen Bao'an (the first shaped like a starfish, the second like a manta ray; aquatic creatures are popular airport inspirations, for some reason). Copenhagen Airport's soothing wooden floors and warm lighting offset the layover purgatory. Even Eero Saarinen's practically ancient TWA Terminal, the apex of pre-jet-age mystique, has been reincorporated into the air-travel experience as a theme hotel.
Terminal B doesn't aspire to that kind of ooh-la-la-ness or Instagram romance. The gray-on-gray floor tiles are a step up from terrazzo, but they still radiate bland institutional chill. Few travelers will harbor fond memories of a day spent sampling local specialties in the food court or retail concourses (though some of the concessions are, in fact, local, and so is the bookstore). The experience is also constrained by the airport's back-of-house limitations: frequent bad weather plus not enough runways plus New York's congested airspace still add up to nightmarish odysseys, a syndrome that all the stress-relieving design tricks and high-speed baggage-scanning systems in the world can't cure. And a quick and easy train ride to La Guardia, which any other global destination city would have figured out long ago, remains a sci-fi dream.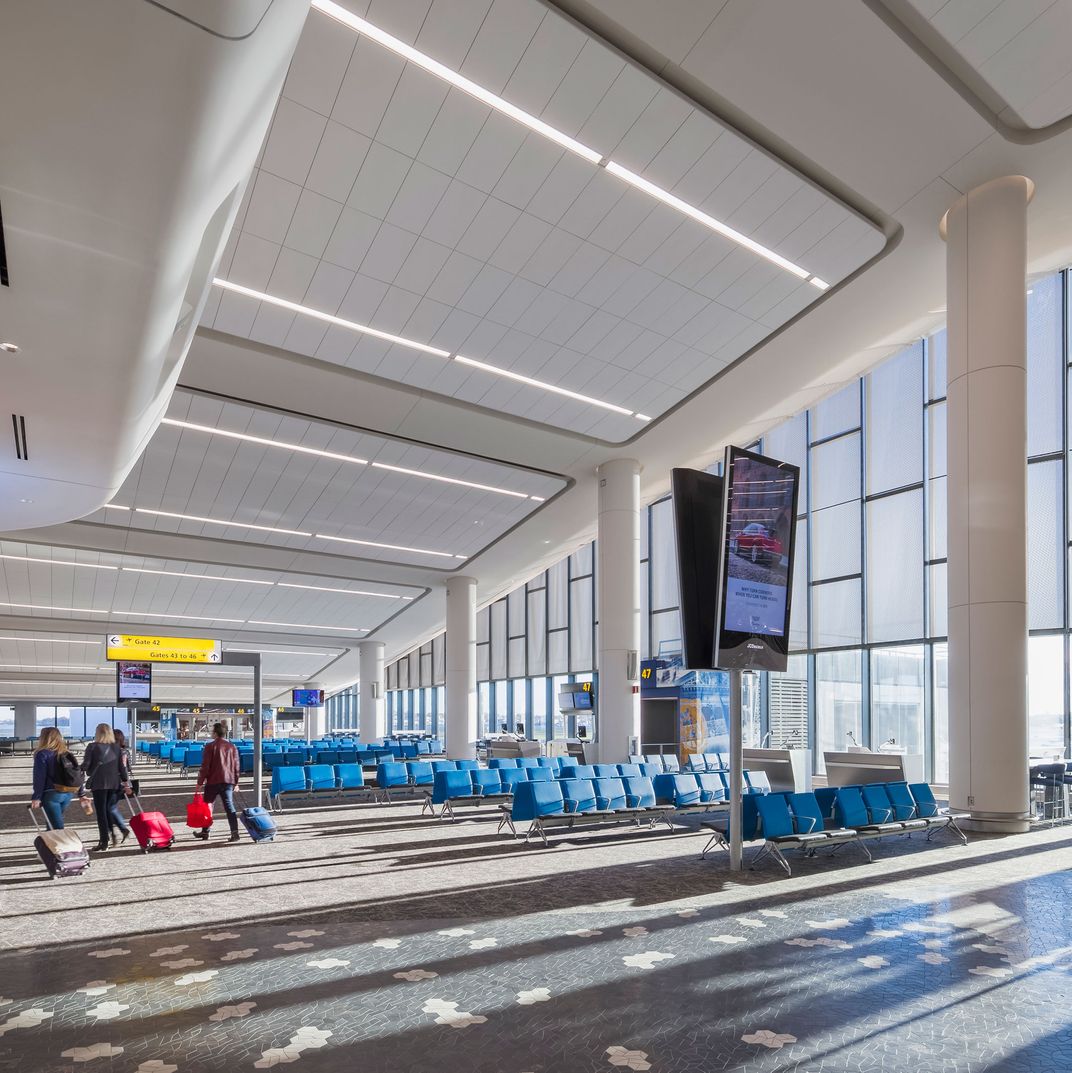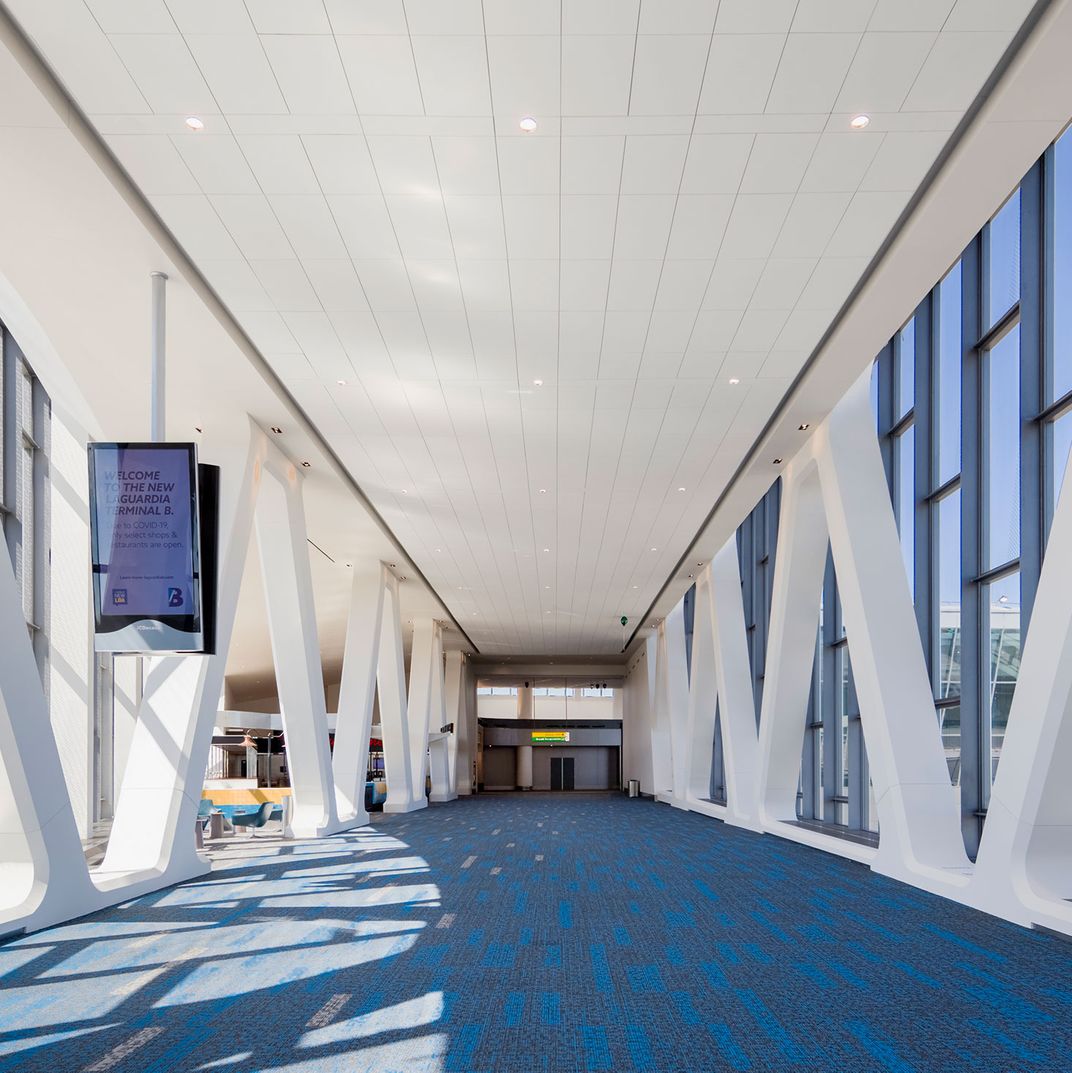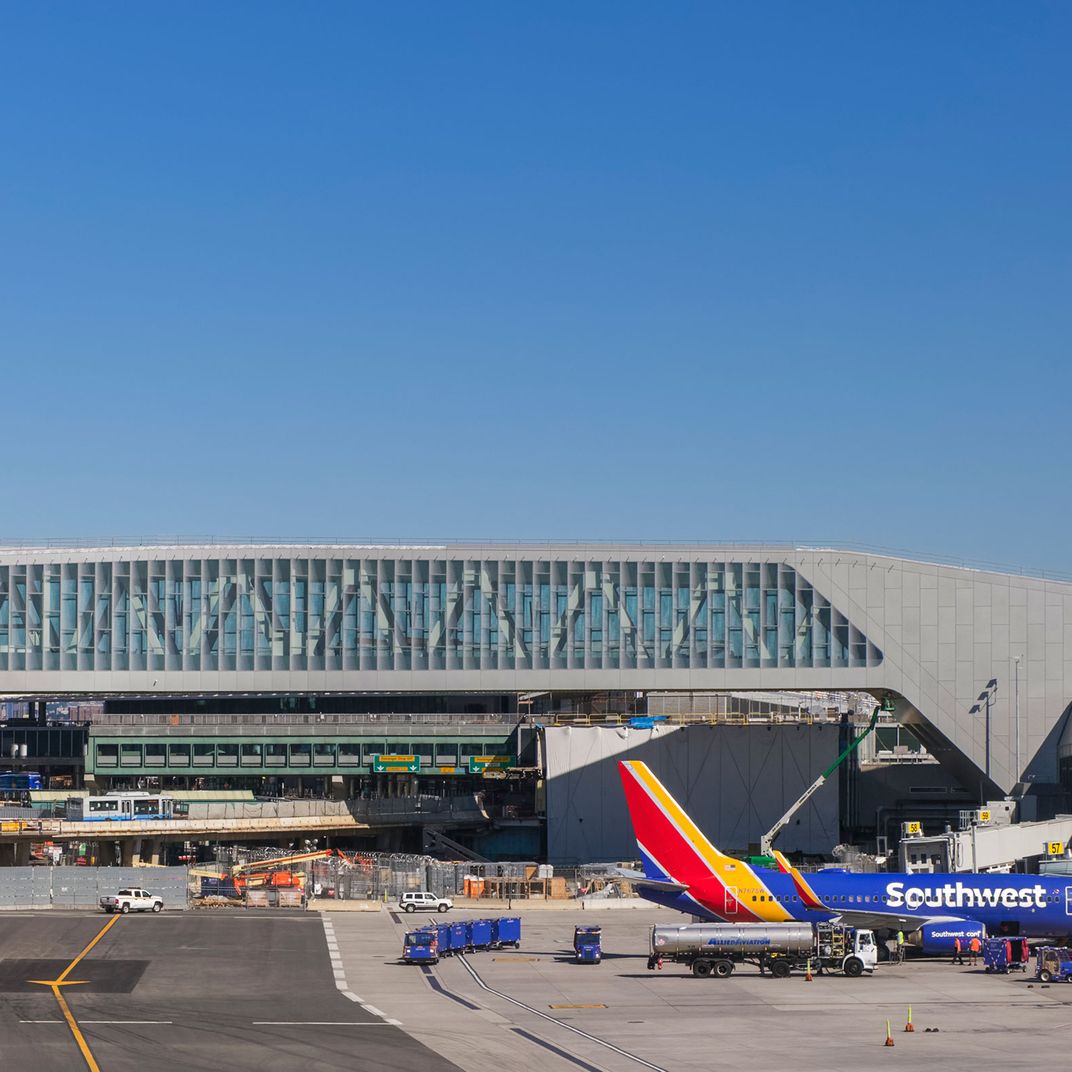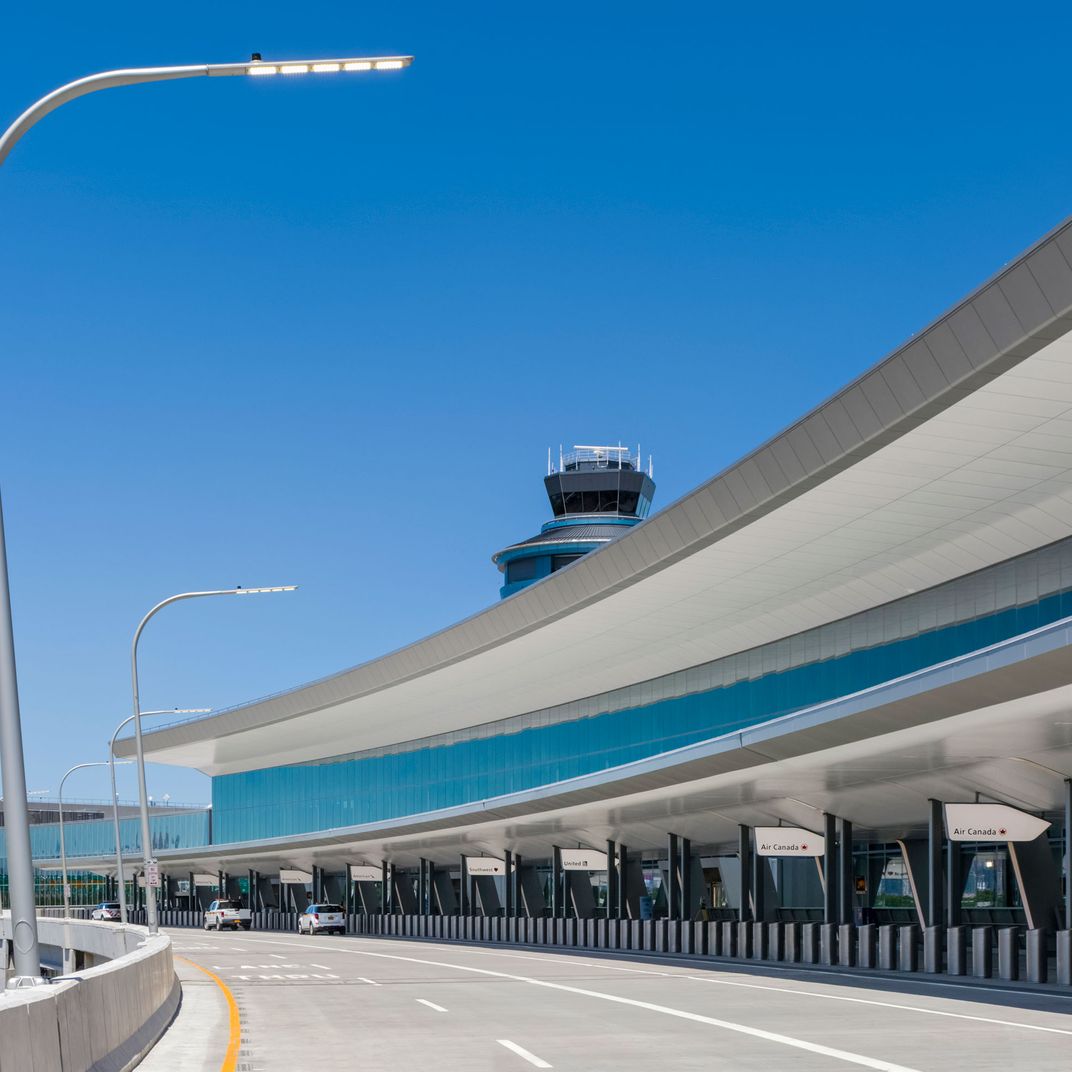 For a $5 billion project, Terminal B had the softest of openings. The main hall started operations in June 2020, when hardly anyone was going anywhere. The second and final skybridge opened last month, and the ribbon-cutting that former governor Andrew Cuomo wrote into his calendar in 2016 took place without him. Whatever you think of his policies or personality or behavior, this is his baby, and its existence proves that we don't have to live with putrid infrastructure just because it's too hard to replace it. That a new terminal was built from scratch counts as a New York miracle. That it was inserted in the middle of a frenzied airport that kept wheezing along all through construction is even more improbable. The plan unfolded like a game of pick-up sticks. Workers laid one terminal across another, then started sliding out the old one. Look out a window and you can see the process still under way: Those late, unlamented concourses and walkways are quickly being erased, and Terminal C, linked to B by a central hall, is months away from completion.
Two footbridges lead from checkpoint to gates, and HOK had to thread them between vertical constraints: The jumbo-est jets had to slip below them, and air-traffic controllers up in the tower had to be able to see over them. Into that channel, the architects placed a pair of long, tilted trusses, their V-shaped columns forming a great steel wave against each wall of glass. An unfamiliar sense of spaciousness made me wonder whether I had been transported out of La Guardia altogether. Armies could clash on those long, wide bridges. Car chases could be filmed there. And the waiting areas beyond were engineered to accommodate refugees from a night of storm-tossed delays; on my visit, several voyagers slumbered there, including one stretched out across several armless seats. That's the way it looked on a sunny, relatively quiet midweek afternoon in this Omicron season, anyway. The true test will come next Thanksgiving Eve.