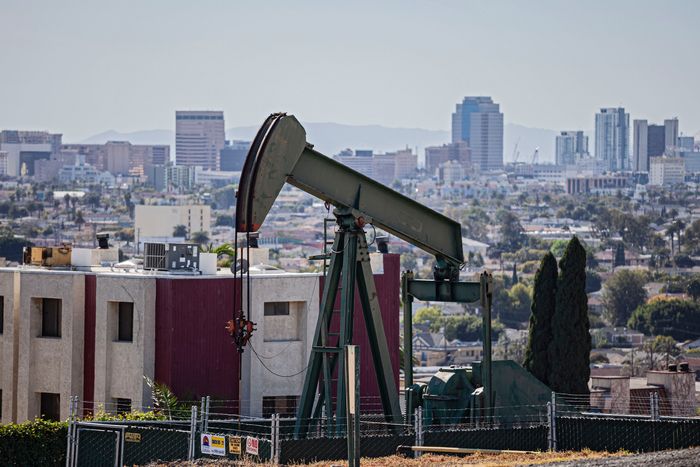 Across Los Angeles, oil wells bob in yards, near schools, and at parks.
Photo: Citizen of the Planet/Education Images/Universal Images Group via Getty Images
In a city aiming to be carbon-neutral by 2035, neighborhood oil wells have become an increasingly incongruous element of the Los Angeles landscape. About 600,000 Angelenos live within a half-mile of one of L.A.'s 1,000 active wells, where a recent study demonstrated that toxic particulates can travel up to two-and-a-half miles, blanketing local communities with chronic respiratory issues and higher cancer rates. Starting in 2013, the unusually broad coalition of groups known as Stand Together Against Neighborhood Drilling (STAND L.A.) began a campaign under the slogan "No drilling where we're living." And last week — nearly a decade after the campaign began — L.A. finally passed a motion to officially phase out oil and gas extraction. It's a first step toward holding oil companies accountable for the damage they have inflicted upon L.A.'s most vulnerable neighborhoods for over a century. "It's a vision beyond oil drilling," says Eric Romann, an environmental-justice coordinator for Physicians for Social Responsibility and a co-leader of STAND L.A.'s campaign. "It's the vision that communities that are overwhelmingly Black and Latino and working class who have borne the brunt should actively have a role in shaping what their future will look like."
The oil companies won't exactly quit drilling tomorrow. New drilling permits would likely stop being issued by the end of 2022, but oil companies may get up to a 20-year period to phase out everything that's already siphoning fossil fuels out of the ground. That will mean not only properly plugging wells — including cleaning up 3,000 inactive drilling sites and another 1,000 abandoned wells located around the city — but also fully remediating the land. If the city can prove oil well operators have already recouped their initial investment, it may go faster. Neighboring Culver City recently conducted a similar study for its oil wells and is requiring full remediation by 2026.
Since 1892, L.A. has been dotted with oil wells, which lined up along beaches and sprouted out of backyards. But whereas drilling sites in wealthier neighborhoods have largely shut down over the last 25 years — a few continue to operate, cleverly camouflaged and with improved safety measures in place — many of the sites in lower-income communities have persisted. The city's new ordinance would start to chip away at L.A.'s many land-use inequities, from its freeways to its port, says Romann: "We have an economy based not only on the extraction but the production and consumption of fossil fuels, and in order for that to function, we have placed this in the neighborhoods where the people with the least power live."
That's a start, but there's a lot of petroleum infrastructure left in L.A. County, and that means the hardest part comes next. The region is home to multiple refineries that pollute the same neighborhoods affected by oil drilling. Remember that one of the largest environmental disasters in U.S. history was a gas leak at a storage facility in Aliso Canyon. Six years later, residents are still experiencing health issues, yet officials recently voted to expand the facility anyway. Reforms at the county and state level are helping, like new rules governing setback requirements around schools and parks. (The state also continues to issue new fracking permits but says it wants to phase out oil extraction by 2045.) There's assistance coming from the Biden administration as well: Interior Secretary Deb Haaland visited L.A. in December and promised federal funds to clean up drill sites.
Even as the phaseout offers hope, it's still too long a timeline for some residents. "It could still take up to ten years to shut down these drill sites, and there's so much harm that could happen in these intervening years," says Richard Parks, president and founder of Redeemer Community Partnership, a STAND L.A. coalition member. Parks's organization managed to shut down a South L.A. drilling site by filing nuisance abatement petitions that eventually drove the company from the property — a process that took nearly a decade. Now, Redeemer Community Partnership is holding workshops for neighbors to envision how they want to use the remediated land, and thanks to the way environmental-justice groups aligned through STAND L.A., advocates can more effectively share resources between communities to put plans like these into action. Parks points to a particularly salient achievement of the coalition: When wealthy westside Angelenos previously rallied to stop the drilling in their neighborhoods, they petitioned only to shut down the site closest to their own homes. "But when frontline communities lead, the result is policy change that's citywide," says Parks. "This is really what justice looks like."