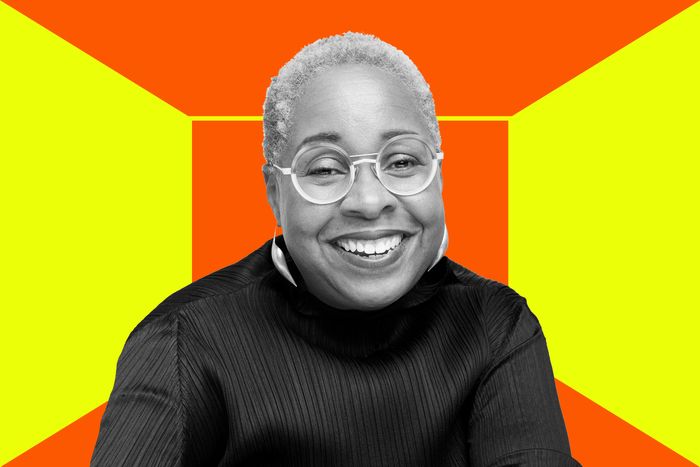 Photo-Illustration: Curbed; Photo: Dario Calmese
New York's "21 Questions" column is back with an eye on creative New Yorkers. Mabel O. Wilson recently curated MoMA's "Reconstructions: Architecture and Blackness" exhibition and was on the design team for the Memorial to Enslaved Laborers at UVA. She's also a professor at Columbia University's Graduate School of Architecture, Preservation, and Planning and the author of Begin with the Past: Building the National Museum of African American History and Culture (2016) and Negro Building: Black Americans in the World of Fairs and Museums (University of California Press, 2012).
Name: Mabel O. Wilson
Age: 58
Neighborhood: Washington Heights
Occupation: Academic, historian, curator, designer, and founder of Studio&
What's hanging above your couch? 
So I actually don't have anything hanging above the couch because it's a wall that gets a lot of morning light. I have a lot of photographs or prints, so they're all on paper and wouldn't withstand that sort of UV exposure. But I do have next to the couch, a very large poster — it's like four by five feet — of an image from the artist David Hartt of a Caribbean island.
What's the first job you had in New York? 
I worked for Robert A.M. Stern for two years. I was a junior designer working on a range of projects and some of the more unusual ones, like a really cool redesign of a penthouse in Tokyo. I also worked on his high-end subdivision houses. Working on these kinds of projects for high-end clients who were eventually going to become billionaires gave me a critical perspective on who has the power to build in this country. And I had a lot of questions about that and then I got my M.Arch at Columbia. One of the papers I wrote, an early piece where I'm thinking critically about the built environment, was on these subdivisions that I had worked on.
What color are you always drawn to?
I typically like reds and magentas. They're just warm, they're tropical, they're usually stunning. I've always liked that combination. I have a vintage Eames Comfort sofa that I bought in a thrift shop in Oakland in those colors. It has Alexander Girard fabric on it, in a pattern that's no longer made. I had to get a cushion redone since the fabric wore out, and now it's a radiant fuchsia color.
What art or artifact are you most surprised you own?
A piece by my late uncle, the artist John Outterbridge. It was a drawing he did when he was in high school. My mom had it in the living room and she gave it to me for my first apartment. It depicts a preacher in a pulpit preaching to a church congregation. It's crayon, or maybe pastel, and it's on a black background. The colors are gold and pale pink and green. It's pretty amazing.
Which New Yorker would you want to hang out with?
I would love to have coffee with Maya Wiley. I have always enjoyed her commentary on the news, but I also thought she was a great candidate for mayor. I was very excited because she's a lawyer with an understanding of the Black Lives Matter movement and policing, perceptive, and a candidate that wasn't part of the democratic machine.
What's the last thing you made with your hands?
I assembled a frame I bought online for a poster that 2x4 designed for a conference on academic labor that we students organized at NYU in the 1990s. I'm very proud of having helped to start the conversation around what does it mean to understand yourself as a worker in a university, if you're a student, faculty, or an adjunct?
Is there one thing you own multiple versions of?
I'm kind of a serial person, so I own multiple versions of many things. I've collected snow globes, the plastic kind, for at least 25 years, and they're all black — they have a black base and the background is usually black. I have maybe 30 of them, and they're all small. One has the Twin Towers in it. They're a bit hard to find now, though I found one on a recent trip to Arizona. I ask people when they look at them, "What do you see?" There's only one person who's looked at them and said, "They're all black."
What New York City museum do you always go back to?
My favorite space is the old Whitney. I still prefer shows in this building.
What do you always have next to your computer? 
A speaker. I am always listening to NPR while I'm working. When I lived in the Bay Area, I used to listen to Michael Krasny, who was on KQED in the morning. Now, I'm a big Brian Lehrer fan. I like hearing what's going on in the world, but they also interview a lot of creative people — playwrights, artists — it's great background noise.
Where is the best view of the city?
I have an amazing view from my living room, I have to say. I'm at the end of Fort Washington Avenue and at the beginning of Fort Tryon Park. I face north onto the park and look up Nagle Avenue. It's a very unusual view of the city. I can see the elevated 1 tracks curve through Inwood and all the way to the Bronx.
What building or object do you want to redesign every time you see it?
I want to redesign the train platforms in Penn Station. I hate those things. I don't like the fact that you have to go down into these very dark, narrow platforms. It just takes all of the joy out of travel. Moynihan's better, but the old Penn Station just feels very crowded, opposed to the monumentality of the stations in Paris and London, where they're just these huge sheds that really feel like the threshold to a city. The threshold to Manhattan feels like somebody's basement.
What's one thing you would change about your field? 
Access to a college education should be more affordable and more accessible. Teachers in general need more pay and better respect. People would stay dedicated in the field and we wouldn't have this epidemic of sheer ignorance!
If you could live anywhere in New York City, where would it be?
I would move to the Bronx. I really admire that people are very dedicated to maintaining their neighborhoods and neighborhood solidarity. I've always thought the Art Deco buildings on Grand Concourse were pretty cool.
What would you hoard, if it stopped being produced?
Kiehl's Ultra Face Moisturizer. I've used this since I was probably 23 or 24. I used to buy it when it was still locally made. I'd come to New York and take it back with me wherever I was.
What do you do to get out of a creative rut?
I don't ever feel like it's the rut that's the challenge. The challenge is to get into the work. For me, with any kind of creative process — writing, designing — I have to kind of crawl into that space to work and think and stay there and not be distracted. I find that's really hard when you have a lot of demands on your time. Two things get me into that space: N and O. I've been trying to get back to a book I've been working on, and it's been hard because I can't just go for a day and work on it.
Where was your first NYC apartment and how much was the rent? 
West 88th Street between Amsterdam and Columbus. I had a room on the top floor of a brownstone and I think the rent was $300. This would have been in 1986. A former colleague's dad owned the house and was a recording engineer. His wife gave piano lessons and there were always students coming through.
Where in the city do you go to be alone?
I make good use of New York City's public parks. When I lived on 88th Street, I would go to Central Park. When I was in Brooklyn Heights, I would go to the promenade. When I lived on Riverside, I would go to Riverside Park. Now, I go to Fort Tryon Park. All those parks are so different from each other. It's why the parks are so great in the city.
Worst piece of career advice you've ever gotten? 
The one that was most annoying was when I was working at a firm in Princeton. The partner gave me my first review and told me I lacked ambition and I needed to be more ambitious. I was just so taken aback, especially as a young African American woman going into an architecture office in 1985 when there were probably less than 150 licensed African American women architects in the country. What is your definition of ambitious? And what is it that I'm not doing? So I just ignored that. I always wonder what happened to that guy.
What have you given away to someone that you wish you could get back? 
I loaned a friend of mine, who is a painter, my copy of Gaston Bachelard's The Poetics of Space. I told him it's one of my most valuable books and I need to get it back, but I never saw it again. I got it as an undergraduate in architecture at UVA. I am terrified to count how many books I have now, but this was one of the first books that was really part of my library and my intellectual grounding. I actually had to get a new copy of it. But I want my original Bachelard book back. He's coming over for dinner this week. I should ask him, Do you still have that book?
What's your favorite NYC restaurant and regular order?
I don't know if it's my favorite, but there's a restaurant in my old neighborhood near Columbia called Toast and they have a really great burger and fries. During COVID, the Toast burger was a lifesaver. A friend of mine who lived above me and I would walk to get one and sit in the park.
What descriptive phrase do you want on your obit headline?
Something that goes back to having professional ADHD. Maybe it's: "Later in life, she became a well-known video artist" or something like that. I don't mind teaching, but I've always wanted to have a solid art practice and just time to be in the studio and make things. I really miss being creative in that way.