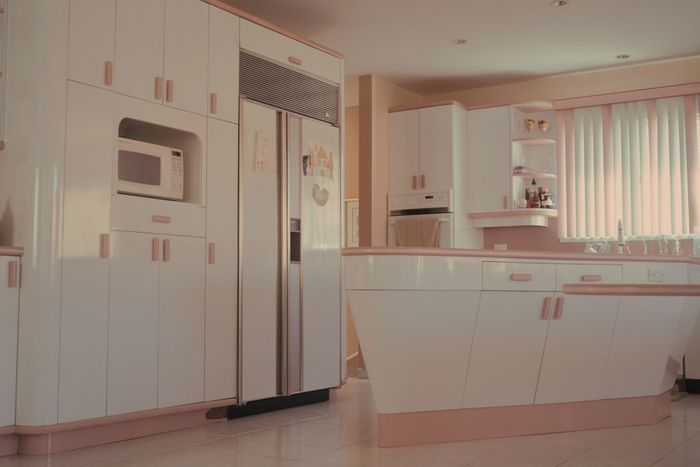 Mill Basin is known for its flashy custom homes — the neighborhood is not exactly short on ornate columns, balconies, or black-tinted glass. This white-brick house, by comparison, feels fairly quiet. From the outside, at least.
Inside, "nothing has changed since 1989," says Limor Ziarno, the eldest of four daughters whose father built the house 33 years ago. Every room is a conversation starter, but none more so than the life-size Barbie Dreamhouse kitchen. The cabinets are white Formica with pastel pink Corian countertops and matching pulls; the island is in the shape of a boat. (The latter was specially designed by Ziarno's dad, a sailor.)
There are more pastel-accented Formica built-ins upstairs, like the main bedroom's wardrobe and nightstands trimmed in light blue and another bedroom's all-pink setup (which includes a bed, a desk, storage, and floating vanity table). "I called dibs on that pink room," says Ziarno. "It was the smallest one, but the coolest one, because it also had a glass-block window."
The house was built to be extremely open, with few walls and windows everywhere (many of which are glass block). The family often took out all the furniture for big parties. "We turned it into a nightclub on a few occasions, and my mother hosted a casino night for my father's 40th birthday," says Ziarno. "The whole neighborhood would come."
The home's retro details and free-flowing layout have also made it popular with production companies, who've used the place for photo shoots. Last year, Kendall Jenner was photographed there for a Vogue Spain cover story and Annie Murphy for Marie Claire's final print issue. A few of Murphy's shots feature the curving wall of mirrored tiles under the staircase, which was an especially fun corner of the house for Ziarno and her sisters growing up.
"We used to make our own music videos in front of it," she says. "Like Madonna's 'Material Girl'."