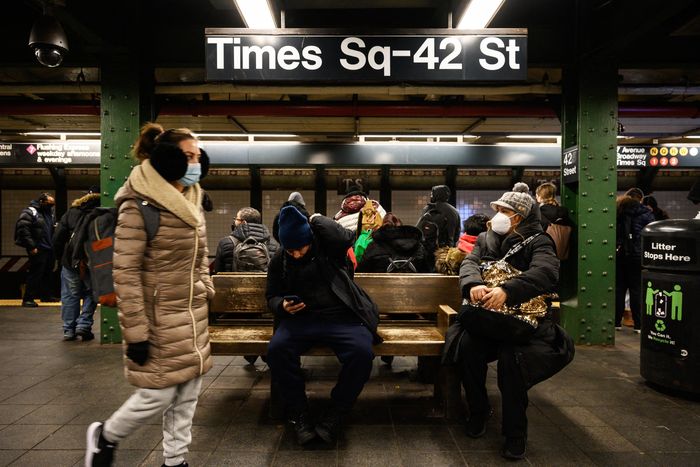 Photo: Ed Jones/AFP via Getty Images
For years, the MTA has insisted that subway-platform doors just don't work here. In 2012, then–MTA chairman Joseph Lhota went as far as to say that the expense and scale of installing barriers at the platform edges in all 472 stations would make them "not something I think we'll see, quite honestly, in your lifetime or my lifetime." As recently as a month ago, MTA chairman Janno Lieber said the same thing, citing the "special complexities" of New York's 118-year-old system. Somehow, in that month — perhaps owing to the death of Michelle Alyssa Go — the unfeasible became not just feasible but even likely.
Joe Lhota is an apparently healthy 67 now with quite a few years ahead of him, and this morning his successor may be proving him wrong. Lieber, appearing on NY1, said that barriers will go up in a test at the Times Square 7 and Third Avenue L stations in Manhattan and the Sutphin Boulevard–Archer Avenue–JFK Airport stop on the F in Queens. An exhaustive 2019 study — which the MTA has had in its possession for three years! — showed that the platform doors won't work everywhere, owing mostly to narrow platforms and other similar restrictions, but could be installed in parts of Times Square and 127 other stations, or 27 percent of the system. Other major cities have various kinds of barriers — from basic railings to high-tech sliding glass doors — to prevent falls, suicides, and murders like Go's.
The number of people shoved onto subway tracks has spiked: 30 people in 2021, up from 20 in 2019, when ridership was significantly higher. As is all too familiar, we are looking to build our way out of problems rather than (for example) addressing mental-health issues at their root and perhaps getting people who would either jump in front of a train or shove a fellow New Yorker onto the tracks some aid before it happens. But the barriers, undoubtedly, are a start. Let's see how well they work.