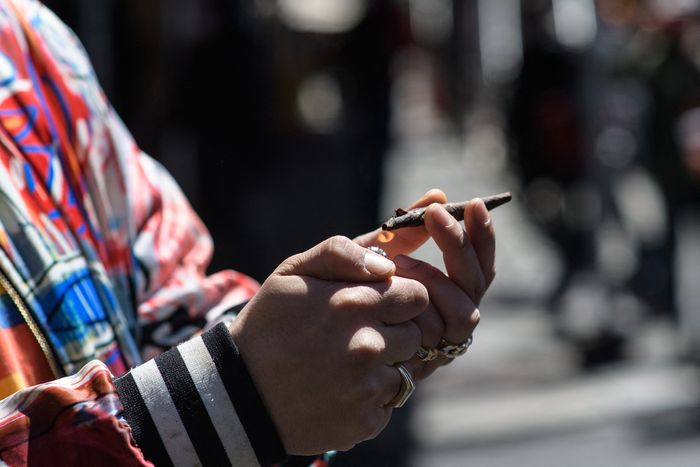 Photo: Angela Weiss/AFP via Getty Images
Recreational weed is finally legal in New York, but a delay in issuing licenses has meant there is still nowhere to actually buy it. As a work-around, some entrepreneurial thinkers have started shops that sell stickers, T-shirts, or memberships and then give buyers a "gift" (cannabis) with their purchase. To me, a humble consumer, this is a resourceful move to be celebrated.
But instead of rewarding these enterprising spirits (or at the very least just ignoring them), the state of New York is cracking down. On Tuesday, the Office of Cannabis Management sent out letters to more than two dozen stores telling them to cease and desist giving out these wonderful THC-rich gifts "or risk the opportunity to get a license in the legal market as well as substantial fines and possible criminal penalties." In a statement announcing the enforcement, Cannabis Control Board chair Tremaine Wright said, "We have an obligation to protect New Yorkers from known risks and to strengthen the foundation of the legal, regulated market we are building. We will meet the goals of the [Marijuana Regulation and Taxation Act] to build an inclusive, equitable, and safe industry. Therefore, these violators must stop their activity immediately, or face the consequences." One business owner told the Associated Press that he was going to stop using the workaround, even though he hadn't received a letter, precisely because of that threat: "I'm going to do what the state wants because my goal is to have a state license."
These kinds of shops popped up as bureaucratic delays pushed back timelines on any actual opening plans (the Office of Cannabis Management had already missed a deadline last year to allow medical marijuana license holders to grow weed at home). But when licenses finally start going out, the process is meant to address racist disparities in marijuana criminalization, which in New York City overwhelmingly targeted Black and Latino New Yorkers, by setting aside a portion of licenses to communities disproportionately harmed by the war on drugs. Pilar DeJesus, a cannabis advocate in Harlem, told the City that the delays might actually end up being a blessing because her "community is still not fully prepared," given that opening a dispensary requires funding and legal expertise that may take time to build.
Local reporting has already identified stores that appear to have been raided by county sheriffs, like B Millz's "sticker" shop in Waverly, New York. The shop lists eight locations on its website and states in fine print that "Bmillz is NOT a marijuana company." Bartholomew Miller, its namesake co-owner, told local news earlier this week that he would continue doing business as usual until he got a cease-and-desist order. "You know, I love gray areas," he said. "But I don't have a quarter of a million dollars to drop, where they are going to judge my whole life and everyone that I know and tell me no!" Who are they to judge the sale of a sticker in the likeness of Teenage Mutant Ninja Turtles' Master Splinter that simply comes with a nice little green gift?