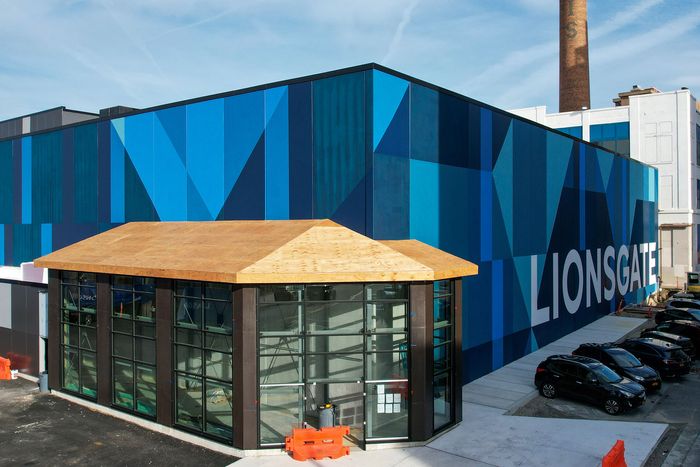 Photo: Courtesy of Lionsgate
When Hollywood was nothing but a gleam in a movie mogul's eye, film directors were calling "Action!" all over the New York City area. Thomas Edison created his early spectacles in West Orange, New Jersey, and shot on location in Manhattan as early as 1896. Fort Lee was a bustling film town by the 1910s, and Astoria became a production hub a decade later in the early talkie era. Even today, some of those Queens facilities remain in use — you still take the N/W to Broadway to get to Sesame Street. A few new stages have been built more recently, but the city was long treated as where you shot the locations you absolutely couldn't fake before heading off to Toronto or Vancouver and pretending it was New York. That time has now passed: There has been no moment in living memory when the tristate area has been so devoted to the business of film and TV production as it is today. And it's been desperate for space in which to do it.
Up in Yonkers, Great Point Studios cut the ribbon on Lionsgate Studios on January 11. It's a soup-to-nuts moviemaking center complete with soundstages and a portable horizon tank for those car-drives-of-a-cliff scenes. Talent can be chauffeured in from Manhattan in about 45 minutes, and below-the-line film workers can commute on Metro-North. The studio, which Yonkers Mayor Mike Spano has said could make the city "the Burbank of New York," is just the beginning of a production renaissance in the tristate area.
Within the boroughs, Steiner Studios, which opened at the Brooklyn Navy Yard in 2004, has announced intentions to develop its "Steiner Sequel" along the Sunset Park waterfront and will break ground this spring. Astoria will soon have a new center, too, Wildflower Studios. Built on a lot where Steinway used to warehouse replacement piano parts, the studio is designed by Bjarke Ingels, and financed by Robert De Niro. Wildflower will incorporate 11 soundstages amid 775,000 square feet of carpentry shops and pre- and postproduction offices. De Niro gave some input on the design and encouraged Wildflower president Adam Gordon to enlist the Teamsters to help plan the layout of the parking and loading zones. (The Teamsters were reportedly eager to participate. After The Irishman, it's a relief to learn that art apparently does not imitate life. ) When completed, a project could theoretically go from script stage to picture lock all in the same building in the shadow of the Hell Gate Bridge.
New York has had one of the best film-production tax credits in the country since 2004, but it hasn't really been able to compete with the combination of tax breaks and massive soundstages in Georgia and Louisiana, which have made the South an essential shooting destination in the past 15 years. But Governor Kathy Hochul just extended the credits through 2029, and between that, a new mayor, and the smaller scale of production that on-demand streaming shows require, it appears that a lot more people will soon be filming in New York even when they don't have to. For actors, shooting in the New York area means they can clock out and head to a familiar restaurant and sleep in their own pieds-à-terre rather than heading back to a hotel in Atlanta or Shreveport.
The new facilities won't likely compete for the biggest of the big-budget movies like superhero franchises, which require the kind of immense soundstages found in the South. Plus tax breaks in southern states, unlike ours, often include above-the-line costs and thus the megasalaries of movie stars. As Wildflower's Gordon put it, "Robert Downey Jr. is still going to have to go to Georgia." So instead of trying to lure the next Spider-Man or Black Panther to New York, these new facilities are being designed explicitly for mid-budget streaming shows like Stranger Things or Sharp Objects, both of which were shot in Georgia. They will have the latest virtual technology for making movie magic, with LED panels and green screens (and the electrical capacity to power them, which older buildings may lack) as well as easy access to any New York City block — or a Yonkers street that can be shot as Anywhere, USA.
Netflix has already leased its own production hub in an old printing house in Bushwick, where it is shooting the heist drama Jigsaw (executive-produced by Ridley Scott) and Ryan Murphy's adaptation of New York's story "The Watcher." But the company is hoping for something much larger and permanent: In April, it will bid to redevelop the decommissioned Fort Monmouth in New Jersey, a 289-acre spread full of empty Cold War–era barracks and its own bowling alley. Should Netflix win the bid, it would likely invest hundreds of millions of dollars to transform it into what the company has called a "state-of-the-art production facility."
With New York's tax credits locked in for seven years and Governor Phil Murphy expanding New Jersey's through 2034, it wouldn't be shocking if even vaster production centers near the city are soon announced. The streaming-content audience shows little hint of satiety. "I don't think there's any fear that there won't be enough demand for all the facilities that are being contemplated," according to Robert Halmi, CEO of Great Point. So long as we keep watching, they'll keep filming — and building.