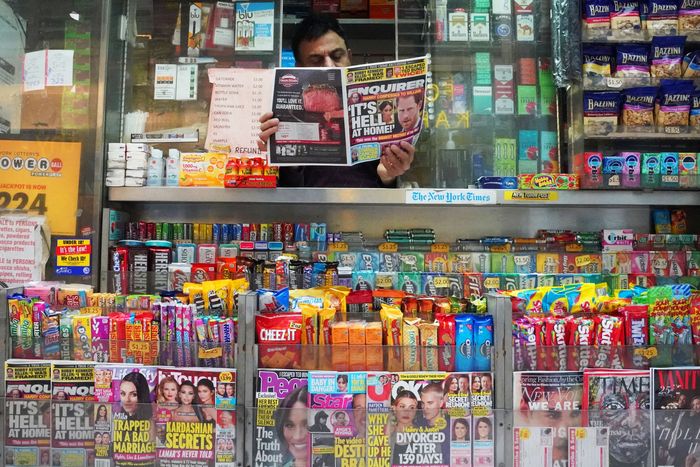 Photo: Timothy A. Clary/AFP via Getty Images
"Lottery, candy, soda — that's where we make our money," says Mike Patel, who has operated a newsstand on the corner of Broadway and Chambers Street for 40 years. At the height of the print era in the 1980s, Patel would sell 2,000 newspapers a day — but "newsstand" has long been a misnomer. Now, selling ten papers would be a good day. Instead, like most other newsstand owners, the heart of his business is cheap convenience: Nothing will cost you more than $10 before taxes (with a few exceptions), even that off-brand pair of earbuds you picked up after losing one on the subway. That's because of a little-known city regulation that caps the price of items sold by newsstands and keeps higher-quality cell-phone chargers, tourist guidebooks, and other oft-requested items off the shelves. "This is what the people want," says Patel. "But I can't sell it to them because the prices are just too high. It makes it harder to survive."
The price cap, which dates back to the 1980s, was intended to keep newsstands selling the news and not expand into becoming curbside bodegas. It only applies to the 339 newsstands permitted by the city's Department of Consumer and Worker Protection — not, to the frustration of some operators, food carts, street vendors, or stands in subway stations — and can only be increased by the City Council. It was first raised from $2 to $5 in 2001, and then from $5 to $10 in 2013. And while there are exceptions to the rule (newsstands can sell cigarettes, magazines, and prepaid phone cards at a higher cost) there are also entire categories of items that are off limits regardless of their price: namely, fresh food, clothing, and jewelry.
Between supply-chain issues, inflation, and the pandemic, newsstand profits have shrunk significantly in the last two years, and with the $10 cap, things are more difficult than ever. In March 2020, David Singh had to temporarily close the newsstand he manages on Joralemon Street outside of Brooklyn Borough Hall. He wouldn't lift the metal gate again until the summer, but with few office workers returning to the downtown area, he reduced his hours to six a day instead of 12. Since December, business has picked up — on a recent weekday a stream of customers stopped to buy a Quick Pick lotto ticket, candy, and a charging cable — but Singh says profits are only back to around 70 percent of pre-pandemic levels, about $300 a day. He worries that with the rise of remote work, earnings may never fully recover. Unless, that is, he can start selling more expensive stuff and stock more conveniences.
"The raising of the cap, let's say to $15, would translate to higher quality versions of the products that they already sell," says Max Bookman, counsel to the New York City Newsstand Operators Association. That could be better snacks or umbrellas that won't break after one use or pricier souvenirs for tourists. Newsstand operators also know exactly what they would sell if certain items were no longer off limits. "Food, food, and food. That is the next natural frontier for newsstands," says Bookman. "Coffee or bagels or something similar. That's what consumers are asking for and that's what our members are asking for." Tourists going to see the 9/11 Memorial and other landmarks routinely ask Patel for I ♥ NY merch that he simply can't sell.
The typical New Yorker has somewhat more mundane needs. "I can't tell you how many times I forget my charger or earbuds and just need a quick replacement; it would be nice not to throw that money away on something that's going to break immediately," says Brittany Richards, a physical therapist who bought a pair of headphones at a Brooklyn newsstand Wednesday. "I'd pay for quality."