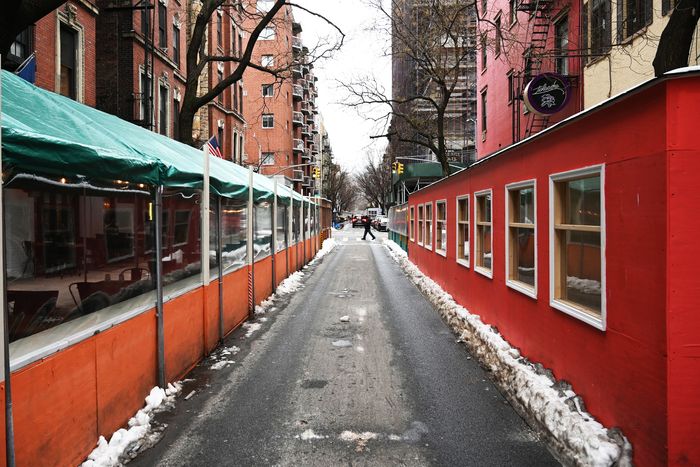 Photo: Timothy A. Clary/AFP via Getty Images
Yesterday, the New York City Council hosted a marathon session about the future of the city's Open Restaurants program, which, as the hours dragged on, came to question humanity itself. The Zoom hearing ultimately lasted 8 hours and 40 minutes, and 250 people logged in to testify. Restaurant owners showed up to talk about their continued struggles, while downtown NIMBYs let it be known outdoor dining was the worst thing to happen to New York since the Williamsburg rezoning. Some people did voice very reasonable concerns about noise and the Department of Transportation's slow response time to complaints about blighted dining sheds. But others seemed to have put on their proverbial tinfoil hats as they argued that streeteries are part of a vast conspiracy to transfer public space (parking spots) to the notoriously powerful restaurant industry as well as breeding grounds of crime, vermin, and disease. Here are some of the most unhinged leading theories that emerged.
Outdoor dining sheds are directly responsible for increased crime rates.
"They have become a safe haven for thieves and rapists. Why make these sheds permanent when crime is rising?" a participant named David asked. "They have become sites for the homeless, places for people to shoot up and do drugs," said Shannon Phipps, a Williamsburg resident.
Restaurateurs are using streeteries … in order to reserve parking?
"As an avid biker and bike commuter, I can tell you that the outdoor dining sheds are a hazard to all of us bikers and pedestrians," said Michael Marino. "There is also at least one shed that is nothing more than a front that hides the parking space used by the restaurant owner so it is available to him when he arrives."
After advocates of Open Restaurants said the program had saved 100,000 jobs, several people who showed up to testify claimed that the stat is propaganda.
"I don't know where the 100,000 figure came out of thin air," Michele Campo said. "This has not been a resounding success but rather a chaotic, noisy, filthy mess." Williamsburg resident Phipps referred to the figure as "fake" and peddled by lobbyists.
Restaurants are actually flush with COVID cash.
"I'm always surprised [that] members of the hospitality industry, while pleading poverty, never, ever mention the public funding they received," said Augustine Hope, another West Village resident. "Restaurateurs in the West Village received $226 million over this period, while laundry shops, hardware shops have received exactly zip."
Outdoor dining sheds are vectors for leptospirosis, a bacterial disease transmitted by rat urine, to even the richest parts of the city.
"We are inundated with these sites that are a blight to our community. We have a lepto outbreak due to all the rats. We have trash; we have standing water," said Phipps.
Open Restaurants is a nefarious plot by the restaurant industry and Department of Transportation to seize control of New York.
"The law is written so the entire city is handed over to the DOT and the restaurant industry," Pauline Augustine claimed, finishing cutoff comments from Darlene Lutz, Madonna's former art adviser. She warned that, after the takeover is complete, City Council members would have nothing left to do.