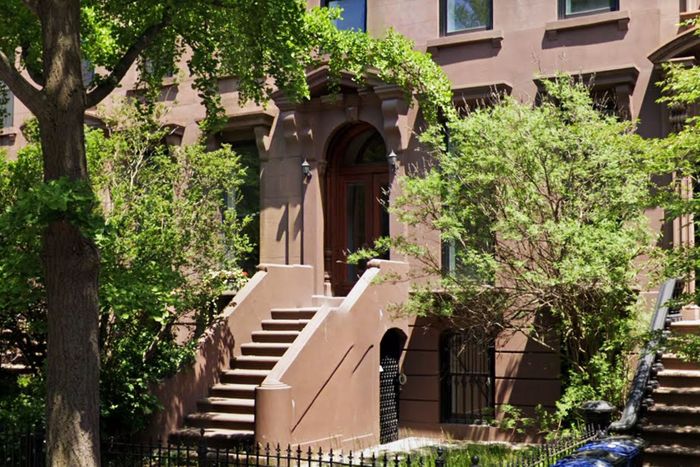 The foreclosure sale of Paul Manafort's Brooklyn brownstone wasn't so much an auction as a handshake, one of the thousands of nearly identical events that take place every year. Just a few enterprising buyers were in attendance; almost all of them wore wraparound sunglasses and were uninterested in, as one put it, "being in the news." In December, as the former Trump campaign manager's lenders anticipated a windfall from his foreclosed homes, there were 17,971 properties with open foreclosure filings in the United States; like some of them, Manafort's house was bought back by the bank to which the buyer owed a debt. Many Brooklyn foreclosure sales are scheduled in bulk and take place on the steps of the nearby Kings County Supreme Court every week; this one happened in front of the glass federal building in which the Chicago-based Federal Savings Bank had sued Manafort and his wife over what it said was $8.3 million owed. The knot of people standing in the February sunshine could have been a group of lawyers having a brief coffee-break chat: The event began at 11 in the morning and was over by 11:02.
The four-story townhouse at 377 Union Street was said to be a wedding gift for Manafort's daughter Jessica, an odd favor considering the couple was already living in a Soho loft that the lobbyist had purchased a year prior and since, according to leaked text messages, Manafort didn't care much for his daughter's partner. The house was purchased for around $3 million in 2012, one of the five properties worth a collective $22 million that Manafort owned. Built in 1899, it looks like any brownstone from a distance but features the kind of lavish interior that would be attractive to a man who once kept flower beds manicured in the shape of an M. The molding, according to a short-lived real-estate listing, is literally gilded. The hearths are marble. There is reportedly a Jacuzzi, and over the course of a few years, the Manaforts added a roof-deck and a two-story extension out back.
It does seem that 377 Union had a use besides pleasing Manafort's daughter: allegedly as a vehicle to launder the cash Manafort made from lobbying on behalf of Ukrainian politicians. His daughter rarely spent time in the house, and neighbors complained of renovations that flooded adjacent basements and left cinder blocks strewed across the front yard. The absentee landlord also, according to the New York Times, broke the "cardinal rule of Brownstone Brooklyn" and failed to sweep the ginkgo-tree berries that fell from the property's tree — a kind of tree that incidentally contains high levels of the same acid that makes vomit smell the particular way it does.
A plea deal with federal prosecutors in 2018 required Manafort and his wife to put the house on the market, a plan ultimately abandoned when the lobbyist was pardoned by Donald Trump. But last year, the couple's creditor, the Federal Savings Bank, began suing over unpaid mortgage loans, a legal action rendered somewhat absurd when the bank's CEO went to prison this month. According to the Department of Justice, Stephen Calk issued millions of dollars of high-risk loans to Manafort in exchange for political access: He wanted to become the undersecretary of the Army, but even all that fraudulent lending wasn't enough to get him the job. Nonetheless, as of late last year, the bank expected $3.6 million in profits from foreclosing on Manafort's properties. It "recovered" $9.3 million when it sold the lobbyist's ten-bedroom Hamptons estate, the one with the putting green and the moat. 
Despite all this criminal intrigue, the auction of Manafort's Carroll Gardens brownstone was banal and routine, much like the dozens of foreclosure auctions that happen every week in New York. Traffic whizzed down Cadman Plaza as the bank, now under new management, offered $4 million and the property changed hands — or, more accurately, dropped right back into the hands of the bank that granted Manafort two separate mortgages in 2017. It was a quick transaction between men in suits carrying the paper portfolios that are standard issue for guys who move money around. The auction's referee, Ira Warshawsky, a retired State Supreme Court justice, had come all the way out from Long Island for the occasion but noted how little interest there generally is in these things. And he certainly wasn't surprised at the price, a $1 million flip: It's a particularly "high-end property," he told me; a lot of rental income could be made.
Benjamin, a stout man with salt-and-pepper hair who would under no circumstances give me his last name, had come with two "associates" in sunglasses and was less pleased by the auction's results. The price was absurd, he told me. He didn't know about the gilded details or hot tub, or that it was Paul Manafort's house. He comes to a lot of these things, trying to pick up property for cheap. But he's been having a slow couple of years, he said. There were fewer and fewer auctions to attend. "It's because of the moratorium," he said, which had been a big issue for guys like him. Millions of families have been able to stay in their houses even if they were falling behind on their payments, and evictions, for a time, slowed down. But now the moratorium is over, and Benjamin is back to trolling the listings and bidding on cheap properties. It was under those circumstances that he ended up in front of the federal courthouse on a Wednesday morning, an odd time and place for an auction, hoping to pick up a property that, in the end, would be repossessed by a bank that handed out fraudulent loans.