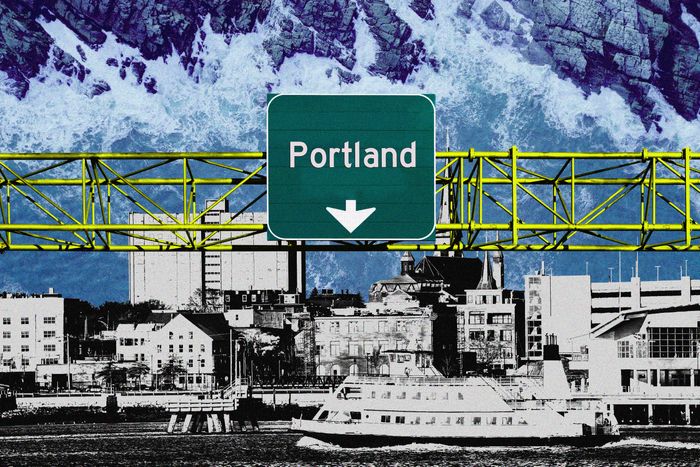 Photo-Illustration: Curbed, Photos: Getty
In the past year, the real-estate market has, well, gone berserk. Houses are going for millions over asking in Boise and Albuquerque. Buyers are offering to name their firstborn baby after sellers. In this biweekly series, Realtor Diaries, we hear from the people at the center of it all — the 2 a.m. emails from clients, the 16-hour workdays, six days a week, and the all-cash offers coming in from people who've never once seen the property they're buying. Today, an hour-by-hour glimpse into the working world of Nina, 44, a power broker in Maine.
5:30 a.m. My husband leaves for work at this time every day. I like to get a little "me time" in during these early hours, so sometimes, I'll hire a babysitter early in the morning and go for a run with girlfriends. After our run, we dip into the ocean. Winter, spring, summer, and fall, we jump right in.
7 a.m. I make the lunches, get the little ones ready, and get the kids out of the house. Usually, I'm reviewing a contract or replying to some showing requests while making breakfast. I try to keep this time work-free, but I'm in a business where time is of the essence, and that's just how it goes.
Yesterday, I listed something for $895k in Cape Elizabeth, near the South Portland border. This has become a targeted area for a wide range of people — families, young couples, retired folks. There are lots of bungalows and New England–style houses, all walkable to both the ocean and coffee. Within five minutes, I had ten text messages from my own clients wanting to see it. Within the hour, 45 additional people had requested a showing. It will go for $150k to $200k (maybe more) over ask. And I can promise it will be a cash offer, likely no inspections.
That house has what everyone wants: It is DONE. Like, not a drop of work needed. Open, but not too open. Modern but not too modern. Private, walkable to a small beach. That's the kind of situation that people will throw down stupid numbers for.
Also, anything on or near the water is just going to fly. People are paying top-top dollar just to get a glimpse of the ocean, even if it's a shit box.
8:30 a.m. I'm in the office. I'm an office person and I go in five days a week. It's for the camaraderie. I always look first thing at what hit the market overnight. There are six houses on the market in greater Portland right now! Six. That's just insane. It's like word got out somehow. This city is a combination of everything. It's a little big city, close to Boston and commutable to NYC; you have the ocean, the rocky coast; you have the mountains and can ski; you can beach; there are incredible restaurants. I think the press has been really good to Portland too — so many magazine features about how it's the prettiest city in America, and how all the foodies are flocking here. Also, the tech companies are starting to buy waterfront properties for satellite offices.
The truth is I know of about 15 other houses I can sell that are "off-market." What that means is there are some incredible homes that aren't officially listed, but a handful of realtors like me know that for the right price, and under the right circumstances, there is a conversation to be had. The off-market intel gives you a big advantage here. You really have to be someone in the know for that. You have to network and keep your finger on the pulse, and fortunately I'm good at that.
9 a.m. I call a client about an off-market property I've scoped out. This client lives in Europe and found me on Instagram — she's set on moving to a big, Victorian-mansion-type house in Portland, even though she has only visited Maine once. I tell her that I recently met a man at a party and his house is exactly what she wants. He's very private and doesn't need to move, nor does he need the money — hence the off-market-ness of it all. I tell her his "make me move price" is $2.5 million. That's not wildly expensive, but it's substantial for Portland. And getting a shot at home that's not yet on the open market is priceless.
We decide that I'll show her the house via Facetime later today.
10 a.m. I have a call with new buyers to feel out what they're looking for. I know they have kids. I tend to point families to the Oakdale neighborhood, or the Highlands, because they have lovely vibes and big, older houses (built when the trim was beautiful and details were everything). But some people insist on a brownstone on the peninsula — a prime, handsome, classy, Portland-proper waterfront property. Technically, you can't find one for sale right now. But I know of three or four off market.
The clients I'm talking to ask first about education and then second about diversity. Diversity is important to almost all of my clients, and unfortunately it is something we don't have a lot of here. Portland is not bad, but the suburbs (where the schools are sought after) are lagging far, far behind. Cape Elizabeth and Falmouth are something like 97 percent white. I'm very transparent with them: The diversity you're hoping for is not happening yet in the suburbs, and while it exists in Portland, the schools historically haven't stood out. I'm not going to lie. And I'm also confident it is shifting.
When I explain the insanity of the market right now to this particular client and bring up that if they want to make an offer on the old charmer I've shown them, the expectation will likely be no appraisal, $100k-plus over asking price and no inspections, they're like, "Okay, not right now." I'm like, "Phew." Because, like, five other people I talked to about the same house have said, "Sign me up, let's go!!"
11 a.m. I have a call with a very wealthy guy. He's a hedge-funder from New York, and he's used to getting what he wants.
The money that has been here up till now is old money, generational money; think the Bush family. This guy is typical of a lot of the newcomers. Big-city money — usually New York or San Francisco. Finance or tech.
He literally has no price limit and doesn't have a particular neighborhood in mind. I can see him in Yarmouth or Falmouth. Both places have large, gorgeous waterfront homes with stunning grounds, are near country clubs, and have status appeal. They're very privileged areas, basically — whether you see that as a good or a bad thing.
He tells me he wants his family to live a life where they're more integrated with the outdoors.
There's a certain type of person who has a stomach for a Maine winter — all eight months of it. He thinks he's that type. We'll see.
Another guy of this same type, call him Trevor, saw a big, beautiful mini-mansion in Yarmouth recently and told me he loved and needed it. This was on a Saturday night at 5 p.m., and the seller's broker was very specific about not taking any offers until Monday. Trevor said "Fuck that!" and told me to put the offer in and give them until midnight to respond. I was like, "I'm going to be sleeping at midnight, so no. I'll do it in the morning, if you want to be a jerk, but it's not going to be received well. It's not how we do it here. The rules are: All offers on Monday."
Anyway, he refused to wait until Monday and pulled his offer off the table.  He was all, "We're not dealing with this shit!"
Then on Monday he calmed down and said he wanted to make the offer. They're negotiating now.
So, yeah, some buyers get schooled pretty fast here. They try to use their NYC negotiating tactics in Maine and they get a big Fuck you. I'm not going to stalk other brokers or bully anyone, despite how aggressive guys like him want me to be. That's not our style here. Mainers, including realtors, love their lives and their families. We're not interested in doing deals at one in the morning. We're just not.
11:30 p.m One of my girlfriends calls to pick my brain about buying a house in South Portland. Your most ordinary houses (under 1,200 square feet, bungalow style if you're lucky) are now at least a million dollars, which sucks for locals like my friend. I tell her she's doing great but that she can't buy the kind of home she wants in this climate. Will that change? I honestly don't think so. I tell her to try anyway, if she can swing it.
12 p.m. I have a few Zoom showings in various neighborhoods today.
If you have money plus kids, Cape Elizabeth is another good option. It's a little, luxurious seaside town and very beautiful, with some of the best schools in the country. People will spend crazy money for ordinary houses just to get the Zip Code. Over a third of the town is on conservation land. It's really very simple — a gas station, the schools, a grocery store, a coffee shop, and five real-estate offices. But it's paradise. A coastal community ten minutes from downtown Portland. You get the beach and the city. The people who live there I would call wealthy but down-to-earth.
A house I showed in Cape over the weekend had 90 viewings. If you offered $300k over asking, all cash, with no inspections, you got a "Thanks for coming." So depressing.
1 p.m. I do a Zoom tour of the off-market house for the lady in Europe. She says she'll make an all-cash offer for the 2.5 million. I set that in motion.
2:30 p.m. I get a call from a woman a former client referred me to. She says, "I need to put an offer on a run-down ski shack in Bethel, Maine. And I need to do it today. It's $120k." Now, Bethel is two hours away. I'd barely cover gas with my commission. I tell her, "Just so you know, I'm not looking at this for you, but I'll get the offer in."
People love those little finds up in the mountains in places like Bethel because you can Airbnb the shit out of them for like $1k a night. Airbnb is pretty much illegal in most of Portland (and your neighbors will tattle on you), but there are no rules in the mountains.
3 p.m. I'm not afraid to schedule a facial in the middle of the day.
4:45 p.m. I get my kids from their various schools and programs. I really only get to see them for two hours in the afternoons because we're great at making our kids go to sleep early.
About the work-mom balance: I do feel guilty. I often lock my bedroom door to finish a deal, and they're pounding on it. I mute the phone when I'm not talking and attempt to stay calm. I try to put my phone away when I'm with them, but sometimes I'm working around the clock. My 2-year-old will say, "Mommy working. Mommy working. Mommy working." Overall, I think it's okay for my kids to see me work. They get a happier me because I love what I'm doing. Not to mention, in a good year, I can make close to a million dollars — that is game changing for my family and my kids' futures.
6 p.m. We always do dinner as a family. Even if it's chicken nuggets and mac 'n' cheese. I put my phone away for dinner no matter what. It has been a tough few years, two years of being crazy-fucking busy in a pandemic. And with my job, I can be pulled away at any moment, during any conversation or family outing or date with my husband.
Speaking of him. Realtors have the highest rate of divorce in any industry. We are trying real hard not to be a statistic. I'll put a "walk" with him in my calendar. If it's not in my calendar, it won't happen. In the winter, we'll do puzzles together. We drink wine at night and love an evening on the couch by the fire, catching up.
8:30 p.m. Work rarely interferes with my sleep. Despite being so busy, I am not a stressed-out person. I recently changed my outlook from trying to achieve balance (because really?) to trying to achieve harmony. You'll never be able to balance everything, but if the different pieces can work together and you feel okay, everything is good.